The Bowflex Max Trainer M9 Review - Newest Member of the Team
There have been a lot of changes to the Max Trainers over the past few years, with new models seeming to come and go in a matter of months. We're not sure exactly why that is, but these machines remain as popular now as they were when they were first introduced.
The latest addition to the lineup is the Max Trainer M9, which seems to have replaced the recent M8 model. It's an upgrade to the popular M6, which as of this review is the only other Max Trainer on the market.
Max Trainer M8 - What You Get
The M8 loses the red accents of the other models in the series in favor of a silver/black design with more commercial grade touches and longer handrails.
Let's look a closer at the most important specs...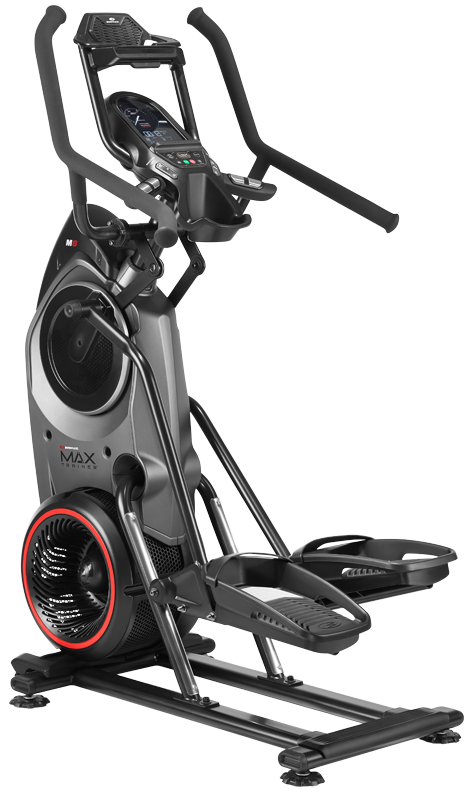 Backlit dual display with calorie burn meter
20 resistance levels
Max Intelligence Platform
Bluetooth Max Trainer App syncing
Intuitive learning for workout suggestions
Contact and wireless heart rate monitoring
Commercial grade grips/performance pedals
4 user profiles
Tablet holder/Media shelf
Water bottle holder
Dimensions: 49" L x 30.5" x 65.5" H
Warranty: 3 years frame/parts, 90 days labor

What's the Word on the Street?
The Max Trainers are still quite popular, not only because of their compact size but also because they combine two machines in one, offering a more complete workout.
You get a stepper and an elliptical in one, and it provides a solid cardio workout, especially for those that are pressed for time. For those looking for quick, high intensity workouts that burn a lot of calories and get you in shape quick, the Max Trainers are a solid choice.
The biggest change with the new Max Trainer M9 is the introduction of a brand new 10" touch screen console, a big upgrade from the basic display on the Bowflex Max Trainer M6 and the previous models.
What's unique about this touch screen as opposed to ones found on competitors like NordicTrack is that in addition to tapping into additional workouts via Bowflex JRNY, you can also stream Netflix, Hulu, Prime and others. So you can choose from thousands of curated workouts or just watch your favorite show...whatever motivates you the most to keep on training.
Some other upgrades from the base M6 is the ability to track unlimited users vs 2 on the M6, Bluetooth heart rate monitoring as opposed to grip only on the M6, and 20 resistance levels as opposed to 16.
Considering that the M9 is only a few hundred dollars more than the M6 as of this review, it's well worth the additional expenditure, even for the touch screen alone.
As far as workouts, the M9 comes with 4 built in programs, including fat burn, calorie burn and stairs, but you get unlimited workouts through the relatively new Bowflex JRNY program (similar to NordicTrack's iFit program).
This is a subscription based program that you can access right on the machine's touch screen, with customized workouts that adapt to your fitness level, real time coaching, over 50 HD scenic destinations, streaming capability, music playlists and much more. It's an immersive experience that takes your workouts to the next level.
With its touch screen, unlimited workouts, wireless heart rate monitoring and all of its other features, there's really nothing missing on the Max Trainer M9. With each new model Bowflex seems to be adding everything that people are looking for.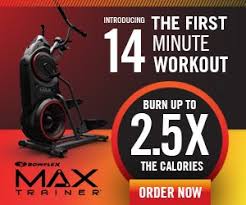 Which Bowflex Max Trainer Model Should You Choose?
We update this section quite often, as the company has been shuffling around models a lot of late. There's the M3, that's only sold in stores currently. There was an M8 that was replaced by the M9. There was also a Max Total that came and went.
Currently there are only two Max Trainers to choose from: the M6 & the M9. We discussed the differences between the two above but let's break it down even further.
Both are compact, both have a good number of resistance levels and built in workouts. Both can accommodate a max user weight of 300 lbs. But the similarities pretty much end there...let's take a look:
Bowflex M6
The Bowflex Max Trainer M6 is 46" L x 26" W x 64" H, with a basic LCD display, Bluetooth capability, JRNY via tablet or phone, 2 user tracking, contact heart grip, 5 built in workouts, 16 resistance levels and a 2 year frame/parts, 90 day labor policy.
Bowflex M9
As we mentioned, the M9 is a stepup from the M6 is many categories. It's a bit larger, at 49" L x 30.5" W x 65" H, with a 10" touch screen console, Bluetooth and WiFi capability, JRNY right on the touch screen, unlimited user tracking, contact  and wireless heart grip, 4 built in workouts, 20 resistance levels and a 3 year frame/parts, 90 day labor policy.
You also get a steel resistance dial and Bluetooth speakers, not present on the M6.
So which Max Trainer is best? We like the M9 because it gives you so much more functionality for just a few hundred dollars more. Neither Max Trainer is cheap, at around $1699 and $1999 respectively as of this writing. But if you're between the two our vote is the M9.
Max Trainer M9 Review - Bottom Line
The mantra with Bowflex seems to be give the customer what they want. We demanded more workouts, they introduced the JRNY experience. We wanted better displays and they gave us a 10" touch screen console. We wanted accurate heart rate monitoring and they gave us a wireless armband.
The new Max Trainer M9 has just about everything you can ask for, except someone who works out for you. :)
You can give it a try with free shipping, and the company offers a satisfaction guarantee for a full refund.
Give it a try and let us know how you like it. We welcome your feedback on any ellipticals and will add your comments to future reviews.