The New Sole E25 Elliptical Review – Better Than Ever!
The latest version of the Sole E25 elliptical trainer is better than ever, and tops our list of the best buys under $1200 this year.  
With solid construction, incline capability, heart health workouts and new Bluetooth tracking, this one leads the pack in every category.
If you're looking for an affordable, compact machine with durable construction and impact-reducing cushioning, the E25 just might be the elliptical for you.
Let's get into our review to see what this one is all about...
Sole E25 - What You Get
Sole has kept all of the features that made the earlier version so terrific, including the eddy current braking system, heavy flywheel and high gear ratio that gives it an impressively smooth performance usually found only in commercial grade machines at high end gyms or health clubs.
It's been tweaked a bit, with the stride now adjustable to a full 20" and a higher weight capacity, up 50 pounds from earlier versions.
The best features on the Sole E25 elliptical's new model include: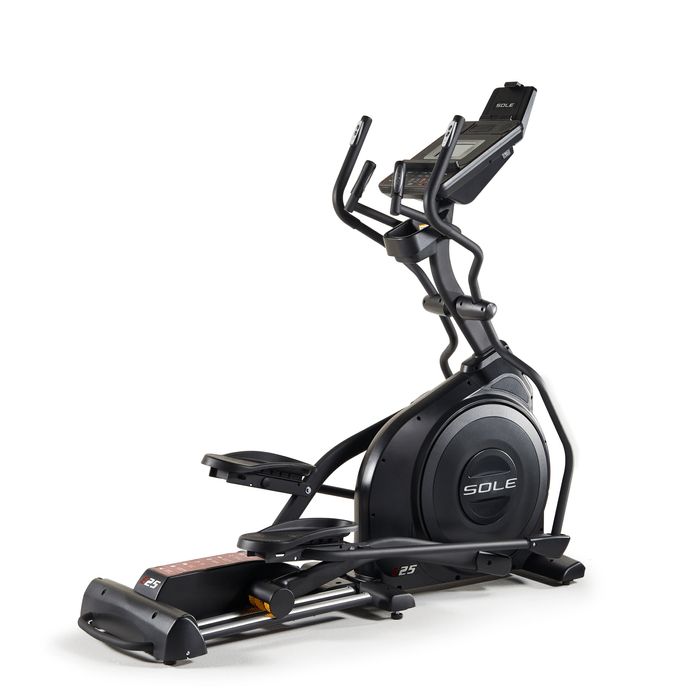 Eddy current brake resistance

Dual wheel rollers
6.5" LCD screen
20" Stride Length
10 Programs
2% inward slope on foot pedals
20% adjustable incline
Chest Strap and Wireless Heart Rate Available
MP3 jack + speakers
Bluetooth technology
Cushioned, Slip-Resistant Pedals
350 lb. user weight capacity
Dimensions/Weight: 64"x 70"x 24" /212 lbs.
Warranty – Lifetime frame, 3 yrs parts & electronics, 1 yr labor

What's the Word on the Street?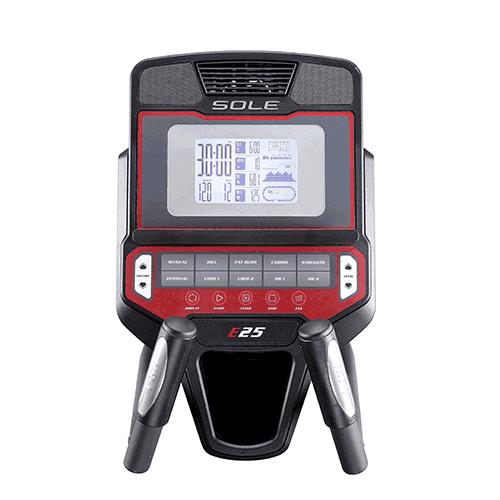 People familiar with the Sole line of ellipticals are happy to see that the Sole E25 elliptical continues to produce unmatched quality for under $1200 and say so in their reviews.
Although the list price is technically $1,799, the usual sale price online is $1099-$1,199. If you order from the company website, shipping is free.
Users credit the heavy, forward flywheel and slight, 2% incline of the foot pedals for making workouts incredibly comfortable even at a gruelling pace.
They also like the adjustable incline. Set at 20°, you'll feel like you're scaling a mountain and may feel your calf muscles quiver. But that's a good thing.
The E25 was completely redesigned to include Bluetooth technology, allowing you to sync your workouts to the Sole and other popular fitness apps.  That way you can set goals for yourself and compete for virtual prizes.
Sole recently introduced a partnership with the Studio company, giving you access to a huge library of on-demand workouts on and off the elliptical, similar to what competitors like NordicTrack and ProForm offer with iFit.
You'll want to consider the E35 as well, a step up model that is also very popular, although it is a few hundred dollars more.
Many of our visitors have asked about the Sole E25 vs. the E35, and you can read more about that comparison below.
All in all, experts and users are very happy with the Sole E25, and it remains a top pick in the under $1200 category.
How Does the E25 Compare to the Other Sole Ellipticals?
All of the Sole ellipticals are top notch, and although it is the entry level model, it is packed with features and capabilities you simply don't find on other machines in this price range.
Currently, there are 7 ellipticals in the series.  In addition to the E25, you have the E35 mentioned above, the E55, the E95, the E95S and the top of the line E98.
Let's take a closer look at all of them to see how they compare.
E25
As you've seen above, the E25 gives you a 20" stride, up to 20 different incline levels, a 20 lb. flywheel, Bluetooth workout tracking, 6.5" white backlit display.  The max user weight on this model is 350 lbs.
E35
Stepping up you have the Sole E35, which gives you a heavier 25 lb. flywheel, adjustable cushioned pedals, a larger 7.5" LCD display and a heavier max weight capacity of 375 lbs., in addition to everything the E25 has to offer.
E55
The E55 is more compact than the E35, adding more pedal adjustment capability and a larger 9.0" LCD display.
E95
Our favorite model of all and one of the best sellers for home use, the E95 is a more durable model with a 400 lb max weight capacity, 27 lb. flywheel, 10 position adjustable foot pedals and the largest display offered, a 10.1" TFT LCD console.
E95s
Very similar to the E95, except this is the only Sole elliptical with an adjustable stride, allowing you to go from 18" all the way up to 24" as opposed to just 20" fixed on all other models.
E98
This is the top of the line model in the series, built for light commercial use.  It has a 400 lb. max weight capacity like the E95 and E95s, plus a 32 lb. flywheel, unique fitness test programming and special EMS resistance.
So as you can see, as you move up from the Sole E25 to the other models in the series, you get heavier flywheels (smoother, quieter operation), larger displays, more pedal adjustment and higher max weight capacities.
Which Sole Elliptical Should You Choose?
Think about your budget and your needs when you're comparing the Sole E25 vs the Sole E35 or any of the other models.
The Sole E25 is one of the best entry level ellipticals you will find on the market today, hands down, so if you are just looking for something solid with some workout programs, incline capability, tracking and smooth impact-reducing motion, then that's going to be your best.
If you want something a little bit more durable, quieter, something that can handle a bit heavier use by larger/more individuals, then you'll definitely want to step up to one of the more advanced Sole ellipticals.
The E35 and its more compact counterpart the E55, both have a higher max weight capacities and heavier flywheels, so those are good step-up models to consider if you have the budget for it.
Those will cost you around $1599-$1699, so about $400-$500 more than the base Sole E25 elliptical.
As we mentioned, one of our top picks for home use is the E95, as this one gives you a more commercial grade frame, very heavy flywheel, the largest display and a 400 lb. max weight capacity.  
For only $100-$200 more than the E55, the E95 is a great choice if you're going to really use the machine often, or if there are multiple users in your household.  
It's always better to have more machine than less, as you can be sure it'll stand up to whatever you have to bring it...rather than opting for a lesser machine that you run into the ground.
The Sole E95s is good if you want more adjustability in terms of stride, but the 20" on the E95 are usually sufficient for most users.  And the E98 is a beast, but you don't necessarily need a light commercial machine in your home, unless there's a house full of athletes pounding away at it.
So to sum up, the Sole E25 is a great choice for those on a budget and/or those looking for a basic machine for light use, rehab, etc.  For heavier use, see which of the other models fit within your price range, as you will get more elliptical as you move up in the lineup.
You can also look at the similarly priced NordicTrack Commercial 9.9, which gives you a different set of features that may or may not appeal to you.  But it's worth considering.
Sole E25 Review - Bottom Line
Some people, including this reviewer, worried about Sole messing around with an elliptical that was already pretty awesome, but there was nothing to worry about.
This year's entry has everything that made the earlier model great and then some. And if you're looking for a sturdy, affordable elliptical machine that looks great, the E25 is your answer.
The black and silver motif with deep red accents has a sleek profile that makes it look like a much pricier machine. There is reason for elliptical users to rejoice in 2021 - the Sole E25 elliptical is better than ever.
Again, for heavier use, consider one of the other Sole ellipticals if it fits in your budget.