The Sole E35 Elliptical – New and Improved Machine
The Sole E35 elliptical machine is a step up from the popular E25, with a slightly higher price tag to go with it. It continues a tradition of excellent machines by Sole, a brand name known for elliptical performance and long life.

What You Get
You're getting a machine that's always been a favorite with users who don't mind going over the seemingly magical cut-off price of $1000. While listing at over $2799, you can get the newer model for $1599 on sale, putting it at either the upper end of mid-priced equipment or the lower end of high-priced ellipticals.
Features on the Sole E35 elliptical's new model include: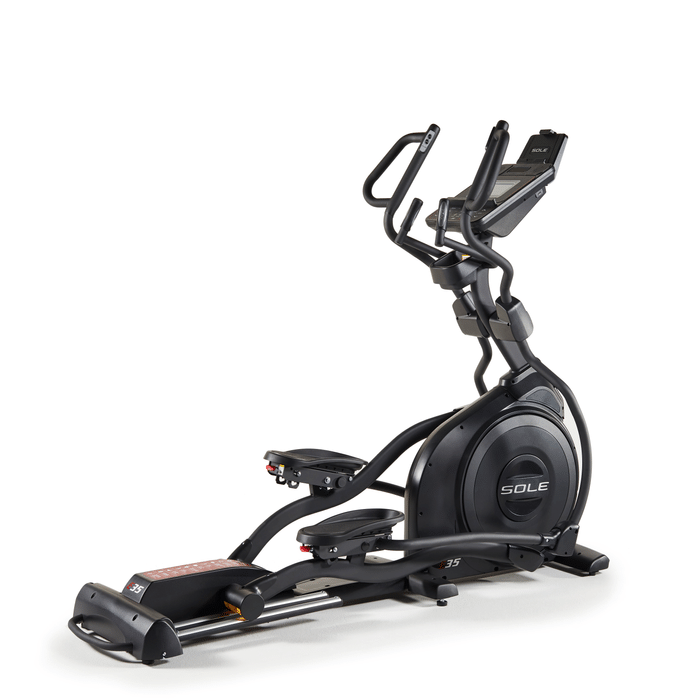 Eddy current brake resistance


Forward/Reverse motion
Dual wheel rollers
10.1" touch screen
20" Stride Length
10 Workout Programs
2% inward slope on foot pedals
20° adjustable incline
Chest Strap and Wireless Heart Rate
MP3 jack + speakers
Cooling Fan
Cushioned, Slip-Resistant Pedals
375 lb. user weight capacity
Dimensions/Weight: 67"x 82"x 31" - 231 lbs.
Warranty – Lifetime frame, 5 yrs parts & electronics, 2 yrs labor

The Word on the Street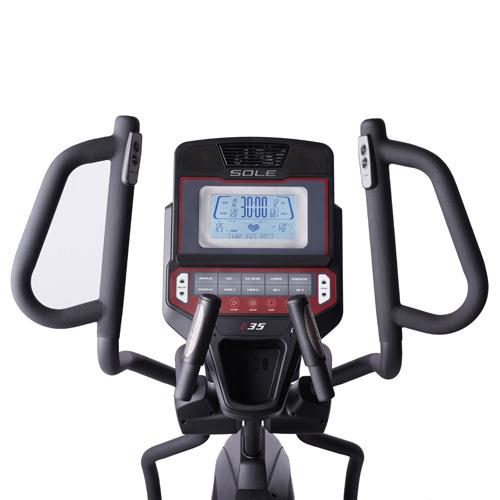 Sole has introduced a number of upgrades to their elliptical lineup including the addition of touch screens with WiFi and screen mirroring capability. The new E35 is one of the models that has that, which is a welcome change from the previous version.
The Sole E35 is very easy to assemble, and can typically be put together  in just a couple of hours. They attributed this to the precision design and engineering, with every high quality part a perfect fit, right down to the bolts. A few people compared its performance to that of higher priced home models, giving it a favorable review for the same fluid movement for hundreds of dollars less.
The recent redesign introduced Bluetooth technology to the E35 and some of the other ellipticals, which allows you to sync your workout data to either Sole's own app or some other popular fitness apps such as Apple Health and FitBit.  This helps them compete better with NordicTrack, a brand known for having the latest technology built into their machines.
Recently Sole stepped it up once again by teaming up with Studio to deliver on-demand workouts with over 3000 instructors, real-time leaderboards and both on and off elliptical workouts.
While you're considering the Sole E35 elliptical take a look at the slightly more expensive E55 model, which offers a larger display and a much more compact frame.  It's perfect for those with space constraints.
Also take a look at the entry level E25 model, another great choice that will put you just under $1000 if that's your budget.
How Does the E35 Compare to the Rest of the Sole Ellipticals?
It's definitely easier to compare Sole ellipticals than it is with other brands such as NordicTrack and ProForm, simply because the lineup is a bit more straightforward.
Whereas NordicTrack has rear drive, front drive and FreeStride Trainers, Sole has only front drive ellipticals, in addition to their newer climber machine.
So deciding between the E35 and the other models really comes down to price.  As you move up in price, you get more features and capabilities, it's as simple as that.
The E25 is the current base model, with a 20" stride, power incline, 20 lb. flywheel, wireless heart rate monitoring and a 6.5" display console.  At around $1099 on sale, it has a lot more features than you typically get at that price point.
The Sole E35, at around $1599, is a step up from the E25, with adjustable pedals that are more cushioned, a heavier 25 lb. flyweel and a larger 10.1" touch display.
As you move up to the E55, E95, E95s and E98, you get added features, heavier flywheels, heavier max weight capacities and bigger displays.
Although all of the Sole ellipticals are great, the E95 is currently our top choice for home use, simply because it is the most versatile and can stand up to heavier use by multiple individuals.  It also has the most advanced display of all.
But you don't necessarily need the Sole E95, especially if the machine won't see heavy use or you would rather not spend the $1,799.
We suggest you take a look at all of the models to see which one fits your needs the best.  Pick a budget range, then choose one of the models within that range.
What about the Sole E35 vs the competition?  Sole's main competition in the mid-priced field is NordicTrack and Horizon, and to some extent ProForm.
The Sole E35 is similarly priced to NordicTrack's Commercial 14.9, the upper end models in the company's Front Drive Series.  They are very similar, but the NordicTrack does have a touch screen display and more built in workouts than the E35, so that is worth considering.
It is also similarly priced to Horizon's Evolve 5, which does have more workouts than the E35, but does not have incline or Bluetooth capability.  It also has a lower max weight capacity, something to consider for heavier individuals.
Sole does hold its own in many categories, perhaps the most important of which is the durability and ergonomics of their ellipticals.  The E35 is built to last, with very low impact and a design that puts you in the ideal position while you work out.
Our Thoughts on the Sole E35
We love it when a company keeps building on its success. Sole has kept all of the features that made the older version of the Sole E35 and improved on a few of them.
The four wheels attached to rails at the rear of the E35 still reduce side to side movement of the footpedals, which is a detail you don't usually find at this price point.
They've increased the already generous stride length to an impressive 20" and upped the weight capacity to 375 pounds without pushing the limits of the machine's performance.
If you're looking for a step up from the E25, the Sole E35 elliptical trainer is a good deal for serious in-home users.
Also look at the higher end models if your budget is more open.  This will give you more durability, heavier flywheels and more advanced displays. The upper-end machines will also stand up to heavier use, so if there will be multiple users in your household you may be better served with one of those ellipticals.