Elliptical Trainer Reviews on 40 Popular Brands and 300+ Models
We hope our elliptical trainer reviews take the confusion out of shopping for an elliptical machine; after all, there are ellipticals ranging from only a few hundred dollars to ones in the thousands of dollars. There is also a wide variety of features and extras in addition to differences in level of workout and safety ratings. To make it easier for you, we've taken the time to review all of the major brands and the most popular models so that you can make an informed choice about the best cross trainer for your home gym.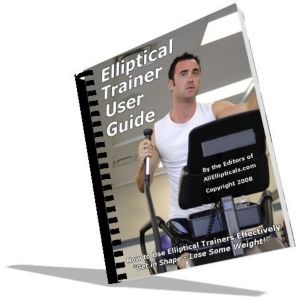 Research is Key
We've done the research for you and put together clear, unbiased elliptical reviews that cover essential information like cost, workout programs, user weight, stride length, warranty and extra perks. In addition to the detailed elliptical trainer reviews we've developed several "at-a-glance" comparison charts that break down the essential features and compare them in a side-by-side chart for quick reference as you shop for your elliptical machine. The charts cover elliptical trainers in every price range, so no matter how much you can afford to spend, you can find a machine that will meet your fitness needs.
You can check out where to buy quality new or remanufactured machines in our shopping guide section and our buying guide will give you the questions every consumer should ask when reviewing an elliptical trainer to suit his or her needs. You can even submit your own review!
We've even taken the time to put together our Best Elliptical Machines for 2016 including the best overall elliptical trainer, the best value machine, the top budget trainer with articulating footpads, a budget trainer for beginners and the best club quality trainer for 2016.
Understanding Your Elliptical Trainer
In addition to the reviews we've put together some informative articles on why elliptical trainers are so popular, the great health benefits you can expect when working out on one and getting the most out of your machine once you've purchased it. After all, we wouldn't be doing our job if we simply stopped with the purchase – when you're investing in something as important as an elliptical machine, getting the most out of it after the purchase is just as important as the purchase itself!
Explore our elliptical trainer reviews website fully to learn everything you need to know about elliptical machines – then start exercising!
ICON Fitness Reviews | Resources | Site Map #1 | Site Map #2 | Site Map #3 | Discontinued Models
"Thank you for your reviews of the Weslo elliptical machines on your site. They were very comprehensive and simple to read. You had some great pointers for people like me who are beginners on a budget, but want to spend our money wisely! Your elliptical trainer reviews helped me make an informed (and hopefully sensible) decision when purchasing my new exercise equipment. I will definitely be recommending your site to family and friends. Thank you so much!" Shanna
---
Table of Contents:
AFG elliptical trainers give smoothest motion. Strong warranties and superior customer service makes AFG stand out from the competition. Elliptical reviews and comparison charts.
Reviews of Body Solid elliptical trainers, dependable machines that fit into small spaces. Consumers like the lifetime warranty on parts. Endurance ellipticals reviewed.
The Bowflex Max Trainer is a hybrid exercise machine which supposedly burns more than twice the calories of a typical elliptical. Let's take a closer look.
Cybex Arc Trainers burn more calories in less time than any elliptical machine. Named Best Product of the Year by Fitness Management magazine for two years in a row.
Epic elliptical trainers have made their move to distinguish their line from the Icon pack, but they don't have a track record to compare against the leading brands.
Freemotion elliptical trainers and striders focus on quality components, superior ergonomic fit and advanced training technologies; designed to stand up to rigorous use by dedicated fitness buffs.
Golds Gym Elliptical Machines are budget prices trainers from ICON Fitness with mediocre reviews and decent features.
Reviews of the Healthrider elliptical trainer line. Quality machines in the $350 - $1000 price range. Read what the experts and buyers have to say!
Horizon elliptical trainers continue to raise the bar with advanced features such as pivoting footpads and power-driven inclines. Horizon elliptical reviews, model comparison charts.
Exceptional engineering makes Kettler elliptical trainers an outstanding buy. Sleekly designed elliptical machines – made in Germany.
Landice elliptical trainers are the best in the business for high-end machines with full bumper-to-bumper warranty coverage, adjustable stride lengths, and a patented Rollmentum™ Center-Drive System.
Lifecore elliptical trainers: budget rear-drive ellipticals, front-drive commercial class trainers, innovative center-drive models. High marks in reviews for overall value, superior customer service.
Reviews of Life Fitness elliptical trainers: constructed with a focus on ergonomic design and sound suppression. These top-of-the-line elliptical machines provide a club style feel.
Lifespan elliptical trainers - quality of construction gets good marks, but the value just isn't there. These models are overpriced. Lifespan elliptical reviews, model comparison charts.
Livestrong elliptical trainers, the new brand developed by Johnson Health Tech and endorsed by Lance Armstrong. Good looking machines at affordable prices.
Nautilus elliptical trainers, reviews of well-designed machines built for long life and a smooth, comfortable workout. Patented foot pedal design and innovative stride feature assures comfortable ride
Personal trainers are great fans of Nordictrack elliptical trainers. But read what consumers have to say in reviews about these elliptical machines.
Octane elliptical trainers deliver quality and value: an outstanding brand known for a comfy ergonomic stance. Reviews are positive about the quiet, smooth ride.
Review Pacemaster elliptical trainers: patented drive bar system results in ergonomic ride. Debut model gets high marks across the board.
Precor elliptical machines are considered the finest in workout equipment. Read what fitness professionals and consumers have to say about Precor elliptical trainers.
Proform elliptical trainers in the $500 - $900 price range come with impressive features. Compare Proform elliptical machines – these models won't break the bank.
Quantum elliptical trainers – quality components, attractive design and one of the best warranties in the business. Our review of Quantum's center-drive ellipticals.
Reebok elliptical machines are packed with great features to motivate the user. See what fitness professionals and consumers have to say about this elliptical trainer brand.
Schwinn elliptical machines offer good value for your money. See what consumer advocates and professional trainers have to say.
Sole elliptical trainers are known for their rugged construction, quality design and unique features. Reviews of all Sole elliptical machines; compare specs/features.
Spirit elliptical machines are solid, well-built performers that fit most budgets. Read our reviews of the top models in their elliptical trainer line.
Stamina elliptical trainers: cool features from heart rate monitoring to multiple pre-set programs and resistance levels. Price, quality and features make purchasing a budget model a solid choice.
StarTrac elliptical trainers are meant to last. Commercial grade models for home use offer smooth glide and small footprint. Reviews of Star Trac elliptical machines.
ST Fitness elliptical trainers: front-drive ellipticals marketed as TBTs (Total Body Trainers). Good components, generous residential warranties.
True elliptical machines are high end, commercial quality cardio trainers with a small footprint to fit any home gym environment.
Tunturi elliptical trainers – finely crafted machines at decent prices, now available in the U.S. Compare Tunturi elliptical machines. Reviews and comparison charts.
A Weslo elliptical trainer is a basic, entry-level trainer you can buy for under $300. Are these elliptical machines a good investment in your health? Read what trainers and consumers have to say.
xTerra elliptical trainers use the same quality frames and components that are already used in the best-selling Sole ellipticals. They rank well in adjustability, warranty, quality, and ergonomics.
Yowza elliptical trainers raise the bar for competitors in all areas: quality, ergonomics, silky smooth and silent operation, free shipping, superior warranty, responsive customer service.
A complete list of our elliptical reviews including all brands and models covered on our site.
Here are the six best elliptical machines in five 'best of' categories that made the top of the list for 2012. Reviews of the best elliptical trainers in the price range $650 - $4500.
Where to find used elliptical machines covered by a decent warranty. Save up to 50% on a remanufactured elliptical trainer.
A look at cheap elliptical trainers – inexpensive models in the $100-$1000 price range. Budget elliptical machines from Eclipse, Horizon, Stamina, ProForm and Weslo; Tony Little's elliptical gliders
Our elliptical trainer comparison chart takes the confusion out of shopping for the right machine. Compare elliptical machines and make an informed decision.
Tips for protecting yourself when shopping online for an elliptical trainer. These merchants have earned reputations for quality products, outstanding customer service and product knowledge.
Elliptical trainer workouts develop cardiovascular health and tone your body. This exercise guide will show you how to get started and how to stick with it.
Largest and most complete selection of elliptical trainer parts: consoles and wire harnesses, eddy and incline motors, resistance brakes, incline ramps, drive belts, transformers and more.
Elliptical trainer consumer reviews from actual users like you. Are you the owner or user of a crosstrainer? Here's your chance to rave or rant about the elliptical you bought or used at the gym.
Our elliptical trainer glossary is a list of definitions of common terms you'll come across when shopping for an elliptical machine
Reviews of the top elliptical trainer brands and over 120 models. Compare elliptical machines, prices and features with our comparison charts.
Choosing the right elliptical trainer has just become a lot easier. Compare makes and models of elliptical machines based on features that are important to you.
Please read our terms of use and privacy policy regarding your use of this website.
Compensation Disclosure
Contact All Ellipticals with feedback, comments, reviews or to ask about a particular elliptical machine you are considering.