Life Fitness Elliptical Trainers - A Top Choice for Serious Fitness Buffs

Life Fitness Elliptical Reviews
Life Fitness elliptical trainers are actually manufactured by Life Fitness, a company that puts its own name with great pride on all of their exercise equipment, and with good reason. The company prides itself on its state-of-the art research and development facility where every type of exercise equipment developed is exhaustively researched, refined and tested.
Life Fitness has the only completely in-house biomechanics research and development team in the industry. According to company information, the working prototypes and robot testing lab are some of the most sophisticated in the country. Life Fitness spends millions of dollars every year on refining everything from the ergonomic design of the pedals on their elliptical machines to determining the optimal stride length that will work for the greatest number of consumers.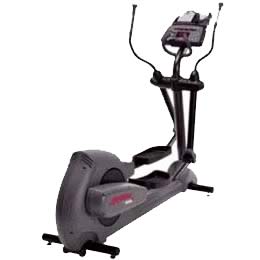 What You Get for the Money
Life Fitness elliptical trainers are constructed with a focus on ergonomic design and sound suppression, two areas that the company feels are most essential to guaranteeing that a consumer will continue using their trainer in the long term. Included in Life Fitness's research are in-house testing (hundreds of hours of it) and computer-aided analysis of the relationship between the machines and the movement and the human body.

Get Life Fitness elliptical trainers on sale at the company store!
With the added investment in fine-tuning all of their equipment, they don't produce an inexpensive product. The least expensive elliptical cross trainers from Life Fitness come in at around $1,900, so you should be sure you are making a genuine commitment before purchasing one.
What Consumers Say
Consumers consistently vote Life Fitness elliptical trainers some of the best in the industry for their gym-quality construction. This is no surprise, since Life Fitness began as a manufacturer of equipment for professional gyms before entering the private, home equipment marketplace. One of the features most often noted by individual users is the natural stride – that is, the unrestricted, natural walking or jogging gate that they get on these ellipticals. Another feature that's highly touted is the length of the stride – even people with long legs and those who are extremely tall feel that they are getting a full stretch of their legs on a Life Fitness elliptical machine.
Professional Opinions
Professionals are fond of the Life Fitness line as well, although a few have reservations about the warranty. It's actually a pretty good warranty – one year overall, with three years on parts in most models – but professionals are stacking the Life Fitness line up against other premium models, not against other models in general. In this respect, some other companies have surpassed them on the warranty. Otherwise, their consensus is that you can get excellent results and a truly "professional gym feel" with any of Life Fitness elliptical trainers.
Click here to write your own review!
Model Reviews
Most Popular Models
Life Fitness Club Series Elliptical - Incredibly smooth glide, accurate HR monitoring, great programs, wonderful ergonomics; ranks near the top on most Best Buy lists for its price range.
Life Fitness X1 Elliptical - The most affordable trainer of the Life Fitness rear-drive models: low noise, smooth pedaling motion, quality components.
Life Fitness X3 Elliptical - High marks from pro trainer and technician reviews for critical areas such as ergonomics, smooth ride, quiet operation and reliability.
Life Fitness X5 Elliptical - All the same great features, quality, stability, reliability and ergonomic comfort as the more expensive club-quality models.
Older Models
Life Fitness X8 Elliptical - Scores near-perfect in reviews in all critical areas including adjustability, low noise level, value, durability, ergonomic stride pattern and programming and attractive design.
Life Fitness CT9100RD - Save thousands of dollars with the purchase of a reconditioned club model over the price of a new one.
Life Fitness CT9500HR - This is one machine that is worth buying remanufactured if you can't get it new.
Life Fitness 91Xi - Valued for the solid ride, smooth performance; a first choice for advanced cardiovascular training.
Life Fitness 95xi - Ergonomic design, auto stride adjustment, natural, smooth elliptical motion.
---