The Life Fitness FS6 Improves Upon the FS4 Cross Trainer
The Life Fitness FS6 joins the FS4 in a brand new lineup from the high-end company, a compact elliptical with improved technology and more functionality than their traditional cross trainers.
What You Get
The FS6 is available in dark walnut or titanium finish, with an advanced touch screen console and incorporate three different workouts.
Let's look at the most important specs...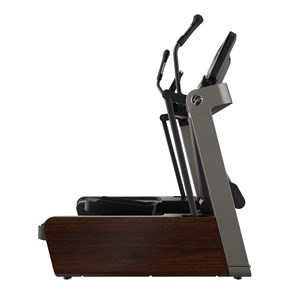 Eddy Current Resistance System
18-26" adjustable stride length
Small Footprint
Two Color Options
Side-Drive technology
Attachments for resistance bands
QuickGrip handles
Extended Range Pedals
Step-up height – 10.5 inches
Unit weight: 350 lbs
50.5"L  x 64.5"H
400-lb. user weight capacity
Warranty – Lifetime frame; 5 years parts; 1 year labor
Check out this new compact elliptical on sale at Life Fitness!
The Word on the Street
The FS6 cross trainer is entirely different than the traditional Life Fitness ellipticals, with a whole new look and feel.  it will be interesting to see how popular they are, as they are certainly more appealing.
For starters, it features a mid-drive design, rather than the rear drive that you see on Life Fitness cross trainers at the gym.  This allows for a much more compact design, which means it fits in much better in most home gyms.  It's only 50" long, about 25-30" shorter that a traditional elliptical...that's quite a difference.
You also get side rails with the new FS trainers, which is great if you just want to do an upper body workout.  You simply put one foot on either side rail and use the rotating handles as you normally would.
The notable difference between the base FS4 model and the FS6 is that the latter gives you a very generous adjustable stride.  The FS4 comes with a fixed 22" stride, while the FS6 comes with an adjustable 18" - 26", which makes it ideal for all sized users.
You can choose from two color options as we mentioned above: titanium or dark walnut...whichever one more closely matches your gym decor.
You get three trademarked technologies built in:  Side-Drive for smooth motion, QuickGrip handles for comfort and easy resistance/stride changes, and Extended RangePedal to choose the ideal position for you.
Another unique feature on the Life Fitness FS6 is the premium touch screen, which connects to your favorite apps via Bluetooth and NFC.  The console receives new workouts automatically 4 times a year, and can be updated when necessary.
Some of the other notable features: attachment points for exercise bands, another element the other machines don't have, as well as a max iser weight of 400 lbs. and a very generous warranty.
How Does the FS6 Compare With the Other Life Fitness Ellipticals?
The Life Fitness FS6 and its little brother, the FS4, are the first ellipticals in the company's history not to feature the patented rear-drive design.  All of the mechanics are located on either side of the machine, which allows for a much more compact profile as well as longer stride lengths.
Let's take a look at the FS4 and the FS6 vs. all of the other current Life Fitness elliptical trainers.
FS4/FS6

OTHER LF MODELS

Length

50.5" L

81" + L


Drive

Side

Rear


Stride Length

FS4 - 22" Fixed
FS6- 18-26"

Most - 20" Fixed
E3- 18-24"

Side Platforms

Yes

No

Resistance Band Attachments

Yes

No

Color Options

Yes

Only the Platinum Club Series

Advanced Touch Screen

Yes

Only the Platinum Club Series
So as you can see, the Life Fitness FS6 and FS4 are unique in many ways, and give you not only a more space-friendly design, but also additional cross training options and more advanced technology, including the latest touch screen console.
Should You Buy the FS6 or One of the Others?
There are a lot of reasons to buy one of the new FS models, as they offer many advantages over the other Life Fitness ellipticals as you read about above.
If you're looking for a high end trainer but you just can't fit a traditional rear-drive machine into your home gym, then this might just be the perfect choice for you.  
You have the compact design, and you can also do things on the FS6 and FS4 that you can't do on the other machines.
For starters, you can step onto the side platforms and just do an upper body workout with the moving arms.  You can also attach resistance bands to the rear of the machine and do all sorts of curls, presses and other motions to work out the upper body.
You also get the advanced touch screen with Bluetooth so you can track your workouts, sync with your favorite fitness apps and set goals for yourself.  This was previously only available on the very expensive Platinum Series.
The only reason you might want to go with one of the other ellipticals is if you prefer the rear drive motion, which is a bit different than the motion on a side drive machine.  You will certainly get used to it, but it is a bit of a change, especially if you've been training on a traditional Life Fitness elliptical in the gym for years.
Also, if budget is a concern, there are less expensive options, including the X1, E1 and X3.  So as long as you have the space in your home gym, you can save $800-$1000 by opting for one of those trainers over the FS4, and an additional $1000 over the FS6.
So consider your space and your budget....if you can afford it, there are no downsides to the new Life Fitness FS6 or its little brother, the FS4.
Our Thoughts on the FS6 Elliptical
We definitely like the direction that Life Fitness is going in with the FS6 elliptical.  They are moving away from the large, bulky traditional machines and giving home users a more compact cross trainer with much more functionality.
You get a space-friendly machine, with a fully adjustable stride, same rock-solid construction, and the ability to work out any way you like: full body, upper body only or strength training off the machine with resistance bands.
Add to that an advanced touch screen console with regular updates and Bluetooth technology, and you have an elliptical that really ticks all the boxes.
Is the FS6 expensive?  Sure, it'll cost you between $3999 and $4199, depending on which finish you choose...but it's well worth it for all of the features and capabilities you are getting.  
You can save about $1000 if you opt for the FS4...you'll only be sacrificing the adjustable stride, which isn't really an issue for most people.
Either way, the FS4 and FS6 are great new additions to the lineup.
Get more information and special sale pricing on this elliptical here.