The Life Fitness Platinum Club Series - As Good as is Gets
The Platinum Club Series elliptical cross-trainer from Life Fitness is a commercial quality machine made for home use. Designed for total body workouts, the machine comes with a sturdy frame, highly sophisticated features, and plenty of entertainment options.
What You Get
The Platinum Club elliptical offers you three premium consoles to choose from – Explore, Discover SI, and Discover SE. Explore is the entry level console with an LCD screen. Discover SI is the mid-level console with a 10" touchscreen. Discover SE is the most advanced console with a 16" touchscreen display and built-in TV. All three consoles have Bluetooth and internet connectivity and are compatible with iPhone and Android devices.
Here is a list of key features of the Platinum Club elliptical...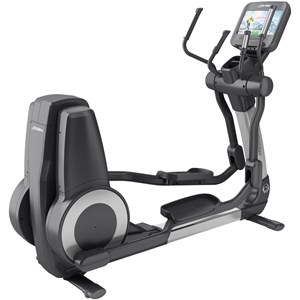 26 resistance levels
20" stride length
Up to 42 workout programs
Up to 8 custom workouts
LifePulse Digital Contact Heart Rate Monitoring
ErgoGrip stationary handlebar
Oversized Pedals
Unit wt/dimensions: 235 lbs/ 88 x 31 x 65 inches (LxWxH)
400-lb. user weight capacity
Warranty – Lifetime frame; 3 years parts; 1 year labor
See the Platinum Club Series Elliptical at the Life Fitness store!
The Word on the Street
The Platinum Club cross-trainer weighs a whopping 450 lbs and is built like a tank. It is non-foldable and takes up quite a bit of floor space, but has transport wheels at the front end for easy mobility. So, you should be able to move it around without any problems.
One thing that seems to have surprised many people is the machine's whisper quiet operation. Thanks to the innovative Quiet Drive technology, the machine is virtually silent even during strenuous workout sessions.
A lot of research has gone into the cross-trainer to make sure it has a smooth and natural motion. The machine is designed to offer low-impact workouts that yield great results. It is a lot easier on your joints than most other elliptical trainers.
The Platinum Club elliptical has 26 resistance levels. The movable arms have built-in controls that allow you to change the resistance level instantly to increase or decrease the intensity of your workout.
 The machine offers you three console options – Explore, Discover SI, and Discover SE. If you are happy with a basic LCD console, you can opt for the budget-friendly Explore console. But if you want to make the most out of the machine, you should opt for either of the two Discover consoles. The Discover consoles come with 42 built-in training programs, 8 custom training programs, and the capacity to store an unlimited number of user profiles.
You can track your heart rate using the contact sensors in the handlebars or a wireless chest strap. You can make full use of the heart rate training programs to stay in the optimal zone and reach your fitness goals fast.
The machine has a user weight capacity of 400 lbs. It is exceptionally sturdy and can withstand years of abuse.
However, as great as the Platinum Club elliptical trainer is, it does have a couple of downsides. Firstly, it has a 20" fixed stride length. Adjustable stride length would have been a better option, especially considering the machine's price tag.  It certainly is better than the fixed 18" stride on the Club Series model.
Secondly, the machine is compatible with a chest strap, but it is not included in the package. Again, at this price point, the wireless chest strap should have been included with the package.
Our Thoughts on the Platinum Club Series Elliptical
The Platinum Club Series cross-trainer is a top-notch product from Life Fitness. Its whisper quiet operation, natural, fluid motion, accurate heart rate tracking, and the wide variety of workout programs are all very impressive. The multiple console options allow you to choose a console that suits your budget and needs.
The machine is ruggedly built and very durable. It can be used by multiple users. It is backed by great warranty as well.
The lack of customizable features is the only notable flaw in the machine. However, we feel that you can afford to look past it since the machine rivals light-commercial machines in terms of quality, usability, functionality, and durability.
On the whole, the Platinum Club Series elliptical trainer is one of the very best in its class. If you want to know what it feels like to enjoy a fitness club style workout at home, you should give this machine a try.
Get more info and special sale pricing on this elliptical here!