Sole Elliptical Trainers – Quality Machines for Upscale Market

Sole Elliptical Reviews
You may not find as much information about Sole elliptical trainers online as you will about some other brands because this company has only been producing elliptical machines for about ten years.
Sole began over twenty years ago as a treadmill company and quickly found its niche as a supplier of rugged, high quality machines to hotel chains such as Hilton and Omni. Durability is key for hotels since the machines see so much use and abuse, so it's obvious the company knows how to build a strong, reliable piece of equipment.
Comprehensive Warranties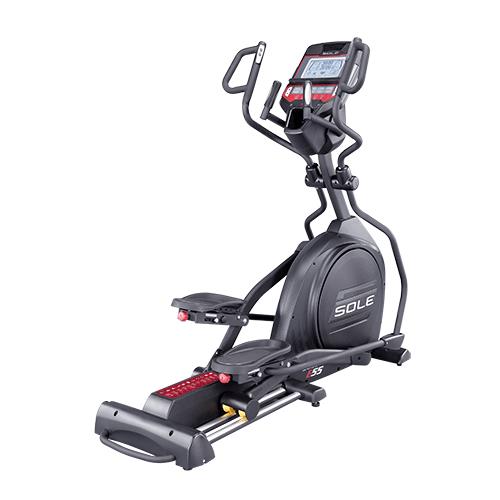 Sole elliptical trainers entered the scene just a few years ago with four different options in the upscale market, with the lowest priced model beginning at just under $700.  
They have since stepped it up with 7 high quality models currently for sale: the E25, E35, E55, E95, E95s, E98 and the new Sole SC200 Stepper, which is a combination elliptical and stepper like the Bowflex Max Trainer series.
Get the best prices on popular Sole Fitness Ellipticals here!
Late in 2016 they introduced the ST300 and ST600 Striders, with adjustable strides from 18" all the way up to 26" to target even more muscle groups.
The company stands by their equipment in a big way by offering a lifetime warranty on the frames and a five year parts and labor warranty on everything else – something almost unheard of in the exercise equipment industry, especially for home use.
Unique Design Reduces Strain
Sole spent a lot of time and money on research before putting its name on any elliptical machines; they had a stellar reputation with their treadmills and wanted to keep it.
Research included working with a physical therapist who designed the 2° foot pedal slope that is unique to Sole's elliptical cross trainer line. This slope helps protect the ankles, knees and Achilles tendons from too much strain, and has become one of the most talked about signature features of the line.
What Personal Trainers Have to Say
Personal trainers love the high gear ratio and large flywheel of Sole elliptical machines and compare them to leading brands such as Precor. The high quality heart rate monitor and easy to read consoles are also frequently noted as pluses by professionals. They often take note of the higher weight capacity as well, suggesting that it is a sign of the high construction quality.
The new Bluetooth wireless capability is also a welcome addition, as it allows users to track their workouts via the Sole app as well as Fitbit, Apple Health and other popular fitness apps.
Consumers Love the Natural Feel
People who have purchased Sole elliptical trainers almost always love them, comparing their stability, long (20+") stridea and natural-feeling elliptical motion to those of commercial gym machines costing hundreds and even thousands of dollars more.
"Best Buy" Based on Quality for the Price
Two of the seven Sole elliptical machines have made it onto at least two independent "Best Buy" lists each based on quality for the price. It seems obvious that although relative newcomers, Sole elliptical trainers are here to stay.
Consumer Reviews
DID YOU KNOW?

Sole offers FREE SHIPPING in the continental United States. Your elliptical trainer will arrive within 10 to 14 working days.
You pay ZERO SALES TAX!
(UT & CA excluded)
Sole Ellipticals Consumer Reviews - Comments submitted by users of the Sole E25 and E35 elliptical trainers.
Sole Elliptical Model Reviews
Most Popular Models
Sole E25 Elliptical - Earlier incarnations of the Sole E25 elliptical received high praise from several review sites as the best elliptical under $1000, and this new model continues that tradition.
Sole E35 Elliptical - The new E35 is a step up from the popular E25, with a slightly higher price tag. It continues a tradition of excellent machines by Sole, a brand name known for elliptical performance and long life.
Sole E55 Elliptical - Combining most of the features of the up-level E95 in a more compact design, the E55 is a good mid-range choice.

Sole E95 Elliptical - The Sole E95 makes an exceptional purchase for anyone looking for a light commercial elliptical. Unique features may make this the most comfortable elliptical you can get at any price.
Sole E95s Elliptical - A relatively new model offering power adjustable stride from 18" all the way up to 24", making it perfect for families or those just looking to vary their workouts.

Sole E98 Elliptical - A light commercial machine designed for use in health clubs and gyms as well as for home use.
Sole ST300 Strider - A new elliptical for the 2017 model year, offering a generous 18-26" adjustable stride for more muscle targeting.
Sole ST600 Strider - Joining the ST300 as the higher end model with power adjustable stride and heavier flywheel.

Sole SC200 Stepper - The first elliptical/stepper from the company offering a low impact workout combined with the comfort the brand is known for,

Older Models
Sole E20 Elliptical - The new budget model developed for fans of Sole's light commercial elliptical machines who can't afford their more expensive models. Available exclusively through Sears stores.
Check out the full current lineup at special sale prices here!
---