Nordictrack Elliptical Trainers – Stylish Design and Comfort

NordicTrack Elliptical Reviews
Nordictrack elliptical trainers grew out of the Nordictrack company's original, unique exercise design, the Nordic ski machine. Everyone remembers these from the many infomercials on television back in the 1980's. The company has since branched out into a variety of types of exercise equipment and even sports apparel. In the process, they've developed a mid-range line of Nordictrack elliptical machines that focus on the same blend of stylish design and comfort that their earlier ski machines did.
Working Out in Style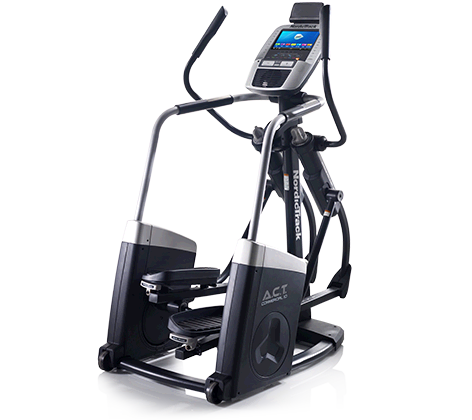 The company offers ten different styles of Nordictrack elliptical trainers ranging in price from $799 to almost $2999, although the ones that are around $1,000-$1500 are by far the most popular with buyers. Originally made in the USA, most are now produced in China or Taiwan since Nordictrack was purchased by ICON Fitness in 1999.

Nordictrack's philosophy and advertising remains the same as it always has, however; it focuses on athletes and adventures. They appeal to those who are in good shape and want to get into even better shape first, mentioning things like "preparing to climb Everest" in their advertisements. It's an upscale approach that works for them.
Find Popular NordicTrack Elliptical Trainers on Sale Now!
The current lineup consists of the rear-drive Space Saver SE7i and SE9i, the front drive C 7.5, C 9.5, C 12.9 and Commercial 14.9 and the popular A.C.T Commercial Base, 7 and 10 ellipticals which are center-drive models.
Four models were recently removed from the lineup, including the E8.9 Elite, the E 11.9 and two 2015 models, the 12.9 and the 16.9.
The company always offers plenty of model choices with varying features and capabilities (it can actually get a bit confusing as names and models change quite often)...but there is something for every body and every budget.

The Pros
Consumers tend to be quite pleased with their Nordictrack elliptical trainers. Most are very satisfied with them regardless of the model they purchase. They especially tend to like the smooth glide and good "fit" of the machine, saying it motivates them to keep working out.
The Cons
The few customers that do complain about their Nordictrack elliptical machine are those that have mechanical issues...but keep in mind this is the case with any brand as there are always going to be a few machines that are "off" for one reason or another.
The companies sells tens of thousands of these machines year, so the likelihood of a bad machine is much greater than it would be for a company that only sells a few hundred.
ICON's customer service isn't the greatest, but the quality of the machines has been steadily improving, eliminating much of the need to speak with customer service in the first place.  So in all likelihood this will not be an issue for you at all.
Why Trainers Like Nordictrack
An interesting note – personal trainers and other fitness professionals are great fans of the Nordictrack brand of elliptical machines for the at-home user. They highly recommend them for the little extras such as a higher display screen and better incline adjustment, and feel that they offer a near-gym quality for a moderate price. Most trainers suggest that between a low-end $700 elliptical and a moderate Nordictrack, the Nordictrack is worth the extra, but that going to the highest end to true commercial quality isn't necessary for most people – they feel that Nordictrack elliptical trainers are an excellent compromise choice.
Consumer Reviews
NordicTrack User Reviews - Read what consumers have to say about their purchase! NordicTrack AudioStrider consumer reviews are listed here.
Click here to write your own review!
NordicTrack Elliptical Model Reviews
Most Popular Models
NordicTrack A.C.T. Commercial (Base Model) - The entry level mid drive model in the series, this is a great value at just under $1000 on sale and packed with features.
NordicTrack A.C.T. Commercial 7 - Unique center driven mechanism for a different workout experience.
NordicTrack A.C.T. Commercial 10 - Another center drive elliptical with a smaller footprint.
NordicTrack C 7.5 - A new 2016 model replacing the E 8.9, this entry-level offering has Bluetooth iFit and plenty of incline and resistance levels.
NordicTrack C 9.5 - New for 2016 this model has web-enabled touch screen, iFit technology, 32 workouts and power incline.
NordicTrack C 12.9 - Another new model joining the front-drive lineup, this one is web-enabled with a heavy 32 pound flywheel, power incline and a free wireless chest strap for accurate heart rate readings.
NordicTrack Commercial 14.9 - the new top-of-the-line front drive elliptical with a 10" touchscreen, loads of workouts, Bluetooth wireless heart rate and iFit technology.

NordicTrack SpaceSaver SE7i Elliptical - New model has a great range of features and its slim line design allows you to store it almost anywhere.
NordicTrack SpaceSaver SE9i Elliptical - Folds up with the smallest footprint yet and enables the user to go online with a fully web enabled touch screen display.
NordicTrack FreeStride Trainer FS5i - A new addition to the popular FreeStride series, this one is a more affordable option with a 32 inch adjustable stride, iFit and an integrated tablet holder.
NordicTrack FreeStride Trainer FS7i - The mid range model in the front drive series, this one is web enabled with incline, iFit and a lot of great features.

NordicTrack FreeStride Trainer FS9i - The top end model in the series with incline and decline, plus a 10" web-enabled touch screen and a 38 inch adjustable stride.

Older Models
NordicTrack Elite 12.9 Elliptical  - brand new for 2015, this front-drive model is packed with great features like iFit, incline, long stride and included Polar heart rate monitor.

NordicTrack E 8.9 Elliptical  - an entry level, front-drive trainer with a number of good features especially for the price.

NordicTrack E8.7 Elliptical - a great low budget trainer but in our opinion it lacks many features that other trainers have in a similar price range.
NordicTrack E11.7 Elliptical - a great low budget model which has added features that many of the high priced models simply don't have such as the ability to alter the heel to toe angle.
NordicTrack Elite 16.7 Elliptical - a fantastic looking model in the NordicTrack™ front drive series with the immediate attention being drawn to the addition of a 15" HDTV!
NordicTrack E5.5 Elliptical - The E5.5 elliptical has three adjustable stride settings to target the muscle groups in the legs in different ways to achieve faster toning results.  
NordicTrack E5.7 Elliptical - The front-drive E5.7 elliptical features an 18" - 20" Adjustable Stride Length plus five choices of incline from zero to 20 degrees.
NordicTrack E7.1 Elliptical - Entry-level elliptical has a list of features that is eye popping for a trainer at this price, but do read the reviews to see what owners have to say.
NordicTrack E7.5 Elliptical - A solid step up from the entry-level E7.1 model. Programs include 12 each for performance enhancement and calorie burning.
NordicTrack E7.7 Elliptical - a new entry into the mid-range market by NordicTrack, a leader in moderately priced elliptical machines.
NordicTrack E8.0 Elliptical - The E8.0 elliptical features a smaller footprint than most trainers and has an adjustable incline.
NordicTrack E9.0 Elliptical - An impressive machine that will really challenge you; designed to appeal to fitness buffs and those who are serious about their workouts.
NordicTrack E15.0 Elliptical - Cool features that are innovative, especially the incline/decline ramp and varying stride length (not available on competitor models)
NordicTrack Elite 12.0 Elliptical - Offers a 10% decline and a big 22" stride length to help target more muscles in the legs for even faster results; an exceptional deal for all that you get.
NordicTrack Elite 12.7 Elliptical - Another excellent machine in the upper price range. We remain fans of the handlebars with the built-in resistance and incline adjustment.
NordicTrack Commercial XM Elliptical - Not a commercial but a residential model covered by a 90 day parts/labor warranty (red flag!); you will have to spend extra money to buy extended coverage.
NordicTrack FreeStrider 35S Elliptical - An exceptional cardio-blasting workout machine that will have you huffing, puffing, and sweating; an all-in-one stepper / elliptical.
NordicTrack Pathfinder - The NordicTrack Pathfinder gets many positive reviews. Points to mention: ergonomic comfort, ease of assemble, sturdiness, noise level, smoothness, reliability, strong value.
The NordicTrack AudioStrider 990 PRO - a heavier flywheel should improve the performance compared to the older 990 model.
The NordicTrack AudioStrider 990 - Good choice for a starter cardio machine.
The NordicTrack A.C.T. - Great value, ergonomics, and quality at the right price.
The NordicTrack A.C.T. Pro Elliptical - A heavy machine with a compact footprint. Quiet operation, average ergonomics and adjustability.
The NordicTrack ASR 700 - an elliptical trainer with interactive video games and iFit technology.
NordicTrack Elite 14.7 - The NordicTrack Elite 14.7 features an impressive 38 workouts and an adjustable incline for variety, an easy to read console and a silky, quiet ride.
NordicTrack Elite 17.7 - An upgrade from the Elite 14.7 with a larger browser window and a warranty that has been extended by one year on both parts and labor.
The NordicTrack Elite 1300 - a solid unit at the right price.
---
Return to the Elliptical Reviews Home Page