Octane Elliptical Trainers: Innovative Design for High Intensity Workouts

Octane Elliptical Reviews
One would think that Octane elliptical trainers would have a larger market share since they are made by a company dedicated to making only ellipticals, including seated models as well as standing units. Formed in 2001 by two former executives of Life Fitness, Octane strives to deliver quality and value in their high-end line-up of machines.
Natural Stride Motion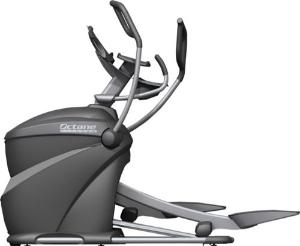 Octane elliptical trainers, which retail for $2,000 to $8,000, have a unique design. The machines have two rails per pedal in their four-bar linkage front drive system, and this helps to give the Octane ellipticals their stable feel.
In addition, the pedals are very close together (as close as 1.8") for a remarkable and comfy ergonomic stance. This natural stride motion will feel better on an Octane than you'll find on a more expensive Precor.
Octane also offers the effective X-Mode Cross Training Program, which instructs the user to do various exercises at one-minute intervals, such as pedaling faster, doing squats, etc. The program generates a randomly selected exercise to perform. After a two-minute recovery period, the user will start on a different muscle group to target.
There are a number of models currently offered, including Standing, Recumbent, Lateral and Zero Runners.
The Standing Ellipticals include the Q35, Q37, Q47, XT3700, XT4700 and XT-ONE.  They range in price from $2,199 to $7,899.
The Recumbent Ellipticals include the XR4, XR6, XR650 and XR6000 ranging in price from $2,899 to $5,399.
There is one Lateral Elliptical, the LX8000, which costs around $7,699 for the base model and $8,998 for the Smart model.
Lastly, there are three Zero Runners, the ZR7,  ZR8 and ZR8000, costing $3,299, $4,299 and $8,399, respectively.
Some models offer additional console options that add to the prices above.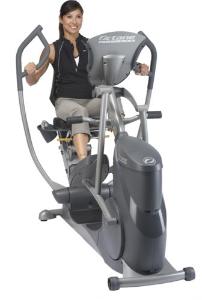 Innovative. Comfortable. All Quiet
The machines have an adjustable stride length from 18" to 26". The upper body workout is extraordinary thanks to the exclusive Converging Path handlebars, which works in conjunction with Body-Mapping Ergonomics for fluid motion on each and every foot stride. Octane elliptical reviews are nearly universally positive about this quiet, smooth ride.
As for the machinery under the hood, the components are exceptionally engineered. Technologically superior to Precor and Life Fitness cross trainers, Octane elliptical machines for home users match the quality found in their commercial-quality club line. It's no surprise that these trainers have been given Best Buy kudos from several consumer publications like Health, Consumer Guide, and Prevention.com.
What We Say About Octane
We now feel our initial review on Octane elliptical trainers a few years back was a tad too harsh, mainly due to head-to-head price comparisons. However, as the market has grown more competitive through the recession, Octane's style, quality, durability, and value are notable. The verdict? This brand is outstanding and the price is well worth it.
Consumer Reviews
Octane Ellipticals User Reviews - Reviews submitted by consumers and users like you. Read what owners of Octane elliptical machines have to say about their purchase.
Click here to write your own review!
Octane Elliptical Model Reviews
Most Popular Models
Octane Zero Runner ZR7 - completely impact-free with up to a whopping 58" stride, this machine allows for a completely natural motion and muscle strengthening.
Octane XR6000 XRide Recumbent - this is the top of the line recumbent elliptical model, giving you plenty of workout programs and advanced technology for a full body workout.
Octane XR4 Elliptical - The seated Octane XR4 offers a stylish workout for the home. It features the new PowerStroke technology, and gives you a total body workout.
Octane XR6 Elliptical - The only seated ellipticals on the market! Add muscle endurance and upper and lower body strength training to your workouts.
Octane LateralX Elliptical - There isn't another elliptical like this one; the design is flawless and the components are superior quality all the way.
Octane Q35 Elliptical - Stay motivated with he X-Mode on-board personal trainer.

Octane Q37 Elliptical - An exercise experience few competitors can match.
Octane Q47 Elliptical - Feels better than anything else you'll ride; technologically and bio-mechanically superior to Precor and Life Fitness models.

---