Xterra Elliptical Trainers – Quality Frames & Components
Launched in the fall of 2009, Xterra elliptical trainers are a relatively new premier brand manufactured and licensed by Spirit Fitness.
The Xterra Fitness line features treadmills, stationary bikes and a rower in addition to ellipticals. The company's demographic focus is on the unique market of young, aggressive, and athletic minded consumers. The brand is sold through internet retailer sites as well as their own recently introduced company site.
Why a New Brand?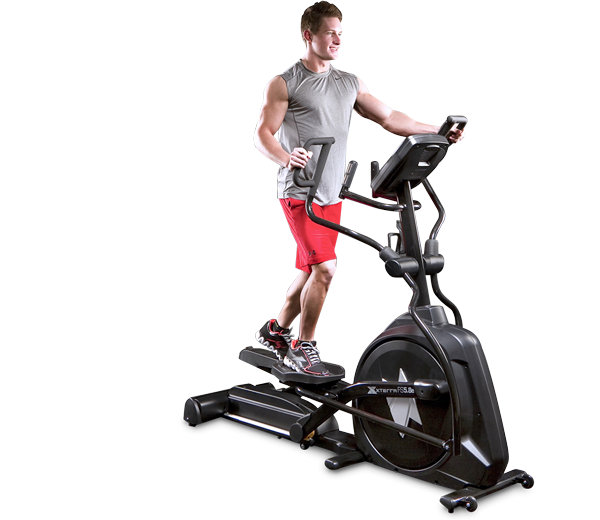 Dyaco International of Taiwan, which makes Sole, Spirit, and Esprit products, launched the Xterra brand to claim more of a share of the North American market.
They are very successful with the Sole Fitness elliptical trainers but while they are the manufacturer and distributor, they do not own Sole. Spirit owns the exclusive licensing agreement to manufacture and distribute the Xterra brand.
Dyaco won't be reinventing anything new with Xterra as you will discover they use the same quality frames and components on the new machines that are already used in the best-selling Sole and Spirit elliptical trainers.
They will offer consumers biomechanically correct and comfortable features, plus a little something different; superior warranties and a unique backlit LCD console display.
A Look at the Current Xterra Elliptical Lineup
The Xterra elliptical trainers use premium components including heavy-duty steel flywheels, sealed commercial bearings, premium bushings, and concave wheels.
Other features include self-leveling pedals, user friendly and brightly lit LCD consoles, cooling fans, MP3 jack and speakers, and water bottle holders.
Compare Popular Xterra Fitness Ellipticals On Sale Here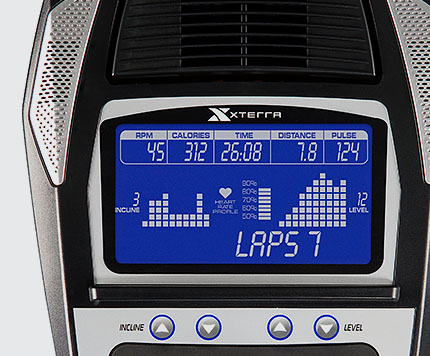 The latest line is called the Xterra Free Style Series and it includes two ellipticals: the base FS5.6 and the up-level FS5.8.
Both current models have smooth operation, sturdy construction, and good programming. You'll find the internet pricing to be around 30% lower than the stated MSRP, which is very good.
Let's take a closer look at these two new trainers...
FS5.6
The FS5.6 has a 20" stride, 21 lb. flywheel, 7 workout programs, 20 resistance levels, 20 power incline levels, oversized tilted pedals, grip and wireless heart rate monitoring, 6.5" blue backlit display and a 375 lb. max weight limit.
FS5.8
The FS5.6 has a heavier 25 lb. flywheel, 8 workout programs, cushioned pedals, larger 7.5" blue backlit display and a 400 lb. max weight limit, in addition to all of the other features and capabilities of the base FS5.6.
Elliptical reviews are mixed on these models – especially when you can compare them head-to-head with counterparts in the NordicTrack, Horizon and Sole line-ups. As they are all priced within the same range, you should compare specs and get the best one that suites your needs and budget.
One of the major things missing from the Xterra ellipticals is workout tracking capability.  At this price level: $999 for the  FS5.6 and $1299 for the FS5.8, many ellipticals these days have Bluetooth workout tracking capability of some sort.
NordicTrack, ProForm, Horizon and Sole all give you a way to keep tabs on your workouts and sync your daily results with the fitness apps that you like to use.  Currently the Xterra ellipticals do not for some reason.
Other than that, the FS5.6 and FS5.8 do have a lot to offer and are worth considering.
Will The Brand Succeed?
While the Xterra elliptical trainers are good, but not great, you can look for this line to improve in the coming years. They rank well in adjustability, warranty, quality, and ergonomics, and about average in noise and console features.
Once Spirit launched the Esprit brand comprised of the best-selling Sole ellipticals at a discount, the line took off and gained respectability. Expect the same type of marketing to be done for the Xtrra Fitness brand.
We believe that Dyaco will put everything they can into making Xterra a success, but only time will tell.  These two new models are better than anything we've seen before from the company, but without workout tracking they might have a hard time competing.
You can read the latest Xterra elliptical reviews below for a more in-depth look at specs, news, buying tips and other important info on the trainers.
Click here to write your own review!
Xterra Elliptical Model Reviews
Xterra FS5.6 - An upgraded version of the FS5.5 with a 20" stride, 20 levels of incline and resistance, and heart rate workouts and monitoring.
---