Diamondback Fitness 1280Ef - Brand New Touch Screen Elliptical
The Diamondback 1280Ef is the newest elliptical in the company's lineup, introduced as a 2020 model and featuring a number of upgrades from the previous 1260Ef.
With a touch screen display, adjustable stride length and WiFi fitness app integration, this is a great option for those looking for a solid elliptical trainer for their home gym.
Let's jump into the review to see what this new model is all about...
What You Get
The 1280Ef is all black with red accents, giving it a very modern, sleek look and an entirely different appearance than the previous top of the line 1260Ef trainer.
It has a front drive design with stationary as well as moving handlebars for an arm workout.
Here are the most important specs for your review...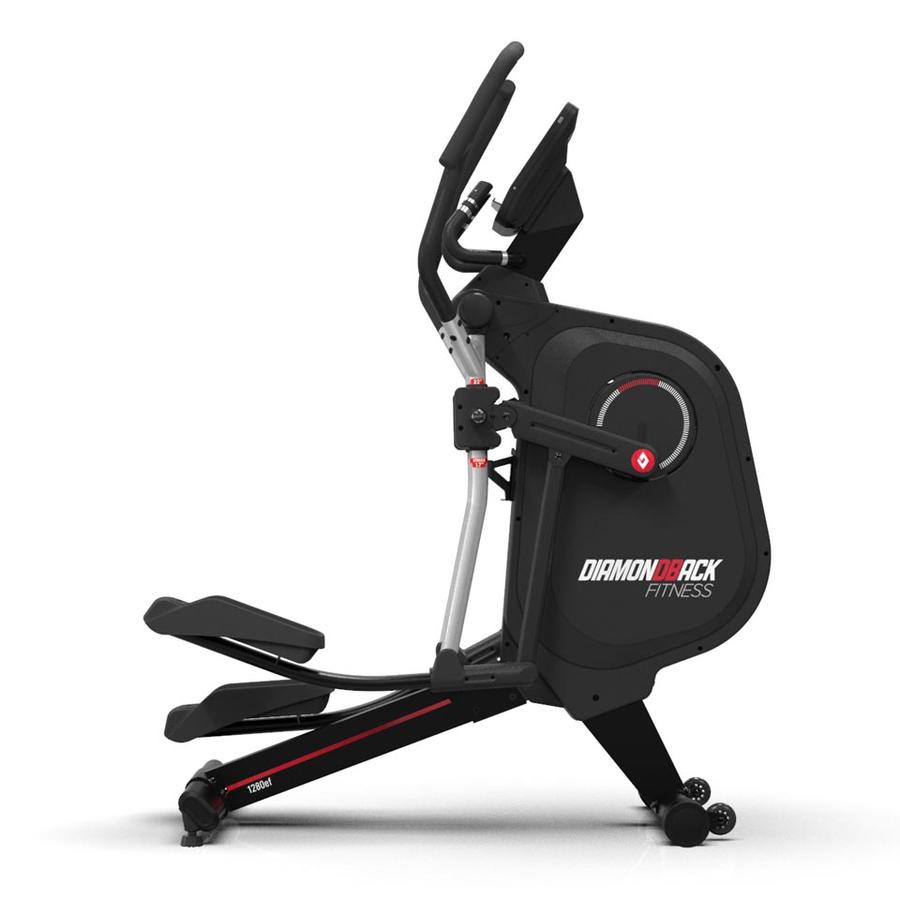 16 Resistance Levels
12 Built in Workout Programs
Wireless Heart Rate
Touch Screen Display
17" or 22" Stride
Space Saver Design
Multi-Position Handlebar
Dimensions: 50" L x 36" W x 66" H
Warranty: Limited Lifetime frame/brake, 3 year parts/electronics,  1 year labor, 90 days wear and tear
Check out this award winner on sale now at the official store!
The Word on the Street
The new 1280Ef from Diamondback has been very well received thus far. The company has always produced very well designed, well built cardio machines but has been a bit behind as far as technology.
Well, now they've caught up and are giving brands like NordicTrack and Sole a run for their money.
Perhaps the biggest upgrade from the previous top-of-the-line 1260Ef elliptical is the addition of a touch screen display, not found on any other Diamondback machines and hard to find elsewhere as well.
It's an Android enabled 10" display and you can connect to all of your favorite fitness apps as well as You Tube, Netflix and others via WiFi. This makes for a much more enjoyable experience, and it's a big difference from the basic display on other models.
Another new feature is the ability to adjust your stride, a welcome upgrade, especially for taller individuals who are oftentimes constrained by short strides that don't allow freedom of movement.
You can choose from 17", which is more of a stepper stride, or 22", which allows you to stretch out a bit more to mimic a jog or run. You can switch between the two to give you a different workout and also target your lower body a bit differently. 
The Diamondback Fitness 1280Ef is also much more compact than the 1260Ef, which is great for those that have limited space in their workout areas. It's only 50" long, which is about 30% shorter than your typical elliptical trainer.
You also get wireless heart rate tracking capability, an upgrade from the grip heart rate on the base 1060Ef elliptical. That way you can get a much more accurate measurement.
Other great features include 12 built in workout programs, 16 levels of magnetic resistance, oversized pedals, transport wheels and integrated tablet holder.
The Diamondback 1260Ef really gives you everything you need for a great workout. It's also backed by a strong warranty, so it will give you years of good use.
How do Diamondback Ellipticals Compare to the Competition?
Diamondback ellipticals hold their own as far as the competition is concerned, especially now that they have introduced a new technologically advanced model.
They're not as popular as NordicTrack and Sole ellipticals, simply because those brands do a lot more advertising and are essentially household names at this point. However, they are a good alternative if you like what they have to offer.
Diamondback currently only has two models, the 1060Ef and 1280Ef. The former is right around $1500 on sale and the latter is under $2,000 on sale.
NordicTrack and Sole, as well as ProForm and Horizon, all offer lower cost, entry level options in the $899-$1299 range. So for those on a budget the two Diamondback ellipticals might be a bit too pricey.
Diamondback is a bit ahead of Sole currently, as Sole does not have flat screen technology or WiFi app integration at the moment. NordicTrack does have a number of ellipticals with flat screens, as well as iFit Coach which is a unique immersive workout experience.
So it really comes down to budget and personal choice. If you can swing a $1,500+ elliptical, then compare similarly priced models from all of the different companies to see which one appeals to you most.
However, if budget is a concern, or if you want something even more advanced than what Diamondback is offering, then you might be better off with one of the competitors.
Diamondback 1280Ef - Bottom Line
We like the new Diamondback 1280Ef a lot, and it's definitely an improvement on the previous 1260Ef in many ways. We like the fact that the company is improving technology to keep pace with competitors like NordicTrack.
The new touch screen is a great addition, as is the adjustable stride and fitness app integration.
If your budget is tight you can save a few hundred with the entry level 1060Ef, although it definitely doesn't have as many features and capabilities.
Time will tell if this model makes our best ellipticals list, but for now it looks like a winner.
Get more info and special sale pricing on this elliptical here!