The Diamondback Fitness 1260Ef - Numerous Awards
The Diamondback 1260Ef has received Best Buy awards from some of the leading consumer magazines for many years now, and as such has become quite popular with those looking for a reliable, well built elliptical trainer for their homes.
What You Get
The 1260Ef is a front drive model both moving and stationary arms and simple, yet functional console.  Let's take a closer look at some of the important specs...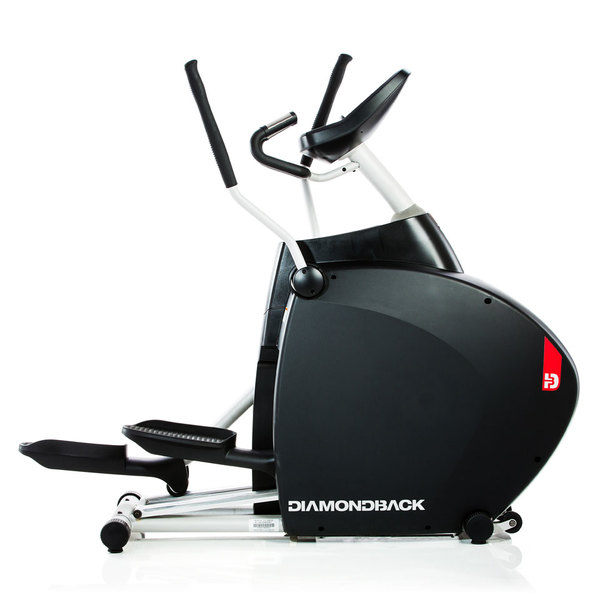 20 Resistance Levels
10 Incline Levels

Over 12 Workout Programs
Heart Rate Monitoring
Personal Trainer Built In
19" Stride
Dimensions: 69.5" L x 27.5" W x65" H
Warranty: Lifetime frame/brake, 3 year parts/electronics,  1 year labor, 90 days wear and tear
The Word on the Street
UPDATE: It looks like this model was discontinued in 2020 to make room for the all new Diamondback 1280Ef. Check out the upgraded model to see all of the new features and capabilities.
As we mentioned above, the 1260Ef receives a lot of buzz as it has consistently ranked as one of the top elliptical trainers from consumer magazines as well as industry experts.
Although there were other models a few years back, only the 1260Ef remains as of 2017, and it has a nice array of features and capabilities.
One of the best features is incline capability, which you don't often find, which allows you to change the angle of your workout and target leg muscles that you wouldn't be able to without the ramp functionality.  You can choose from 10 different levels to change up your workout.
The Diamondback 1260Ef is a true cardio machine, with 5 built in workouts specifically to keep you in your ideal heart rate zone.  The elliptical automatically changes the intensity for you.  You can choose from grip or wireless heart rate monitoring.
You get an additional 5 classic programs and 3 cross training, and you can choose from 20 different resistance/intensity levels for each.  So there is enough to keep you motivated for years to come as you move up the ladder of resistance.
There is a 19" fixed stride, which should be ample for most users.  If you are on the taller side you might want to opt for a machine with a 20"+ stride, but unless you are over 6' this should suit you just fine.  The motion is very smooth and impact-free, and the grips are very comfortable, made of Krayton rubber.
The LED console is basic, but it gives you everything you need to know including your incline, intensity level, calories, heart rate, distance, pulse and RPM.
Any negatives?  There are a few.  For starters, it is on the expensive side, at over $2,000.  It would be nice to get a more advanced console for that price, perhaps with internet capability or some sort of workout tracking like you find on more and more machines these days.
Still, the most important thing is the workout, and the Diamondback 1260Ef delivers that in spades.
UPDATE: In late 2018 Diamondback introduced a new elliptical to the lineup, the 1060Ef.  This compact machine features a new, lightweight, sleek design with an adjustable incline and more affordable pricetag.
At around $1,499 it will compete directly with offerings from NordicTrack, Proform and Horizon, so we shall see how it fares against the more popular brands.
We'll be reviewing this new model shortly so check back with us soon.
How do Diamondback Ellipticals Compare to the Competition?
Since there is only one Diamondback elliptical left, it's hard to fully compare them to other brands that offer at least a handful of models to choose from.
Based solely on price, it doesn't match up directly with any of the popular models from NordicTrack, Sole or Horizon, although specs wise it should. As such it is a little overpriced for what it is.
At around $2,299 on sale, it is very close in price to one of our favorite machines, the Matrix E30 with the base console.  That one is about $100 less, but gives you a larger display, longer 20" stride and a stronger warranty.  It also has workout tracking and HD destination videos.  
For $200 more than the price of the Diamondback 1260Ef you can get the touch screen console on the E30 or buy the even more advanced E50 elliptical.
It also does not compare favorably to the entry level Precor or Life Fitness ellipticals, all of which have it beat in many categories.
You could make a much stronger argument in favor of the Diamondback if it were priced around $1299 to $1599...for over $2000 there are much better choices.
Our Thoughts on the Diamondback 1260Ef
We like the Diamondback here at All Ellipticals, as it definitely gives you plenty of workout options...wide array of programs, heart rate targeting, resistance levels and incline capability.
As such it is definitely worth considering, but you may be better off with one of the other ellipticals in the $2000-$3000 range, so take a look at those as well to se if you prefer any of the others.
Diamondback often offers free shipping, money back guarantees and special discounts, so try to take advantage of those if you can.  The list price is close to $2,900, but if you can find it on sale for under $2300 it's a decent deal.
Get more info and special sale pricing on this elliptical here!