The Matrix A50 Ascent Trainer - Ramp up the Incline
The A50 is the top level Ascent Trainer in Matrix's new residential lineup, offering up to a 54% incline and three console choices.  With groundbreaking technology and ergonomic design, it offers a gym quality workout right in your own home.
What You Get
The A50 is a solidly built elliptical with the look and feel of a commercial model.  You can choose either a basic LCD display or one of two touch screen displays with internet access and various applications.
Let's take a closer look at the specs...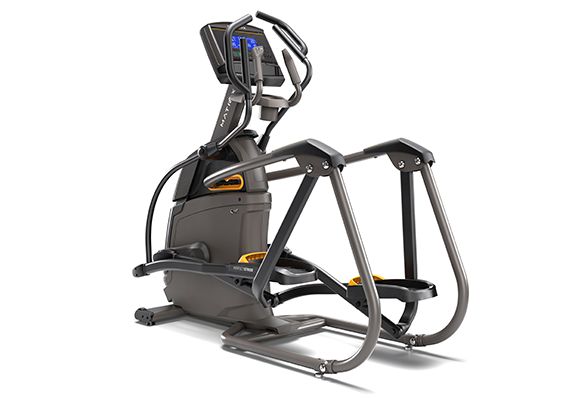 ExactForce induction brakes
20" to 24" variable stride length
24% to 54% power incline
Multi position handlebars
30 resistance levels
Suspension elliptical technology
Contact and wireless heart rate
350-lb. User Capacity
Unit Weight/Dimensions — 322 lbs; 75"L x 29.5"W x 65"H
Warranty: Lifetime frame, 7 years parts, 2 years labor

The Word on the Street
The experts have long awaited Matrix's foray into the home market, and the reviews so far have been very positive.  This is Johnson Health & Fitness' high-end brand (Horizon is their entry level, Vision is their mid level) and was previously only found in health clubs, hotels and spas.
Matrix now competes with other brands that have successfully transitioned into the residential arena, including Life Fitness and Precor.
The A50 Ascent Trainer features Exact Force induction brake technology (not found on the A30 model)  which makes resistance changes seamless and smooth.  You can choose from 30 different levels, which really opens up your workout options.
Speaking of options, unique to the Matrix lineup is the ability to choose your own console based on your needs.  You have the base XR, an 8.5" LCD display showing your workout metrics on a clear blue screen.  Stepping up you have the XER, a 10" touch screen with Bluetooth technology and various apps. The top choice is the XIR, a 16" HD touch screen, with expanded Bluetooth capability.
Regardless of which console you choose, you'll get a 20-24" adjustable stride, up to a 54% incline, oversized pedals, multi-position, dual action handlebars, water bottle holder and accessory tray.  But your console choice will determine what additional features you'll get, which is why it is important to choose wisely.
The base XR console comes with 5 built in workouts, ViaFit tracking capability (so you can see exactly how you are progressing), Passport technology (high end videos) and a reading rack.
The XER console comes with all of those features plus 5 additional workouts, Bluetooth, speakers, apps, USB port, Virtual Active videos on the unit itself and a Polar wireless chest strap included.
The XIR console adds 6 additional workouts and enhanced speakers on top of its larger HD display.
So you can see that you are getting a lot more with the two touch screens, although they are a little pricier.  So it's a matter of figuring out what features most appeal to you.
Regardless of which A50 Ascent Trainer console you choose, you are getting a rock-solid machine with the latest technology and a smooth, natural motion that you won't find anywhere else.
Our Thoughts on the A50 Elliptical
We're excited about these new Matrix home ellipticals, and it will be interesting to see how well they do against some of the more popular brands that currently dominate the space.
If you have the budget for it, the A50 Ascent Trainer is an awesome choice, with three console options, up to 54% incline, 30 resistance levels and loads of other features and capabilities.
You can save a little money with the A30, which has many of the same features...it just has fewer resistance levels and a less advanced resistance system...but nothing that you will really notice.