The ProForm Hybrid Trainer - An Elliptical and a Bike in One Machine
The ProForm Hybrid Trainer was one of the first of its kind on the market,  offering two exercise machines in one.  You get an elliptical trainer combined with a recumbent bike, letting you vary your workouts and targeting different muscle groups.
What You Get
There is a base version, a new XT version and a Pro version,  with an LCD display, magnetic resistance, adjustable seat and multiple workouts.  The Pro version gives you some enhanced features.
Let's take a closer look at the specs....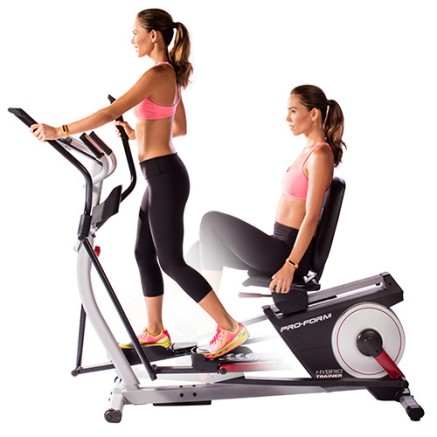 15-17" Stride Length
16-20 Digital Resistance Levels
16-20 Workout Programs
Watts Power Meter
iFit Coach Bluetooth Smart
Soft grip workout arms
Inertia enhanced flywheel
Compatible iPod® Music Port
EKG™ Heart rate monitoring
Oversized, Adjustable Pedals
350-lb. User Capacity
Warranty: 5 yr frame, 90 day parts and labor (Base); Lifetime frame, 1 year parts and labor (Pro)

The Word on the Street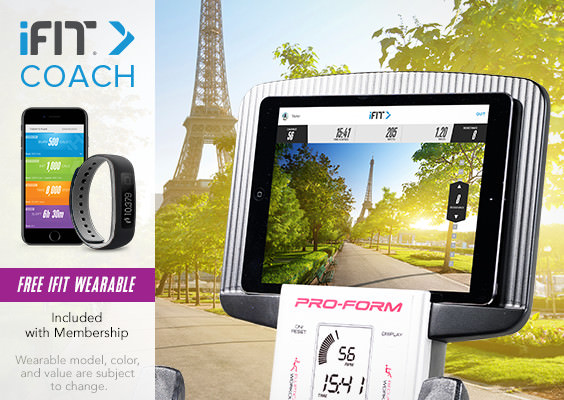 The ProForm Hybrid Trainer series has received good reviews from experts and customers, and is an affordable way to get the advantage of both an elliptical and a bike in one machine.
At around $399 for the base and XT model and $599 for the Hybrid Trainer Pro, you get a lot of nice features that you won't find elsewhere for that price.
The base model gives you a large LCD display, 16 levels of magnetic resistance, a 15" elliptical stride, oversized pedals and 16 built-in workouts to choose from.
The ProForm Hybrid Trainer XT adds a larger tablet holder, advanced display and cushioned pedals.
The Pro model steps it up with 20 levels of resistance, a 17" stride, deluxe pedals and 20 built-in workouts.
All Hybrid Trainers feature iFit Bluetooth technology, which allows you to access Google maps and work out anywhere in the world you choose while watching it on your tablet.  You also get tracking and sharing capability and additional professionally designed workouts.
You also get an integrated tablet holder, iPod compatibility for your music, soft grip workout arms for upper body training, a Watts Power Meter so you can see what performance zone you are in, water bottle holder and transport wheels.
So as you can see there are some nice features here.  What about negatives?  There are a few to discuss here...
The base and XT Hybrid Trainers have a very short 15" stride which can be uncomfortable for many users, especially taller ones.  Even the extended 17" stride on the Pro model is shorter than the typical 18" you find on the lowest end elliptical trainers.
Still, you are getting 2 exercise machines in one for under $600, so you can't expect that both the elliptical and the bike will be ideal for all users.
Another thing that isn't great is the warranty, especially on the base and XT models.  Those Hybrid Trainers have a 5 year frame warranty and 90 days on parts and labor.  That's not so great.  The Pro has a lifetime frame warranty and 1 year on parts and labor.  Better, but not great.
These are strictly entry level machines that are built for very basic usage, so if you think you're going to be pounding away at it every day and it'll last forever, you're not going to be too happy.  However, if you want a machine that will work your upper and lower body nicely with a few nice features and capabilities, and aren't expecting the world, you'll be perfectly happy with a Hybrid Trainer.
Our Thoughts on the Hybrid Trainers
The ProForm Hybrid Trainers are perfectly fine for light usage.  You get an elliptical and a bike together in one compact machine that is ideally sized for the home gym.
It's not the best elliptical you'll ever use, nor the best recumbent exercise bike on the market, but you get two trainers in one with multiple resistance levels, varied workouts, movable arms and iFit technology...well worth the $399 or $599 you'll pay depending on which model you choose.