The Bowflex Max Trainer M5 Offers Great Results in Just 14 Minutes
The Max Trainer M5 is the mid-range model in Bowflex's popular hybrid elliptical series, an affordable trainer with the company's patented 14 minute workout among other innovative features.
What You Get
The Bowflex Max Trainer M5 is a sleekly-designed silver trainer with red accents, taking design cues from race cars and jet planes.  It has a basic display showing you relevant workout stats such as time, distance and program, as well as a burn meter showing you how many calories you are burning as you work out.
Let's look a little closer at the specs...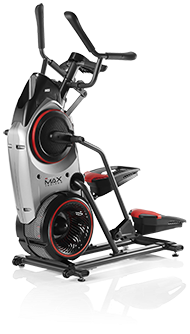 Backlit display with calorie burn meter
16 resistance levels
8 workout programs
Bluetooth Max Trainer App syncing
Contact and wireless heart rate monitoring
Premium grips
Tablet holder/Media shelf
Water bottle holder
Dimensions: 46" L x 25" x 63" H
Warranty: 2 years
The Word on the Street
The Bowflex Max Trainers have been very well received and are quite popular, likely due to the fact that they are relatively affordable, and give users the opportunity to burn a lot of calories with the 14 minute interval program.
Originally there were just two models, the base Max Trainer M3 and the M5, so the M5 was the top of the line model.  In 2016 the M7 was added to the mix, which is now the top model.
Still, the M5 is a very good machine, and probably the best choice of the three for the price and what it offers.
It offers 16 resistance levels, twice the amount you get on the base M3 model.  You also get 9 workout programs: Steady Pace, Power Interval, Calorie Goal, Fat Burn, Fitness Test, Calorie Burn, Stairs and Manual, as well as the heavily touted Max 14 Minute Interval Program, found on all three models.
You also get a free wireless heart rate chest strap for more accurate readings, upgraded grips and pedals, a backlit LCD, media shelf and 2 user profiles.
The Max Trainer M5 (like the uplevel M7) comes with Bluetooth syncing capability which means you can track your workouts, share your results and set performance goals via MaxApp2, available for both Mac and Android operating systems.
Early reviews on the new M7 model have been positive, although the jury is still out as to whether or not it is worth the additional $600 price tag.  The M7 does have a new "smart technology" feature that actually learns how you work out and responds with coaching and adjusting the machine...this seems like a nice feature but perhaps not necessary.
So for now, the M5 is a good machine to look at if you're looking for a solid workout with program options, different resistance levels and the ability to track your results for added motivation.
Bowflex offers free shipping from time to time, as well as the option of in-home assembly and added protection on top of the warranty, so those are all things to consider when you make your purchase.
Our Thoughts on the Max Trainer M5
Although not your typical elliptical machine, the Bowflex Max Trainer M5 can certainly help you reach your fitness goals.  A lot of the focus of the company website is on the fact that you can burn 2.5x as many calories on the Max Trainers in less time than on other machines.  It also claims that you use 80% more upper body muscles and it is 200% better on your joints.
Is all of that true?  Who really knows?  It all comes down to whether or not you like the combination of a step machine and an elliptical in one.  It does take some getting used to but once you are comfortable it does give you a nice burn.
The Max Trainer M5 is reasonably priced, and between the nice array of workouts and the ability to sync your results with their fitness app, it's a good choice for losing weight and targeting different muscle groups in a short period of time.