The Horizon Evolve 3 Elliptical - A Solid, Well-Priced Choice
The Horizon Evolve 3 elliptical trainer is a step up from the base EX-59 model, with good features, a fold up frame for easy storage and Passport technology to take your workouts to the next level.  It's a good option in the just above $1000 price range.
What You Get
You have a 5.5" Blue backlit LCD display, an inch bigger than what you get on the EX-59 model.  It shows the time, distance, speed, calories, resistance, heart rate, watts and CardioCompass to keep you in your ideal range.
You also get ViaFit connectivity which allows you to track all of your workouts and sync them with any fitness apps that you use, and Passport which actually syncs with your television so you can virtually work out anywhere in the world.  The machine automatically adjusts itself to match the terrain.
The list of features includes: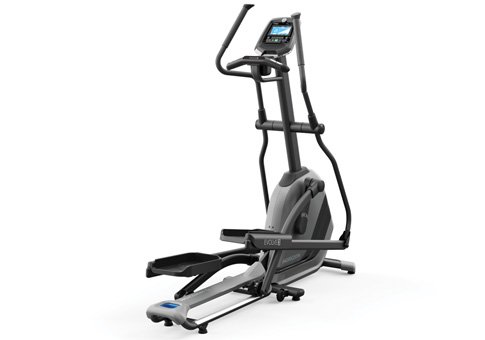 20" Stride
18-lb Flywheel
32 Programs
20 levels Resistance
Easy Setup/Folding Frame
Contact Grip Heart Rate Monitor
Built-in Speakers
Dual action upper body handlebars
SixStar Certified™ frame
300-lb. User Capacity
Unit Weight/Dimensions — 175 lbs; 69"L x 28"W x 69"H
Warranty: Lifetime frame, 3 year parts and one year labor

The Word on the Street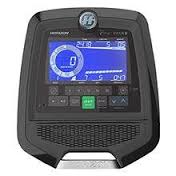 The Horizon Evolve 3 elliptical is a nice step up from the entry level model, which itself is a great low-priced machine.  You get their patented SixStar Frame which means the pedals are ideally placed, the handlebars are spaced out optimally, there is smooth momentum, a natural foot path, the body is kept straight and there's a low step on height.
So everything is designed to give you the most naturally balanced motion you can possibly have, which really makes a difference.
Users seem to be very happy with the large number of workouts, 32 in total, as well as the resistance levels and easy set up and folding capability.
The most popular features on all Horizon models are ViaFit and Passport, also available on the Evolve 5 model, both of which help take the monotony out of your workouts.  
ViaFit is great because you can track your progress and sync your results with any app you might use.  You can also share your results with friends and family which is pretty cool.
Passport is similar to ICON's iFit technology, as you can choose a location and see it unfold in front of you while you run.  The machine automatically changes speed and intensity to match the terrain.  You do have to buy the Passport Player though, which comes preloaded with two destinations: Northern Italy and the American Southwest.
Our Thoughts on the Evolve 3
We definitely like the new Horizon Evolve 3 as they pack a lot into it for the price.  You get a lot of built in workouts, it's very easy to assemble and fold up for storage and the motion even at the higher resistance levels is smooth and feels very natural.
We love the tracking capability of ViaFit as it syncs well with the fitness apps that we like to use.  Passport is very cool as well, although we wish there were more locations built into it.  You need to add locations if you want something besides Italy and the Southwest.
All in all, this is a solid elliptical machine and well worth the money.  It does not have incline however, so if that's an important element for you take a look at their Elite models, which offer up to 10 degrees of incline as well as additional features that might appeal to you.