Life Fitness Elliptical Cross Trainers – Gym Quality at Home
Life Fitness elliptical cross trainers give you the feel of working on a commercial quality, top-of-the-line piece of equipment in the comfort of your own home. You're paying a higher price tag for a Life Fitness machine, but what you're getting is worth the price, especially if you're serious about cross training and really pushing yourself. These are heavy-duty work horses that you can use for years without running into a problem.
What You Get
Life Fitness elliptical cross trainers come with a variety of features. One of their most popular models, the CT9500HR, is typical of the quality the company offers: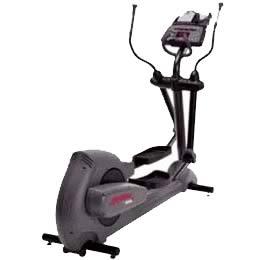 Upper body workout
Scrolling LED display
20 resistance levels
User weight limit of 400 lbs
19" stride
1 year parts and labor warranty/lifetime tech support
9 pre-programmed workouts
Cup holder and book holder
Sleek design
Rear wheel drive
Compatible with FitLinxx, BroadcastVision & Cardio Theater
Reverse motion
See the new Life Fitness ellipticals on sale at the company store!
The Word on the Street
Smooth sailing! That's the consensus about Life Fitness elliptical cross trainers. These machines give you the smoothest glide you'll ever feel on an elliptical machine. Fitness professionals compare them favorably to much higher priced commercial models and highly recommend this brand for durability, reliability and comfort.
They also like the rock-solid heft of these machines. Weighing in at around 250 pounds, a Life Fitness elliptical is serious business; it's also one of the most stable, safest cross trainers on the market. Trainers will tell you these machines last forever, with repairs few and far between.
When an individual spends the $3,000 or more to buy a Life Fitness cross trainer, he already knows a good bit about these machines in general, so you can bet they have something to say. The comments are overwhelmingly favorable, from loving the optional features to admiring the generous stride (an important distinction for taller users) and smooth glide of these ellipticals.
Our Thoughts
You can't go wrong with a Life Fitness elliptical cross trainer, but you may not be able to afford a new one. Shop around. These machines are so well made that you can invest in a used model and still get years of reliable use.
A Life Fitness CT9500HR remanufactured elliptical trainer can be found at a steep discount with a limited warranty. This is one machine that is worth buying remanufactured if you can't get it new – it's smooth, noiseless and a joy to use.