The Life Fitness 95xi Elliptical Trainer - Natural, Smooth Elliptical Rotation
Gone green? How about the Life Fitness 95xi elliptical trainer for a fat-burning machine that is also "human movement" powered? If you've got a great workout room in a cabin or your energy-efficient home and don't need an outlet -- then you've found a quality machine that requires no electrical plug-in.
What You Get
At under $3,500 on sale, the Life Fitness 95xi elliptical trainer is a full body, take-no-prisoners, remanufactured unit that offers 5 interactive heart rate workouts (using the polar chest strap) and 5 interval workouts, plus resistance levels 0-25 and a customized "Cool Down" protocol.
Other features of the Life Fitness 95xi include: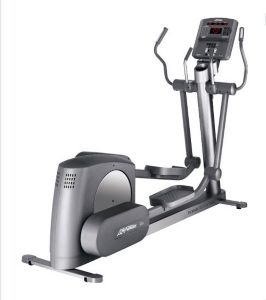 20" stride length/dual action
30 workout programs
Hand grip heart rate monitor
Lifeplus digital HR monitoring
Polar Telemetry heart rate control
Belt drive system/self powered
Upper body workout handles
Real wheel design
LED display
350-lb. user capacity
30 day warranty on parts and labor
Special features & note: Comes with 9 language choices and an optional plug-in for low power operation.
The Word on the Street
UPDATE:  The 95 xi is no longer available.  You can check out the latest Life Fitness elliptical reviews here.
Experts are well acquainted with the Life Fitness brand because this company has been manufacturing health club machines long before they ventured into the home equipment market. The most outstanding features are the ergonomic design and auto stride adjustment which represents everything good in ellipticals.
You'd be hard pressed to find any machine that is more comfortable or has a better feel than the Life Fitness 95xi elliptical trainer. While the short warranty could be better (but 30 days is typical for used or remanufactured models), a Life Fitness machine seldom requires the services of a repairman.
Consumers love the natural, smooth elliptical rotation and many believe they experience fewer knee problems on a Life Fitness over any other cross trainer. The 20" stride is roomy for even large adults and the trimness of the machine keeps your feet closer together. Also, at only 27" wide means the Life Fitness 95xi doesn't take up half the room.
Our Thoughts on the 95xi
The Life Fitness 95xi is engineered to generate proper body movement in both the "bio-mechanically correct" handlebar positioning and the ellipse path. In other words, if you want to feel what a perfect elliptical motion should feel like, step on a Life Fitness elliptical trainer.
Just keep in mind that Precor owns the patent on the rear flywheel design so carefully weigh the purchase of this machine over a Precor in the same price range -- a Precor will come with more bells and whistles and a better warranty. We really do like the Life Fitness 95xi elliptical trainer, but feel the price is too steep for most folks. Basically, you are paying extra for the brand name.