The Life Fitness CT9100RD Cross Trainer - Buy Reconditioned & Save $2000+
The Life Fitness CT9100RD Cross Trainer has been used in health clubs and training centers all over the world. Now you have the opportunity to get one of these reconditioned commercial models for your own home. With a full makeover, it is ready for many more years of hard riding.
What You Get
The Life Fitness CT9100RD Cross Trainer features an alpha-numeric scrolling Message Center that has a 7x15 LED workout profile matrix showing Time, Distance, Calories, Calories/Hour, Watts, METs, RPMs, Resistance, and Workout Profile. Programs include Zone Training workouts for Fat Burn, Cardio, Intervals, and Hills, plus other workouts such as Around the World, Kilimanjaro, Interval, Cascades, Speed Training, Foothills and more.
The full specs are: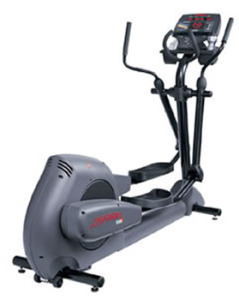 19.5" Stride Length
20 Resistance Levels
25 Workouts
Moveable Arms
Lifepulse™ hand sensors
Polar® telemetry (wireless chest strap) optional
Oversized non-slip pedals
Self-Powered, Optional Plug-in Accessory
Unit wt/dimensions: 235 lbs/ 80" x 27" x 66" (LxWxH)
350-lb. user weight capacity
Transport Wheels
Warranty on refurbished model – 90 days parts, 30 days labor
The Word on the Street
UPDATE: The CT9100RD is no longer being sold.  You can check out the latest Life Fitness elliptical reviews here.
The Life Fitness CT9100RD Cross Trainer features on-the-fly programming, a heavy-duty steel frame, 19.5" stride length, upper body arm action for total training, tons of programs, and a big 350-lb user capacity. It is also self-powered so there is no plug-in is required and it won't need to be placed close to an electrical outlet.
As a reconditioned machine, it is taken apart and rebuilt from the frame up to its original condition. That means any electronics, wires, decals, bearings, bushings, cables, or any worn parts are replaced with manufacturer or OEM parts to make the machine look and run like new. You'll save thousands of dollars with the purchase of a reconditioned club model over the price of a new one, or even a high-end home model. While the warranty is short, it is the trade-off you make when purchasing an expensive club unit for a fraction of its original cost.
Note: the CT9100RD is also known as the Life Fitness 9100. The CT stands for 'Cross Trainer' and the 'RD' simply indicates it's a rear-drive system. The term cross trainer basically means it is an elliptical with moving arms.
Our Thoughts
Brand new, the Life Fitness CT9100RD is priced at $4,999. The remanufactured model is around $2,349 and includes Free Shipping from online fitness specialty retailers. Perhaps you are already sold on the Life Fitness cross trainer but weighing the choice of a used commercial model or a new home model.
Well, the 9100 is larger and heavier (80L x 27w x 66H, 235 lbs) than a home model (the Life Fitness X3 is 65L x 27W x 62H, and 205 lbs), it has a higher user weight capacity, and is self-powered. Home models will need to be plugged in. Both have silent drive systems and tons of programs. If you are leery of the short refurbished warranty, don't be. Ellipticals have fewer moving parts than treadmills and the rear drive system is enclosed in a plastic shroud with no chance of dirt and debris getting inside.
An elliptical will last 15 years, maybe more, with little maintenance needed. Life Fitness machines are an excellent choice whether you buy the home model or go with one of the reconditioned club models, such as the Life Fitness CT9100RD Cross Trainer or the 95xi.