The ProForm 1310 E Elliptical - Decent Model for Average Person

The ProForm 1310 E elliptical is a great trainer with lots of added features and is priced in the region of $1200 which is an excellent price for the average person to spend on a decent elliptical.
What You Get
The ProForm 1310 E elliptical is equipped with a 7" full color touchscreen which shows workout time, distance, calories, heart rate and resistance. Above the display is a generic tablet holder so you can use your personal tablet to customize your workout experience by listening to your own music or browsing the web for example.
The display is also compatible with IFIT® to further customize your workout and with Wi-Fi connectivity you do not even need to attach the device to the trainer to use its functions such as tracking the workout through Google Maps™. 
There is a great variety of workout applications and a 32lb inertia enhanced flywheel to allow the user to work their way through a great selection of resistance. The handlebars also offer ramp and resistance controls to easily adjust your incline or resistance without moving your arms from the handles. 

The main features and specs are: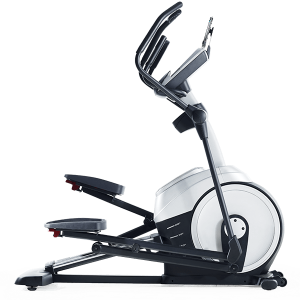 25 digital resistance levels

20-22" adjustable stride

32 workout applications

20 degrees of digital incline

7" color display and full touchscreen

Generic tablet holder

IFIT® compatible with Wi-Fi connectivity

32lb inertia enhanced flywheel

Ramp and resistance controls on handlebars

EKG™ grip heart rate monitors

Adjustable oversized cushioned pedals

IPOD® compatible with Intermix Acoustics™ sound system

8" CoolAire™ workout fan

Oversized levelers

Lifetime frame, 5 years parts and 2 years labor warranty

The Word on the Street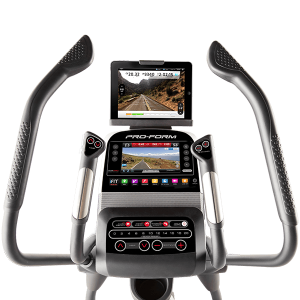 UPDATE: As of 2016, the 1310 E elliptical is no longer available.  You can check out all of the latest ProForm elliptical reviews here.
Most reviews of the ProForm 1310 E elliptical claim this elliptical is a great mid-range trainer which is silent and smooth to give a fluid workout – just as good as in any gym.
Many users really enjoy the full color screen which gives this trainer an heir of richness making the user feel like they have a top of the range machine for an affordable price.
The added feature of the tablet holder is a great addition especially as it can be altered to fit any model of tablet. The ability to stabilize this elliptical with oversized levelers means you can use the machine anywhere even without a flat surface which is a great point made in reviews.
Our Thoughts
The ProForm 1310 E elliptical is a great trainer which is packed full of features to give the user a high tech feel for an affordable price. The added generic tablet holder we like because it gives a more wide spread option rather than being just tailored to the IPAD™.
And the 32 workout applications provide a really good selection to give the user a range of options, the only negative with this trainer is the use of IFIT® which is a great application but has a further cost.