Proform 330 Elliptical Machine - Great Model for Starting Out
The Proform 330 elliptical machine exemplifies the philosophy behind what Proform is striving to achieve with most of their models. It's a decent elliptical trainer at a budget price. It gives you just enough features to make it enticing without going overboard.
What You Get
While Proform has a reputation for producing sub-standard equipment at the lowest end of their price range, at $350 this model is respectable. Don't get us wrong – it will never compare to brands like Precor – but it isn't trying to. What you'll get for the money when you buy a Proform 330 elliptical machine includes: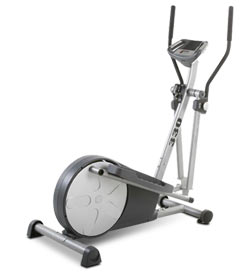 Upper body workout
12 resistance levels
8 pre-set programs
LCD display console
18" stride
Oversized foot pedals
Silent magnetic resistance
Eddy current brakes
Warranty: 90 days
The Word on the Street
It's a split decision for the Proform 330. Some say it's still not good enough, others say that it's not bad for the price. The fitness professionals who like this elliptical machine note that there's enough variety for the average person here with 12 resistance levels and 9 workout programs. The 18" stride is as long as the stride on some elliptical trainers costing thousands of dollars.
UPDATE:  The ProForm 330 is no longer being sold.  You can check out all of the newest ellipticals reviewed here.
Individuals who have purchased a Proform 330 elliptical machine enjoy this machine for its ease of use, simple-to-use functionality and the range of resistance levels. Most admit that it's a bit too noisy for watching television at normal volume, but they don't consider this something that would keep them from buying again at this price.
Our Thoughts
Proform has done a fair enough job with this particular model. It's not the quietest elliptical trainer around, but it's not the noisiest, either. It has a decent array of programs and resistance levels, but no great extras.
The LCD console gives you the essential information and nothing more (although we do think the design is a bit boring and overly simplistic). This is a machine that will neither inspire great joy nor cause great anxiety. It's basic, bland and dependable.
For those just starting out and for anyone who wants to exercise without spending a lot of money, the Proform 330 elliptical machine is okay.