The Proform 650 CardioCross Elliptical Trainer – Limited Features
It's interesting to see how the Proform 650 CardioCross elliptical trainer, like other low-end Proform elliptical machines, ends up lacking in the essentials. This is an elliptical that you can get for only $300, and with a name like ICON Fitness behind it, you'd think there would be some advantages. In fact, in the more expensive (but still budget friendly) Proform models, there are many nice features. This isn't the case with the 650 CardioCross.
What You Get
The Proform 650 CardioCross elliptical trainer sells itself as a machine that combines a cardio workout with fat burning at a reasonable price. Interestingly, there's less going on with this model than there is with their 320 model. The limited features include: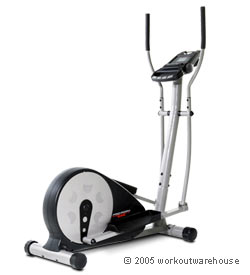 Synchronized upper body workout
Manually adjusted resistance
LCD display console
Pulse monitor
4 pacer workouts
Warranty: 90 days
It's a short list, but you can't expect a lot from a $300 elliptical machine. There are other brands around this price range that have about the same amount of limited options, so it's really in line with the market.
The Word on the Street
Trainers basically say, "No." The weight limit is too low at 250 pounds, and concerns over the short stride (which isn't specified clearly in their advertising) and the light weight of the machine. At only 85 pounds, the Proform 650 CardioCross elliptical trainer can shake quite a bit when you're pushing your workout.
UPDATE:  The ProForm 650 CardioCross is not being produced anymore.  It has been replaced with the new SmartStrider series. Check out the latest ProForm elliptical reviews here.

We hate to hear about people who have regretted buying a piece of exercise equipment, but there have been more complaints than praise for the Proform 650 CardioCross trainer. The overwhelming majority of complaints are that the elliptical machine breaks down after only a few months.
Typical problems with the Proform 650 include something snapping in the covered flywheel area (which can't be accessed for repairs except by a trained technician), breakage along the welds and improperly aligned nuts and bolts that begin to strip and shake loose.
Our Thoughts
You've probably already guessed. It's too creaky, it doesn't last and the programs are limited. The tension control is manual and the warranty isn't good.
We don't understand it, because if you move up to some of Proform's more expensive models, you're going to find some really fine elliptical machines. The Proform 650 CardioCross elliptical trainer isn't one of them.