The Proform 900 CardioCross Elliptical Trainer with ReflexStep Technology
An actual cross training feel is available with the Proform 900 CardioCross elliptical trainer. It's an unusually advanced elliptical machine for around $600 (sometimes less if you catch a good sale), and has some patented technology that gives you an easier perceived level of exertion when working out.
What You Get
The Proform 900 CardioCross elliptical trainer's most unique feature is the Reflex Step Technology. This provides a cushioned pedal motion that returns the strength of the user's energy back into each stride as it moves through the elliptical motion. In addition, you get: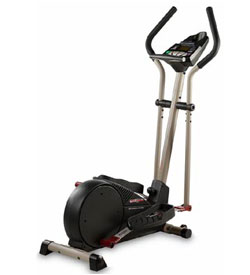 Upper body workout
LCD display console with LED pacing coach
8 pre-set programs
Hand grip pulse monitor
Silent magnetic resistance (10 levels
Coole Aire fan
17" stride
iFit compatibility
Warranty: 90 days
The Word on the Street
Trainers and fitness professionals like the Proform 900's LED pacing coach for beginners – it helps you monitor your progress and pace your workout for maximum effect. This translates to a more efficient workout that will yield greater results – key to sticking with a program, especially for beginners. They also feel the 17" stride of the CardioCross elliptical trainer is adequate for most users, although some feel that it may limit users who are too much over six feet.
UPDATE: The 900 CardioCross is no longer being sold and has been replaced with new models.  Check out the latest ProForm elliptical reviews here.
Consumers are pleased with the Proform 900 CardioCross trainer because it has plenty of workout variety at a reasonable price. It offers more than most other elliptical machines in this price range, and does it with a quiet ride. The iFit compatibility is a big plus, because you can expand your workout as your fitness level increases.
Our Thoughts
It's interesting how much quieter this elliptical trainer is than the low-end Proform machines. We suspect this is because some of the technology and wear parts used in the Proform 900 are of higher quality and utilize developments that ICON simply can't afford to put in their lesser priced models.
With a quieter ride and the Reflex Step technology, the Proform 900 CardioCross elliptical trainer gets our vote in the $600 range.