The ProForm 990 CSE Elliptical Trainer – One of the Best ProForm Models Under $1000
Packed with features, the Proform 990 CSE elliptical trainer includes a Power Stride Intensity Ramp™, an adjustable stride, 20 ready-to-go workouts, and is compatible with iFit® Live, training with Jillian Michaels.
What You Get
The ProForm 990 CSE elliptical trainer has a Grafixx™ display that tracks time, distance, speed, calories, and pulse. Choose between working on cardio endurance with 10 Performance workouts to work on specific muscles groups with 10 Target Toning workouts. There are Quick Touch™ In-Handle Controls allowing you to change the intensity at the touch of a button.
The list of the specs: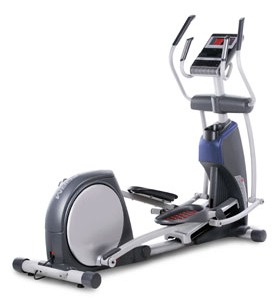 SMR™ Silent Magnetic Resistance
16 Digital Resistance Levels
18" - 20" Adjustable Stride Length
10° - 30° Power Intensity Ramp™
20 Programs
iFit® Live Compatible*
Quick Touch™ In-Handle Controls
EKG™ Heart Rate Monitor
Oversized Traction-Control Pedals
MP3 Music Port & Intermix Acoustics™ 2.0
Coolaire™ Fan
SpaceSaver® Design
325 lb. user weight capacity
Dimensions: 81.5"L x 27"W x 66"H
Warranty – lifetime frame, 1-year parts & labor
*Requires iFit® Live wireless adapter (sold separately).
UPDATE:  The 990CSE is no longer being sold.  You can check out all of the current models for sale here
The Word on the Street
The ProForm 990 CSE elliptical trainer is a good looking machine that offers a number of interesting features, including the large pedals that allow for different foot positions, a Power Intensity Ramp™ to go from 10° to 30° to target specific muscles in the lower leg, upper leg, and the gluts, and upper body handlebars with in-handle controls to work the core, chest, back, and arms.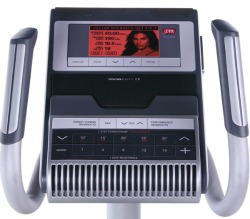 The iFit® Live programming allows for interactive workouts designed by Jillian Michaels of The Biggest Loser and other certified personal trainers.
In addition to the workouts, in which the audio gives coaching instructions and encouragement, the software allows the user to download Google Maps™ to follow along paths from all over the world. You can also manage a personal profile online at the iFit Live website (subscription required).
Reviews on the 990 CSE have been among the best in the under-$1000 ProForm line of elliptical trainers. That doesn't mean it is ProForm's best value; for that, check out the ProForm 600 ZNE. It costs less than the 990 CSE yet comes with most of the same features.
Our Thoughts
Although it is listed as new for 2010, the ProForm 990 CSE elliptical trainer is basically the same model as the NordicTrack AudioStrider 990 Pro. Both ProForm and NordicTrack are ICON Fitness products.
The 990 CSE is actually one of ProForm's better models, but at $899, it doesn't compare in terms of quality, warranty, and the first rate customer service offered by elliptical manufacturers such as Livestrong, Horizon, Sole and Yowza.