The NordicTrack CX 985 Home Elliptical Machine – Great Model for the Home Gym
You may not think of the NordicTrack CX 985 home elliptical machine first thing when someone says "NordicTrack." Like lots of people, your first thought is probably of the popular ski machines of the 1980s. They are still around, but the company has brought out an impressive line of ellipticals as a natural outgrowth of their earlier, hugely popular product.
What You Get
(This model has been discontinued)
The NordicTrack CX 985 home elliptical machine runs around $799, but you can often find it on sale. For the money you get a very nice machine with features that include: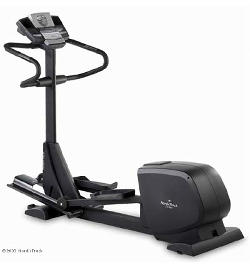 8 pre-set programs
Dot-matrix console
Pulse rate monitor
18" stride
10 intensity levels
Quick Ramp adjustable incline
Silent magnetic resistance
1 year parts & labor warranty
Cool-Aire fan system
1-step adjustment
Compare NordicTrack Ellipticals at WorkoutWarehouse.com
The Word on the Street
Some trainers consider the NordicTrack CX 985 home elliptical machine one of the best buys around in the under $1,000 category. Because it's backed by a brand name that's become synonymous with quality, it has sold quite well and developed a good following. Features like the 18" stride length, the addition of a carb counter and iFit compatibility are mentioned as reasons to consider this for your home gym.
The feature that gets the most praise from professionals, however, is the CX 985's Quick Ramp power incline that allows you to adjust the incline of your elliptical movement during your workout. This is a feature usually found only on high-end home elliptical machines costing thousands more. There is less enthusiasm for the console display, which is rated as below average. For the price, NordicTrack had to cut corners somewhere to allow for the extras – the display is where it happened.
Home users also liked the iFit compatibility and the Quick Ramp incline. They felt that they were getting an excellent home cardio machine with the NordicTrack CX 985. Many commented on the elliptical machine's stability and overall quality. The one complaint was that for the price they would have liked a more attractive display console and the option of an upper body workout.
Our Thoughts
The warranty is reasonable on NordicTrack's CX 985 and this is a good choice for long wear and a very good workout. You'll notice the difference between this elliptical machine and lesser models as soon as you try out the "adjust on the fly" Quick Ramp incline – it makes changing up your workout to work different muscle groups so much easier. The four-speed fan is a nice extra that makes exercising more pleasant – and one of the settings automatically adjusts to your workout – pretty cool! Consider carefully what you're looking for, though. If you're looking for cardio and a lower body workout, the NordicTrack CX 985 home elliptical machine feels more expensive than it is, but the lack of an upper body workout can be limiting for some people.
Show me other Nordictrack Elliptical Trainers
Discontinued Elliptical Models Index
Return from NordicTrack CX 985 Home Elliptical Machine to the Elliptical Reviews Home Page