The NordicTrack C 7.5 Replaces the E 8.9 Elliptical Machine
The NordicTrack C 7.5 is the entry level model in the front-drive series, but that doesn't mean it is lacking features or capabilities.  As a replacement for the previous E 8.9 model, it has incline capability, a number of workout programs and Bluetooth iFit (we'll explain that below).
What You Get
The C 7.5 comes with a 5" backlit display that shows you distance, speed, pulse and calories burned. It features AutoBreeze automatic fans, dual 2 inch speakers and easy touch controls.

Let's take a closer look at the specs....
Front driven flywheel mechanism 

5" backlit display
20 degrees power incline
iFit® Bluetooth Smart enabled

22 resistance settings using SMR® technology

26 workout applications

AutoBreeze workout fan

Music dock/speakers
Adjustable, oversized pedals

Transport wheels 

CardioGrip heart rate monitoring

SoftTouch upper body grips
Lifetime frame, 2 years parts and 1 year labor warranty

The Word on the Street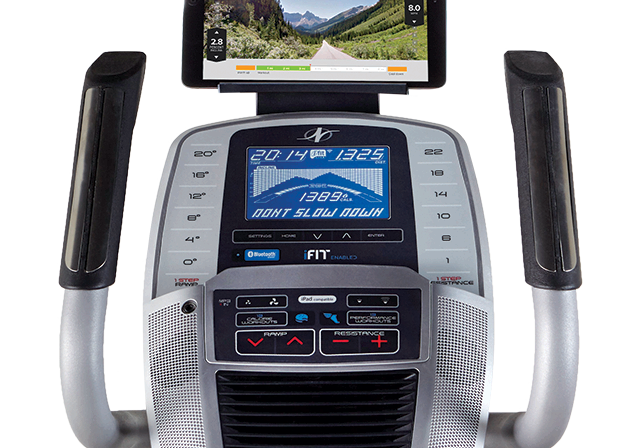 Some industry experts are wondering why NordicTrack introduced the C 7.5 elliptical since it isn't too different from the model it is replacing, the E 8.9.
Comparing the specs side by side, the only real difference is the C 7.5 has iFit Bluetooth Smart technology, which means you can connect your phone or tablet to the machine and take advantage of NordicTrack's iFit package.
iFit offers additional workout programs on top of the 26 that are already built into the machine.  It also allows you to track and share your results and, perhaps best of all, simulate a workout anywhere in the world using Google map integration.  So it's as if you are working out in that location, which is very cool.  iFit does require a yearly subscription ($99) but most users agree it is well worth the price.
Everything else about the machines seems identical...flywheel weight, number of apps, incline levels, resistance levels, etc.  Perhaps the company is making a transition to Bluetooth for all of their lower priced machines...that's a strong possibility as we have seen it on some other lower end models as well.
Note that the NordicTrack C 7.5 has a 5" backlit display.  If you want a touch screen display with internet capability, you'll have to look at the C 9.5, which was also recently released.  The up level C 12.9 and Commercial 14.9 are also web-enabled.
Our Thoughts on the C 7.5 Elliptical
We were fans of the E 8.9 because of all that it offered for just $799 on sale.  Since this machine is similarly priced, and not much has changed, we can say at this early stage that we like this machine as well.
It gives you 26 workouts to choose from, iFit workout tracking and map integration, up to 20 degrees of power incline, iPod compatibility and 22 different resistance levels.
That's a lot of features and capabilities, especially given the price.  There are elliptical trainers well over $1000 that don't give you all of that. So this one is definitely worth a closer look.