The Bowflex TreadClimber TC100 Review - Three Trainers in One
The TC100 is the base model in the popular TreadClimber series, Bowflex's unique cardio machines offering the benefits of three trainers in one: an elliptical, a treadmill and a stepper.  
The main selling point of these machines, as well as the company's big selling Max Trainers, is that you can burn more calories per minute than you can on other cardio machines.
Let's get right into our expert review and see what this unique trainer is all about...
TC100 - What You Get
The Bowflex TC100 is a compact machine featuring two independent tread belts, called treadles, that rise up as you step forward.  
It has an LCD display that gives you all of the relevant workout metrics.
Let's take a look at some of the best features...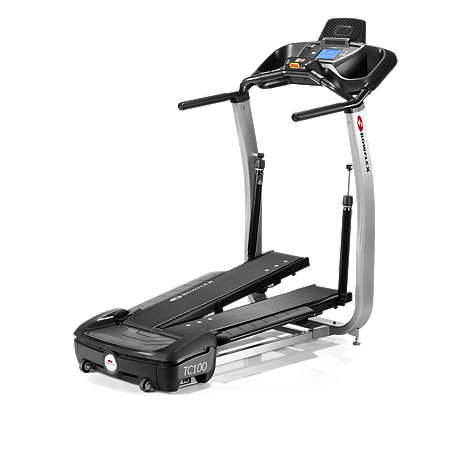 3 Cardio Machines in 1
Compact Design
Speed: .5 to 4 mph
Contact heart rate monitoring

Fully backlit LCD display
Tablet holder/Media shelf
Water bottle holder
Dimensions: 57" L x 31.5" x 59" H
Max weight capacity: 300 lbs.
Warranty: 2 years
Check out this popular cardio trainer on sale right now!
What's the Word on the Street?
There are a lot of hybrid cardio machines entering the market these days, but the Bowflex TreadClimbers remain some of the most popular, along with the company's Max Trainer series.
As we mentioned above, one of the main reasons why they are so popular is that they can help you burn more calories in less time, which is very appealing for people who don't have the time, or simply don't want to spend hours working out every day.
The TC100, and its big brother, the TC200, are three cardio machines in one.  
You have the tread belt (treadle) of the treadmill, the step up motion of the stepper and the low impact step pattern of the elliptical machine.  
Bowflex cites studies on their site that revealed that you can burn 423 calories every half hour on the TreadClimber at 3mph, compared to 191 on the step machine and 165 on a traditional treadmill.  
The elliptical is not mentioned, and that's likely due to the fact that the rotating arms definitely ramp up the calorie burn, so the TreadClimber might not have it beat.
At any rate, the TreadClimber TC100 can give you a good workout and you can certainly burn a lot of calories and work up a sweat on the machine.
You can vary your speed from .5 mph to 4 mph.  The LCD display shows your calories burned, speed, distance and time.  You can also measure your heart rate using the pulse grips on the handles.
The compact size is another big plus here, as the TC100 is only 57" long, which is less than 3/4 of the length of your typical elliptical or treadmill, so it's a good option for those with limited space.
And negatives to speak of?
Well, according to our TC100 reviews you may be better off with the up-level TC200 model as it has a lot more to offer.  
It gives you built in workout programs, Bluetooth workout tracking and sharing and wireless heart rate monitoring, all features that you would expect to find at this price level.  
However, the TC200 is $1000 more expensive, so you have to decide if the additional features are worth the jump.
Also, the warranty on the TC100 is only 2 years.  Compared to the lifetime frame and 2-5 years parts that you find on most $1500+ ellipticals and treadmills, and you can see how this falls a bit short.  
The TC200 is a bit better at 3 years, but you should still opt for the extended warranty regardless of which model you choose.
Is the TC100 Worth the Price?
Hybrid cardio machines like the TC100 tend to come with higher price tags, simply because they don't really have much direct competition.
What do we mean by that?  Well, if you look around you just won't find anything on the market that is like a TreadClimber.  It's unique, unlike the traditional treadmill or elliptical.
As such they can charge a premium for it, as they don't have to worry about a competitor offering the same or similar model for less money.
Plus you have the Bowflex name, which comes with its own cache.
So you need to decide if you think it's worth paying a bit more for a unique cardio machine that might not have all of the features and capabilities of a similarly priced traditional model.
For instance, the Bowflex TC100 costs $1999 and gives you contact heart rate, some comfort features and a 2 year warranty.
At that price you can get our top rated NordicTrack FS7i with a touch screen display, 24 resistance levels, 10% incline, up to 32 inch stride, 35 built in workouts and lifetime frame warranty.
You can also get an entry level Life Fitness or Precor elliptical with rock solid construction and gym-level design.
So it's really a matter of deciding what you are looking for.  Do you want a feature-packed elliptical, a club-quality one or a unique cardio machine that allows you to walk and burn calories, but doesn't come with a whole lot of extras?
That's what it comes down to with the Bowflex TC100.
Bowflex TC100 Review - Bottom Line
If the idea of three cardio machines in one compact trainer appeals to you, then it's definitely worth looking into the TC100.  
It offers a low impact workout that burns a lot of calories quicker than you can on other machines at the same speed.
We definitely like the TC200 better, with its 5 built in programs, the ability to track your results, more accurate wireless heart monitoring and better warranty, but if budget is a concern the TC100 is just find for a solid cardio workout.
Also consider the Bowflex Max Trainers, which will give you more of an elliptical workout, and cost considerably less than the TreadClimbers.
Compare models and get special sale pricing on these machines here