The Bowflex TreadClimber TC200 Adds Workouts, Tracking and More
The TC200 is the up-level TreadClimber in Bowflex's very popular cardio series, offering features and capabilities that the base TC100 model does not have.  It's 3 machines in one:  elliptical, treadmill and stepper, offering a very low impact workout that promises to burn more calories in a shorter amount of time.
What You Get
The Bowflex TC200 is a compact machine with two independent tread belts called treadles and curved uprights supporting a large LCD console.
Let's take a look at some of the best features...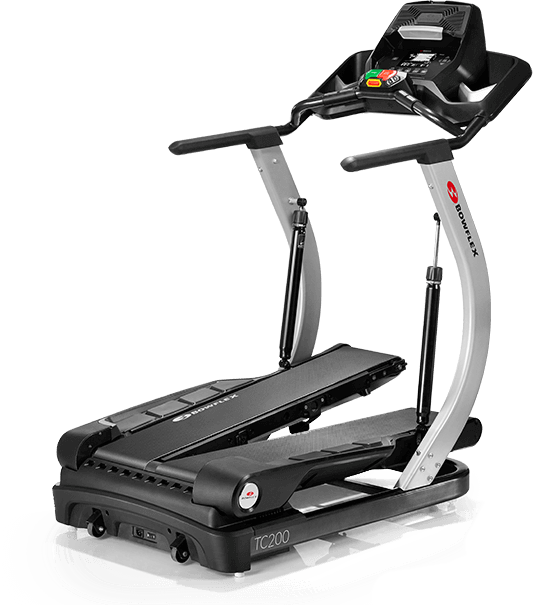 3 Cardio Machines in 1
Compact Design
Speed: .5 to 4.5 mph
Contact and wireless heart rate

5 workout programs
Fully backlit LCD display
Bluetooth workout tracking
Tablet holder/Media shelf
Water bottle holder
Dimensions: 55" L x 31.5" x 62.5" H
Max weight capacity: 300 lbs.
Warranty: 3 years
Check out this popular cardio trainer on sale right now!
The Word on the Street
Because so many people are looking for a way to get faster results from their workouts, the Bowflex TreadClimbers have become extremely popular over the last few years.
The TC200, and its little brother, the TC100, are three cardio machines combined into one compact trainer.  They look like treadmills that have been cut in half, and each half, called a treadle, rises up as you step and does so in an elliptical motion.  That's why they are considered treadmills, stepper and ellipticals in one unit.
So you get all of the benefits that each individual machine would offer.  As such, Bowflex claims you can burn 423 calories on the TreadClimber walking at 3 mph for 30 minutes.  Equal time would burn 191 on the step machine and 165 on the treadmill.  Interestingly, the elliptical is not mentioned, but we suspect that due to the upper body workout it probably burns as many calories or even more.
At any rate, the TC200 can provide a solid cardio workout for those who prefer to walk their way to fitness rather than run or jog.  You have 5 built in programs, including intervals, just walk and fitness goals.  Keep in mind that the base Bowflex TC100 does not have workout programs.
Another thing missing from the TC100 that you have here is Bluetooth capability, which allows you to track your workouts and sync them to various fitness apps.  This is great for those who like to keep tabs on their progress and set goals for themselves to reach.
You can monitor your heart rate either with the grips or the included wireless chest strap for a more accurate reading.  The TC100 does not included the chest strap.
The workout itself will get your heart rate going, but it does take a little time to get used to the motion.  Once you do though, it feels quite comfortable and you'll be on your way.  The company recommends 30 minutes per day, 3 times a week, which is a good frequency.  You may decide you want to ramp that up once you get used to the workout.
Any negatives?  Although the TC200 is much more advanced that the TC100, it does still fall short in some areas.  For starters, the console, although it does provide all of the information you need, is not as advanced as you would find on a comparably priced elliptical or treadmill.  There is no touch screen and no internet capability, as you find more and more elsewhere these days.
Also, at 3 years, the warranty is a little thin.  Again, compared to an elliptical or treadmill, both of which offer lifetime frame and 3-5 years parts, you can see how the Bowflex TreadClimber TC200 falls a bit short. An extended warranty is definitely recommended.
Besides the console and the warranty, however, you can definitely get a solid cardio workout in, burning calories in a relatively short amount of time and building up a good sweat.  Since that is the main reason you are on the machine to begin with, the basic console should not be deal killer.
Our Thoughts on the Bowflex TC200
Of the two TreadClimbers currently on the market, the TC200 is definitely the better of the two.  On top of the low impact workout and the space saving design, you get built in workouts, tracking capability, wireless heart rate monitoring, and a slightly higher max speed.
For those who prefer to walk than jog or run, it's the ideal machine, offering the benefits of the treadmill, the elliptical and the stepper and ramping up your cardio fitness.
Compare models and get special sale pricing on these machines here