The Horizon AT1501 Ascent Trainer – Sturdy, Well-Built
The Horizon AT1501 Ascent Trainer is the company's high-end model that gives the user a smooth "floating" ride without the choppy motion often experienced on an incline trainer with rollers on a glide track.
What You Get
The Horizon AT1501 Ascent Trainer has a console with an integrated mp3/iPod docking station and large speakers so you can listen to your favorite tunes while working out, plus large LED windows for readouts. The eight programs include Manual, Boulder Run, Canyon Hill, Mountain Ascent, 30 forward/30 reverse, 45 forward, 45 reverse, 30 forward/60 reverse, and 60 forward, 30 reverse.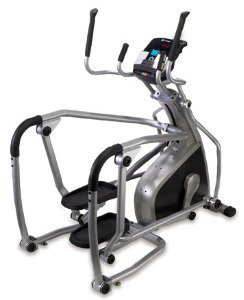 The specs on the Horizon AT1501 include:
18"- 20" Variable Stride
18-lb Flywheel
18 levels Resistance
Magnetic Brake Resistance
Power incline
8 Programs
Pivoting Foot Plates
Contact Grip Heart Rate Monitor
Dual action upper body handlebars
MP3 port + speakers
300-lb. User Capacity
Dimensions — 71" x 37" x 55"
Warranty: Lifetime frame & brake, 1-year parts, labor, & elevation motor
The Word on the Street
UPDATE:  The AT1501 has been discontinued and is no longer available for sale. You can check out all of the latest Horizon elliptical reviews here.
The Horizon AT1501 Ascent Trainer, sometimes called a suspension elliptical, has a heavy steel frame, 18-lb flywheel, 18 levels of motorized resistance, a buff incline motor, sealed bearings, and a variable 18"- 20" stride length.
It also has narrow pedal spacing with pivoting footplates, quality speakers and an integrated iPod dock, contact heart rate grips on the handlebars, and a 300-pound max user capacity.
Ellipticals reviews have been mostly positive on the Ascent Trainer. Users have made comments that it is easy to assemble in a couple of hours, it's sturdy and well-built, and has a dramatic incline that feels like a climbing motion — just the thing to really works the core muscles effectively. As for the noise level, the Horizon AT1501 is a quiet and smooth trainer — um, right up until the moment it isn't.
After a year, many users notice an annoying and constant clunking sound on one side. This could be a lack of regular maintenance (bolt tightening, lubricating moving parts, etc), but users don't give enough details.
Finally, there are a few small cons: the Horizon AT1501 does not provide a stats summary at the end of the workout, there is no interface to enter age/weight for calorie burn readouts, and the console doesn't have a ledge or shelf to hold reading materials.
Our Thoughts
The Horizon AT1501 is a decent alternative to higher priced center-drive ellipticals, Dynamic Motion Trainers, and the Cybex Arc.
The AT1501 Ascent Trainer rates average for ergonomics and components, but the one-year warranty on labor and parts causes some concern about its durability. Do be aware that the prices on this model range all over the place.
Your best bet is to try it out in person at Dick's Sporting Goods, where the price is $1,599, but if you decide you like it, order it at Amazon.com where you will pay just $1,199 with free shipping.
The Horizon AT1501 Ascent Trainer isn't a bad unit, but we wouldn't go with this one over a Sole, which offers electromagnetic brake systems and better warranties.