The Horizon CE4.4 Elliptical Trainer - Lots of Bang for Its Buck

The front-drive Horizon CE4.4 elliptical trainer comes with an 18" stride length and 14.3lb flywheel to make this low impact but huge result trainer a force to be reckoned with.

What You Get

 
This trainer comes equipped with 10 resistance ranges and 12 program options to give you a great deal of variation and you get the added bonus of an audio input to allow you to listen to your tunes and workout your way. The sturdy frame gives a fluid and smooth motion whether you are cruising at a moderate speed or hitting the top of your pace. The Horizon CE4.4 elliptical trainer delivers a great low impact workout that's easy on the joints and great for people of all ages and abilities. 

The main features are: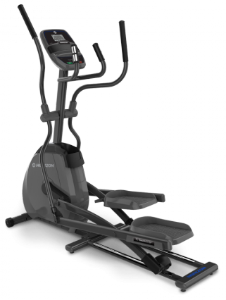 SixStar Certified™ elliptical frame

ECB magnetic braking system with 10 intensity levels

18″ stride length

10" step on height

12 workout programs

Oversized foot pedals

Moving and stationary handlebars

Heart rate contact grips

Front drive system with 14.3lb flywheel

275 lb. user weight capacity

5″ non-backlit LCD display

Lifetime warranty on frame, 1 year parts and labor

The Word on the Street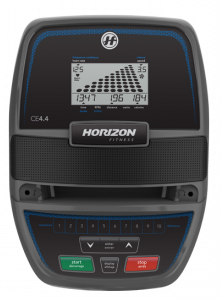 UPDATE: As of 2016, the Horizon CE 4.4 is no longer being sold.  You can check out all of the current model reviews here.

The Horizon CE4.4 elliptical trainer has a lot of bang for its buck for a budget trainer with the 18" stride length and a display that shows a vast amount for data to help you collate your workouts. The compatibility of the Sonic Surround speakers and your personal MP3 player is a great asset to this trainer and helps to personalize this machine.
The added heart rate monitor grips are a great bonus to this trainer as it gives you the option of measuring heart rate if you do not have a personal monitor.  On the plus side this is a solid machine that will give you a low impact smooth workout which is what you expect to get from an elliptical trainer.

However, after researching some of the reviews from people who have purchased this trainer it is clear to see it is not the best budget machine on the market. Many of the complaints are related to the lack of resistance and the advertised 10 resistance settings show little variation.
The Horizon CE4.4 seems to be a less than popular trainer with an average of 2 out of 5 stars on most review sites. It does offer all the basics that you want from a machine but when purchasing a machine that is not cheap you expect a little more. 

Our Thoughts
For a budget to mid-range elliptical trainer priced around $1500 the Horizon CE4.4 elliptical trainer is little more than a sheep in wolfs clothing.
It looks the part but actually there is little below the surface. With little changes in resistance it makes this trainer very limited and anyone looking to train regularly will find this machine loses its use after just a few weeks.
Other Horizon machines seem to offer a lot more for a similar or lower price tag. This machine is just too basic for us!