The Horizon EX-69 Elliptical Trainer – Value, Quality
The SixStar Certified™ Horizon EX-69 elliptical trainer offers a wide range of motion plus a manual incline in a smooth, natural ride.
What You Get
The Horizon EX-69 elliptical trainer has two red LED windows and an 8-digit alphanumeric LED window showing readouts for time, speed, distance, calories, heart rate, level, watts, and rpm. Among the 11 programs in the Advanced Goal Center™ are choices for Target workouts (Time, Distance, Calories) and training workouts (Rolling Hills, Mountain, Reverse Train), and 2 Custom workouts.


The list of features includes: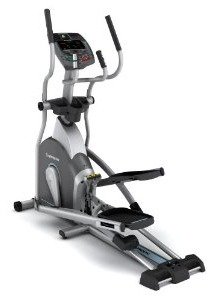 20" FLATellipse™ Stride
17.6-lb Flywheel
8 Programs
16 levels Resistance
5-Position Manual Incline
ComfortFIT™ Foot Pads w/traction edges
Contact Grip Heart Rate Monitor
iPod®/MP3 plug-in port
Sonic Surround™ speakers
Dual action upper body handlebars
SixStar Certified™ frame
CoolFit™ Fitness Fan
300-lb. User Capacity
Unit Weight/Dimensions — 162 lbs; 73"L x 22"W x 65"H
Warranty: Lifetime frame and brake, 1 year parts and labor
The Word on the Street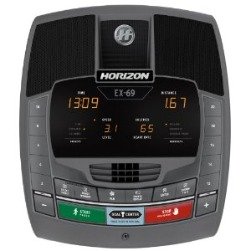 UPDATE:  The EX-69 elliptical has been discontinued and is no longer available for sale. You can check out the new lineup here.

The Horizon EX-69 elliptical trainer has the patented SixStar Certification™, which covers six key elements to deliver a smooth workout experience.
These elements include the low 10" SUREstep™ easy access step-on height, StraightUP™ body posture for maximum comfort while pedaling, a 20" FLATellipse™ stride length to mimic natural running motion, and the ZEROgap™ overlapping pedal motion in which the pedals have zero distance between them to eliminate stress on the back and hips.
This trainer also has IDEALfit™ optimal handlebar spacing, and the SMOOTHpulley™ drive ratio with a 17.6-lb flywheel and magnetic brake system for the most efficient motion possible.
Elliptical reviews on the Horizon EX-69 are favorable and users feel they got a good trainer for the price. The larger flywheel, entertainment system, cooling fan, and selection of programs are cited as just a few of the reasons that help to deliver daily workout sessions you can look forward to.
The higher priced EX-79 model comes with a power incline setting, but if you don't use an incline that often, you can save $200 and get this model with its five manually set positions instead.
Our Thoughts
The Horizon EX-69 elliptical trainer typically sells online for $799 to $890. For its value, quality, and features, it easily lands among our top choices at this price point.
Along with considering this trainer, we recommend you look at NordicTrack.
Compare the stride lengths, manually adjustable inclines, size of the flywheels, the warranties, and all the rest, and see which one is right for you. We like both at $799.