The Horizon EX 76 Elliptical Trainer – An Incline Trainer for Under $1000
Now here's a solid, affordable incline machine: the Horizon EX 76 elliptical trainer. It's only been fairly recently that home users have been able to find incline trainers that also come with cool features, adjustable stride length, and pivoting footpads -- and get it for under $1000.
What You Get
The Horizon EX 76 elliptical trainer has a bright, easy-to-read LED matrix with 4 read outs. It has 16 workout programs including manual, intervals, weight loss, random, custom, and incline. Other features on the dash include an MP3 port with speakers, audio in/out jacks, and an MP3 holder/pocket. The rest of the specs are: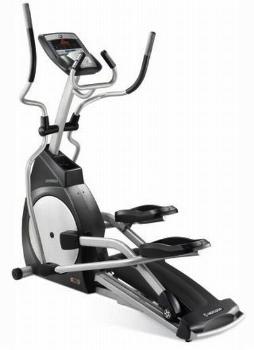 16 Levels of Resistance
18-19" Variable Stride
16 Workout Programs
Power Incline™ to 16 degrees
Contoured Handlebars
Contact Heart Rate Grips
Heart Rate Monitor
Cushioned Pivoting foot pads
Heavy Duty Front flywheel
300 lb. user weight capacity
Warranty –1 year parts and labor; lifetime on frame/brake
The Word on the Street
UPDATE:  The EX-76 elliptical trainer has been discontinued and is no longer available for sale. You can check out the latest Horizon elliptical trainer reviews here.

Comments made by experts regarding the Horizon EX 76 noted that the model came out in 2008 with nice improvements over the EX75 edition, including upgrades in key areas such as the adjustable stride length and the cushioned and pivoting footpads. Add to that the incredible16% incline ramp, the 14.5" pound flywheel, and the 300 lb user max, and this elliptical trainer is a very appealing fitness machine.
Consumers have noted in their elliptical reviews one minor nuisance; that the pedals have a slightly forward angle that tends to smoosh the toes if your foot slips forward (but we've experienced that on Precor elliptical trainers and other makers too).

Otherwise, they are quite happy with their purchase. The Horizon EX 76 requires about 30 minutes of easy assembly, but you may need some help carrying this 220-lb machine into your home. Otherwise, it'll cost you $239 to have it brought in and set-up.
Our Thoughts
It was love at first sight when we saw the $999 Horizon EX 76 elliptical. We've seen other trainers that look oddly proportioned, but this baby is sleek and very attractive. Shapely attractive.
Appearances aside, we wanted to match this head-to-head with two best-selling models from NordicTrack -- the AudioStrider 990 and the Commercial 1300, both which are also selling at $999.
In our book, the incline Horizon EX 76 elliptical trainer with its solid "no wobble" feel, upgraded console, and all the improvements over the EX75, beats the rear flywheel NordicTracks hands down.