The NordicTrack A.C.T Commercial Elliptical is a Great Choice

The NordicTrack A.C.T. Commercial base model is a center-drive elliptical, as opposed to the typical front or rear drive system found on most of these machines.  This new technology saves space but more importantly provides more balance and stability.
What You Get
For just under $1000 you get an awful lot with this elliptical.  For starters it is iFit enabled, which means you have access to a ton of customized workout programs from professional trainers, the ability to track and share your results, and access to Google maps to virtually work out anywhere in the world you choose.

You also get up to a generous 22" stride, adjustable cushioned pedals, 32 built in workouts, tablet holder and a blue lit 5" display.
Center driven flywheel mechanism
23 lb. inertia enhanced flywheel
18", 20" and 22" adjustable pedal settings

Adjustable oversized pedals

24 resistance levels
CardioGrip™ sensors

Transport wheels

Water bottle holder
CoolAire™ workout fan

Lifetime frame, 3 year parts and 1 year labor warranty

The Word on the Street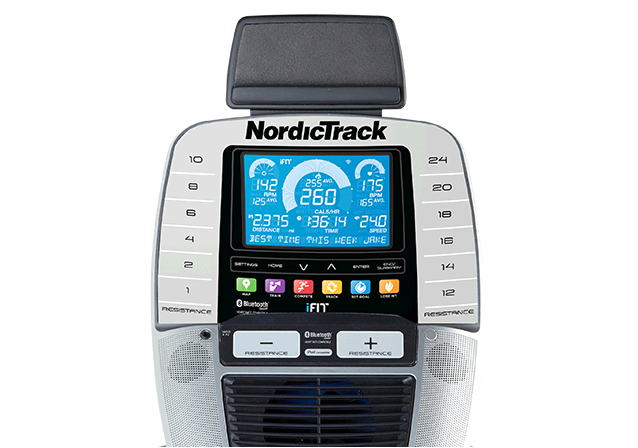 UPDATE: The ACT Commercial elliptical has been discontinued. See our NordicTrack elliptical review page to read about the latest models in the lineup.
---------------------------
Customers have been quite pleased with the NordicTrack A.C.T. Commercial elliptical series thus far.  Although the feel of a mid drive machine is different than the traditional rear or front drive elliptical, it does provide more balance as you are situated directly above the mechanism.
IFit Coach is a huge hit, and this one is enabled which means you don't have to buy a separate module to make it work.  You do have to pay a yearly subscription but it's well worth it for all of the extras it provides.
Users also like the generous stride length of up to 22", which can comfortably accommodate even the tallest of users.
Best of all is probably the fact that it takes up roughly half the space of a regular treadmill which makes it ideal for any sized gym or workout environment.  It also has transport wheels so you can quickly and easily move it from one place to another.
How Does the ACT Commercial Compare to the Other NordicTrack Elliptical Trainers?
The ACT Commercial Series is more compact than the front and rear drive NordicTrack ellipticals, and about the same size as the popular FreeStride Trainers.  However, despite their space friendly design, they remain the least popular of all of the company's machines...and we're not quite sure why.
The A.C.T. series consists of the base model, the ACT Commercial 7 and the top of the line ACT Commercial 10, ranging in price from about $999 to $1999, depending on the current sales.
ACT Commercial (Base Model)
The base model, as you read about above, features an 18"-22" adjustable stride, 24 resistance levels, a 5" backlit display, 23-lb. flywheel, 32 built in workout programs and a 350-lb. max weight capacity.
ACT Commercial 7
The mid-level model has a 7" HD touch screen display, a 25-lb. flywheel and 35 built in workouts, in addition to all of the features and capabilities of the base model.
ACT Commercial 10
The top of the line Commercial 10 has everything the Commercial 7 has, except for an upgraded 10" HD touch screen instead of the 7" one.
So there's not much difference between these machines besides a few upgrades and better displays as you move up.
You can't really compare the ACT models with the front drive C Series or the rear drive Space Savers, because they are very different types of ellipticals.  They are more durable, however, with heavier max weight capacities.  
But you can compare them to the similar FreeStride Trainers, as they are also mid-drive and compact.
The NordicTrack FreeStride Trainers are in essence better versions of the ACT Commercial ellipticals.  That may be why they are so much more popular, despite the fact that they are also more expensive.
Comparing the base ACT to the base FS5i FreeStride Trainer, the latter has a larger display, a 32" adjustable stride vs 22" max on the ACT, an even smaller profile and a better warranty.
I guess where the ACT models excel is they are giving you the adjustable stride without the high price tag of the FreeStride Trainers.  But they are more expensive than the front drive C Series and rear drive Space Savers, so they are kind of in that middle zone.  
Many buyers prefer the rear drive design and front drive design over the mid-drive, and when they do opt for the mid-drive, they usually want more freedom of movement.  The FreeStride Trainers allow for more freedom, closer to what you can do on a treadmill...as such they are the preferable mid-drive choice.
Our Thoughts on the ACT Commercial
The NordicTrack A.C.T. Commercial elliptical trainer is a great choice for home use and for the price, you really can't beat it with all of the features and capabilities it has.

You get iFit, tons of workouts, adjustable pedals, a generous stride and smooth operation all in a compact machine that will fit anywhere.
The base model should be just fine for you, but if you want a web-enabled touchscreen and a wireless heart rate monitor you can take a look at the Commercial 7 model or the top-of-the-line Commercial ACT Commercial 10 elliptical which gives you a large, 10-inch touch screen with internet capability.