The NordicTrack Elite 12.7 Elliptical with Android Browser
The NordicTrack Elite 12.7 elliptical is another new offering from NordicTrack and ICON Fitness. Priced slightly lower than the 14.7 elliptical, it lists at $2,299 and can be found on sale for around $1,299. It has 35 programs and offers most of the same features with just a few minor changes.
What You Get
The Elite 14.7 has a full color 7" touch screen on a console that displays an impressive amount of information, including calories burned, heart rate, speed/odometer, intensity level and more. The screen is also a Google Android browser that allows you full Internet access.


The specs on the NordicTrack Elite 12.7 elliptical include: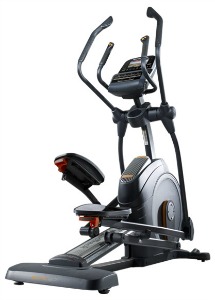 20" - 22" Adjustable Stride Length
35 Programs
26 Intensity Levels of Magnetic Resistance
0° to 20° Power Incline Adjustment
Moving Handlebars
In-Handle Controls for Resistance & Incline/Decline
Build-In HD Video Workouts
Handgrip Pulse Sensors
Wireless Chest Strap Heart Monitor included
Adjustable pedals with Gel Cushioning Inserts
Inertia Enhanced, 32 lbs. Front Flywheel
Transport Wheels
Water Bottle Holder
375-lb. User Capacity
Dimensions: 68"L x 26"W x 73"H
Audio port for MP3, two speakers
iFit compatible
Warranty: lifetime frame, 5 years parts, 2 years labor
The Word on the Street
UPDATE: As of 2016, the Elite 12.7 is no longer being sold.  You can check out the latest NordicTrack elliptical reviews here.
Some reviewers are confused because they don't understand what the differences are between the various new Elite models offered by NordicTrack. It's difficult to disagree, since the NordicTrack Elite 12.7 elliptical has remarkably similar features to the Elite 14.7.
All of the things reviewers love, including the iFit compatibility, HD video workouts and slim profile, are still present, but there are some minor differences. Instead of 38 programs, you get 35; there isn't a negative incline and the range (0° to 20°) is ten degrees less than on the pricier 14.7.

One reviewer noted, however, that once you're getting over thirty programs, does the difference between 35 and 38 really matter? If it does, you'll cough up the extra $200 - $500 more (depending on whatever sale is current) for the 14.7 elliptical.  For most of us, it's simply a matter of preference or cost.
Our Thoughts
The NordicTrack Elite 12.7 is another excellent machine in the upper price range. We remain fans of the handlebars with the built-in resistance and incline adjustment, which means you don't have to stop to adjust your workout.
A 25 pound drop in the weight capacity and a slightly smaller flywheel could be deal-breakers for heavier users, but for most of us the 375 weight capacity will work.
The front flywheel is heavy enough to give you lots of stability even when you're exerting yourself at top speed.  It's up to you - do you want to pocket a few hundred extra dollars but still have a great elliptical that's entertaining and easy to use? 
Then the NordicTrack Elite 12.7 elliptical is a great fit.