The NordicTrack Elite 1300 Elliptical - a Solid Unit at the Right Price
With the NordicTrack Elite 1300 elliptical you'll get your money's worth. Getting a quality machine can be expensive but NordicTrack (the maker of all those cross-country skiing machines) uses their experience and knowledge in human kinetics to give you a low impact, weight-bearing exercise machine that you will both enjoy and use - often!
What You Get
The NordicTrack Elite 1300 elliptical offers a variety of programs and intensity levels so you can vary your workout. With just a glance of the large display readout you can monitor your speed, rotations, pulse, calories burned, time, resistance and distance. The specs on this elliptical trainer include: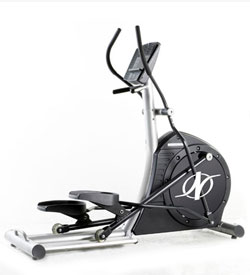 SMR™ Silent magnetic resistance
10 resistance levels
15 programs
Backlit LCD display
Hand grip heart monitor
20" stride
Front flywheel
350 lb user weight capacity
Built in fan
Warranty - 1 yr. on parts, labor, frame, motor
The one year warranty is standard but you can buy an extended warranty when you purchase any model in the line of NordicTrack elliptical trainers.
And you should note that the footprint of the Elite 1300 is large, so be aware that you'll need a bit more space in your workout area for this 78" L x 27" W x 72" H machine.
The Word on the Street
UPDATE:  The Elite 1300 has been discontinued and replaced with all new front drive models.  Check out the latest NordicTrack reviews here.

Let's get physical: trainers are proclaiming the NordicTrack Elite 1300 elliptical to be a "best buy" at an MSRP price of $1399 for its comfort, durability, and extensive programs targeting heart health and weight loss. They also like the frictionless magnetic resistance system that allows you to go up ten resistance levels with just a push of a button.
Consumers like the roomy foot pedals, 20" stride length, "one touch" buttons controlling 15 different programs and 10 resistance levels (rather than holding a button and scrolling through a list), hand grip sensors built in to the front handlebars to help keep you in your heart rate zone, and the overall attractive design of both the machine and its console.
Our Thoughts
The only fault we'd like to point out is the warranty which is annoyingly short, but overall, the NordicTrack Elite 1300 elliptical trainer is a pretty solid unit.
The price is right and if you've been looking to stretch your legs on a roomy machine, as well as strengthen and tone them, then give some serious consideration to this outstanding model.