The NordicTrack SpaceSaver Elliptical with Adjustable Stride
The compact NordicTrack SpaceSaver Elliptical is a fold up model (not something you see every day in ellipticals) to fit your space and budget needs. Its most noteworthy attribute is that it comes with an adjustable stride from 12" to 18". That unique feature is fine for compact people, but if you are over 5'6" the short stride path of this elliptical trainer will definitely feel restrictive.
What You Get
The display gives you the speed, pace, time, distance, calories burned, and pulse rate of your elliptical workout. The specs of the NordicTrack SpaceSaver include: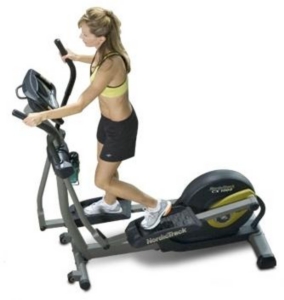 SMR™ Silent magnetic resistance
10 workout programs
Pulse rate monitor on handrail
LCD display
Hand grip heart monitor
StrideSelect™ 12", 15" or 18"
Rear flywheel
250 lb. user weight capacity
Built-in fan
Warranty – 1 yr. on parts, labor, frame, motor
While the NordicTrack SpaceSaver elliptical (MSRP $799) does not come with the built-in iFit Technology found on more advanced NordicTrack models, it does come with a DVD which demonstrates multiple workouts.
UPDATE: The original SpaceSaver model has been discontinued and replaced with all new SpaceSaver ellipticals, the SE7i and SE9i.  Check out the latest NordicTrack model reviews here.
The Word on the Street
Unfortunately, you can only cut so many corners on NordicTrack ellipticals trainers before you start to skimp on one area to benefit another. The StrideSelect™ sounds like a very cool, innovative idea, but in reality it results in short, choppy strides for most folks — the opposite of what you want to experience on an elliptical trainer.
And while the SpaceSaver fold up design is a plus if you have a small apartment, the trainer has a wobble factor as a result.
One other plus to mention on the NordicTrack SpaceSaver elliptical is the SMR which provides the resistance from the flywheel.
Of the two types of flywheel resistance found on elliptical trainers, you'll want to be sure to get a machine that offers magnetic resistance and not belt tension, which is found on cheaper models.
Our Thoughts
The NordicTrack SpaceSaver is noisy, doesn't feel comfortable with the shorter stride length, and the short warranty on this elliptical trainer is downright scary.
For a better-built elliptical that sells for under $1000, you may want to check out the reviews for competitor models such as the Schwinn 418. Just remember that no matter which elliptical trainer you are thinking of purchasing, you should always try out an elliptical in person in a store to make sure you get one with the right stride length.