An Affordable Elliptical Machine for Beginners
An affordable elliptical machine is important if you are just starting out on an exercise program. If you want a solid, inexpensive machine that isn't "cheap," consider the Eclipse 1100 HR elliptical trainer. It has some very good features that make this machine perfect for beginners without paying a premium price.
What You Get
(This model has been discontinued)
This affordably priced elliptical machine gives you everything you need without charging a premium for things that you don't need to get started on getting yourself into shape. We like the Eclipse 1100 HR in the $400-$500 price range because this elliptical trainer has just enough and because it's manufactured by a reliable company. Features include: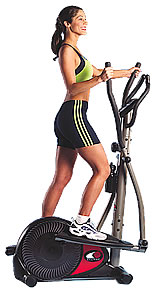 Upper body workout
10 pre-set programs, including 2 specifically for heart rate control
An easy-to-use LCD computer
Hand pulse monitor built into the handle bars
A weight limit of 275 pounds
A stride length of 15"
Orbital linkage system for smooth motion
1 year limited warranty
Reverse motion
For an affordable elliptical machine, the Eclipse 1100 HR will suit most people. Because the computer program indicates time elapsed, distance traveled and calories burned, it can be motivating if you get bored easily or have trouble sticking with an exercise program. The one concern we have is the stride length, which makes it less than ideal if you are tall. In that case, you may find an elliptical trainer with a stride of 18" more comfortable for a full work-out of all muscles.
The Word on the Street
Most trainers put this in the affordable elliptical machine category and suggest that it is a sound option if you are going to exercise regularly but aren't an intensive, heavy-duty workout person. For that, they suggest a heavier, more expensive machine. They note that the patented Orbital Linkage system gives you a very smooth elliptical path, but will comment that the stride length is designed for people under six feet tall.
Consumers who have purchased the Eclipse 1100 HR give it high marks for affordability and reliability. Again, the stride length is sometimes commented on as problematic for taller individuals. Some buyers also feel that the Eclipse is a bit noisier than higher priced elliptical trainers. High marks are given to the warranty, which is unusually generous for an elliptical machine in this price range.
Our Thoughts
The Eclipse 1100 HR is a safe, solid and affordable elliptical machine with all the basics and some extras thrown in at a very good price. If you're a woman or less than six foot tall, you will have no problem with the elliptical trainer's performance. It's a bit iffy if you are very tall, but trying it out should answer any questions you have. Noise level is moderate, but not excessive. For $395 (at Amazon), it's an excellent deal.
Show me other Eclipse Elliptical Trainers
Discontinued Elliptical Models Index
Return from Affordable Elliptical Machine to the Elliptical Reviews Home Page