Are Discount Elliptical Machines Worth the Savings? – A Look at the Weslo Momentum 610 Trainer
Buying discount elliptical machines is always a risky venture. On the one hand, you have great savings; on the other, you know you aren't going to get a machine anything like what you might have come to expect from working out in the gym. So how do you decide what's truly worth it?
Let's take a look at the Weslo Momentum 610 elliptical trainer, which at around $180 is one of the more commonly sold discount elliptical machines.
What You Get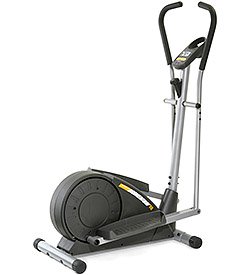 Adjustable manual resistance
Short stride
Thumb touch sensor pulse monitor
Battery-operated LCD display console
Warranty: 90 days parts and labor
Synchronized upper body workout
This discount trainer doesn't offer much. Here's the important question you need to ask yourself: What do I have to have, and what do I simply want to have? If this is your first time using an elliptical machine and you merely want to burn off some extra weight and get yourself moving, you may not need various programs, lots of different readouts or adjustable inclines.
UPDATE: The  Momentum 610 is no longer being sold, leaving the similar CT3.0 and the G Series as the only remaining models.  You can check out all three here:
Compare Weslo Ellipticals On Sale Here
On the other hand, discount elliptical machines also lack some important features that may exclude them even if you're looking for just basics. For instance, the stride of the Weslo Momentum 610 is shorter than on more expensive elliptical trainers. For taller individuals this will make for an uncomfortable, unproductive workout.
The Word on the Street
Fitness professionals aren't big fans of the Weslo line because they are so low end. Part of this is because they tend to want (and use) the many extras found on more expensive ellipticals. However, they also remind buyers that manual resistance like that usually found on discount machines limits the intensity of your workout based on your own fitness level.
Buyers like the small footprint of the Weslo Momentum 610, but feel the elliptical trainer is too insubstantial for heavier users. Its recommended weight limit is only 250 pounds, so it won't work for larger individuals.
Our Thoughts
We don't want to discourage anyone from trying elliptical training, so if you can only afford about $200, there's nothing wrong with shopping around for one of these discount elliptical machines. Just remember, you'll only get a few years, tops, out of something like the Weslo Momentum 610 before the creaks, groans and problems have you moving on.
Show me other Weslo Elliptical Trainers
Discontinued Elliptical Models Index
Return from Discount Elliptical Machines to the Elliptical Reviews Home Page