This Elliptical Weight Loss Machine is Two in One
A true elliptical weight loss machine by Proform (a division of ICON Fitness) has cleverly combined cardio, fat burning, and strength training in one interesting piece of equipment. The Proform Crossover elliptical strength trainer is a hybrid creation that combines both elliptical trainer and resistance weight machine in one. Coming in at around $1,000 (often less on sale), the price is amazing for the comprehensive workout you can get.
What You Get
This is an elliptical weight loss machine that actually converts to a resistance machine by pulling up and securing a collapsible seat, moving a few parts and then using the two sets of pulleys and resistance bars for a weight training workout. Features include: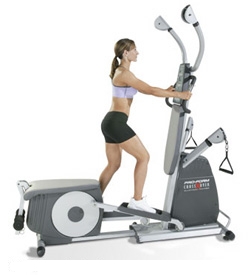 Electromagnetic resistance
65 different available exercises
High and low pulleys
9 pre-set programs
LCD display console
90 day warranty
The Word on the Street
Trainers aren't sold on the wisdom of combining an elliptical machine and a resistance weight machine in one machine, particularly at this price. It's inevitable that when you try to cram so much into one unit at such a low price, something has to suffer. Professionals say that stability and ease of use are two big issues with Proform's Crossover elliptical strength trainer.
UPDATE:  This model has been discontinued to make way for all new elliptical offerings.  Check out them out on sale here:
ProForm Ellipticals - Factory Direct
Those who have bought Proform's unusual elliptical weight loss machine admit that it is harder to use than they had hoped, but many still like it. The pluses are the compact size and the combination of so many different available exercises in one piece of equipment. It doesn't have enough resistance (257 pounds maximum) for a serious body builder, but it will do for most at-home users. It suits beginners who want to try both strength training and elliptical training without investing the space or money in two separate units. The negatives include the hassle of converting back and forth between elliptical mode and the weight training set-up, which tends to break up the crossover training.
Our Thoughts
Proform's Crossover Elliptical Strength Trainer is an innovative concept, but there's too much going on here. By trying to cram so much into one unit, Proform has sacrificed some quality in the design of the elliptical portion. The handlebars are small and difficult to reach and the stride length is relatively short. The machine isn't as stable as it should be at this price, and having so many more parts means more chance of break-down or problems. With a mere 90 day warranty, it could turn into an expensive weight loss machine. Our advice? Split the money between a better elliptical trainer and some inexpensive free weights until you're ready to invest in a second, separate machine for your weight training.
If you really must have an elliptical weight loss machine that includes weight training, this may be the only one on the market; but purchase an extended warranty!
Show me other Proform Elliptical Trainers
Discontinued Elliptical Models Index
Return from Elliptical Weight Loss Machine to the Elliptical Reviews Home Page