Tony Little's Gazelle Edge – A Simple Glider
The Gazelle Edge is an exercise glider you have seen advertised in late night infomercials. It's not really an elliptical but people get drawn in by the cheap price and the wild claims of effective workouts.
What You Get
The feedback display on the fitness computer shows speed, distance, time, and approximate calories burned. The console requires two AAA batteries.
The features of the Gazelle Edge are: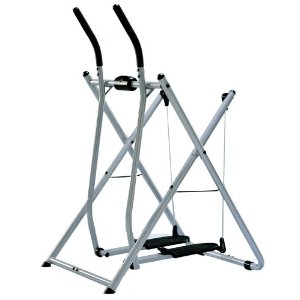 Foam-covered handlebars
Non-skid Foot Plates
250-lb. User Weight Capacity
The Word on the Street
Tony Little's Gazelle is a simple glider:no programs, no resistance, no elliptical pattern in the pedal swing – just back and forth. The electronics are lame: you won't be the first person to wonder how the feedback can have anything close to an "accurate" measurement for distance and speed, much less the number of calories burned. At least the time is accurate.
Check out the popular Gazelle Edge on Sale at Amazon Now!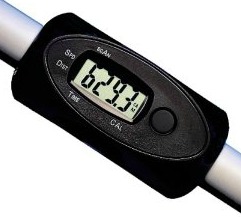 User reviews give the Gazelle thumbs up for being easy to use, but for cons, they remark that there is no real toning achieved and the heavy frame makes it hard to move.
There are a number of 5-star reviews that rave about it, but the comments tend to be written right after they've used the machine for half an hour, and not after a few weeks or months once it has really been tested. You should also expect the frame to start squeaking after a few uses but it should be fine with a few shots of WD-40.
Our Thoughts on the Gazelle Edge
The Gazelle Edge is sold online for $89 to $119, but we can't see why they charge that much for this simple frame, a set of pedals, and dinky computer.
While you can't get any more basic than this infomercial product we still wouldn't buy it. Unfortunately, there is no decent elliptical made that sells for $100, except for base-only pedal stepper machines that require balance and coordination, as well as a high tolerance for boredom.
However, if you are overweight, have balance issues, and can't spend more than $140, you might consider an upright bike with moving handlebars like the Body Rider Fan Bike. 
It's noisy but cheap, and offers enough cardio burn and resistance to get the weight off.
Cheap Elliptical Trainers - Buy for Price and Comfort, Not Features