LifeSpan Elliptical Trainers – Poor Ergonomic Feel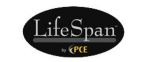 LifeSpan Elliptical Reviews
LifeSpan elliptical trainers have been launched with a steep challenge: they need to live up to the reputation equal to that of the company's quality treadmills. LifeSpan's market plan seems to be to strive for affordability over functionality as they've come out with just two front flywheel models, priced at $1299 and $1499.
Some Highs and Some Lows
LifeSpan, a division of PCE Fitness, has been around since 1994. Reviewers have not been kind to the new LifeSpan elliptical trainers; in fact, they've been under-whelmed by the efforts in most categories.
While these are stable machines with a sturdy steel frame that can hold larger users, they rate no better than average in other areas and earn bad knocks for the lack of smooth pedal motion and having an unattractive profile.
Compare Popular Lifespan Ellipticals Here
On the plus side, the elliptical trainers offer closely spaced pedals, a roomy 20" stride, and a big user weight limit of 350 lbs. Lifespan ellipticals have some quality components under the hood too, and offer a simple and attractive console with the patent-pending Intelli-Key™ lighting system.
They also offer an optional Bluetooth receiver which allows you to sync all of your workout data to your LifeSpan Club account, which you can access via your phone or tablet.
The Current LifeSpan Lineup
LifeSpan still offers only 2 elliptical trainers, as opposed to 8 different treadmills, so you can see that they are not really focusing on the elliptical machines.
You have the E2i Elliptical Cross Trainer with a 20" stride, magentic resistance, 20 incline levels, a 25 lb. flywheel, 6" blue backlit LCD and 23 built in workouts.  It costs around $1,299 on sale.
Then there is the up-level E3i Elliptical Cross Trainer with all of the features of the the E2i plus a 34 lb. flywheel, 7.5" LCD and additional workout metrics.  It costs around $1,499 on sale.
Both models have contact and wireless heart rate capability, but the chest strap is not included.  There's a tablet holder as well as speakers with a headphone plug-in.
What Everyone is Saying
The reviews aren't necessarily bad on the LifeSpan elliptical trainers, but they simply do not stack up to other brands in this price category such as NordicTrack, Sole and Horizon.  Whereas those other companies give you plenty of model choices with tons of features and capabilities, Lifespan gives you just two OK machines with nothing special included.
We like their treadmill lineup very much, we just wish the company would put the same effort into their ellipticals...not sure why they don't.  So we can't wholeheartedly recommend LifeSpan ellipticals at this time.
Click here to write your own review!
LifeSpan Model Reviews
Lifespan EL1000 - A solid (if average) model in terms of construction, reliability, quiet ride, foot comfort, value, and quality.
Lifespan EL3000i - The much-awarded Lifespan EL 3000i elliptical offers solid value, which is why it has earned praise as the Best Elliptical for 2011 under $1000.
Lifespan EX3 Elliptical - The EX3 features the patented EX-Link™ drive system for a smooth and ergonomically correct striding pattern; a discontinued model that is still available online at some retailers.
---