The NordicTrack AudioStrider 990 Elliptical – Good Choice for Starter Cardio Machine
The NordicTrack AudioStrider 990 elliptical is another strong entry in ICON Fitness' line of sub-$1000 machines. They manage to package advanced features such as exciting pre-programmed workouts as well as iFit® Workouts, premium speakers, and a comfortable ergonomic feel into an attractive trainer.
What You Get
The NordicTrack AudioStrider 990 elliptical offers a wide range of workouts -- 24 in all. Twenty of these programs take you through a variety of resistances to focus on aerobic, weight loss or performance goals. There are two HR (heart rate) programs where the machine increases or decreases resistance automatically to keep you in the Target HR Zone.
You also get 2 programs you can customize yourself. In addition to time, revolutions, ramp incline, rpm as well as speed, distance and calories, the backlit display also tracks the total number of carb grams burned with the unique Elliptical Carb Counter™. The specs of the NordicTrack AudioStrider 990 include: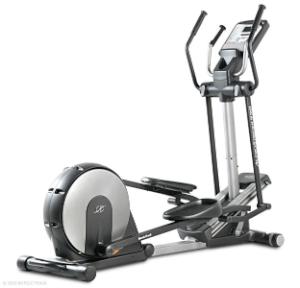 15 levels of SMR™ Silent Magnetic Resistance
24 Workout Programs
30° Max Incline Ramp (5 ramp settings)
iFit® Workout Card Technology
Interplay™ Music Port™
Upper body workout handlebars
18" stride
Rear flywheel
Club Design CardioGrip™ Heart Rate Monitor
325 lb. user weight capacity
AutoBreeze™ Fan
SpaceSaver® Design
Warranty –1 year motor, parts, and labor; lifetime frame
NordicTrack AudioStrider 990 - What's the Word on the Street?
UPDATE:  The AudioStrider 990 has been discontinued and replaced with the all new SpaceSaver SE7i, one of our top picks in the price category.  Check that one out for similar specs.
You can still find some parts available online if you own an AudioStrider 990 original or Pro version, and sometimes you can find some of these for sale still on sites like eBay.
The NordicTrack AudioStrider 990 elliptical is very similar to its lesser sibling elliptical, the AudioStrider 800.
The 990 has far more programmed workouts, premium sound speakers, higher user weight capacity, plus uses a pair of urethane coated wheels in the ramp for longer durability. But otherwise, experts point out that a less frequent user could save $200 and get the 800 model instead.
Generally, consumer reviews have been mixed regarding this model. Most seem to complain about how long it takes to get a part from the company when they have a breakdown.

But as to the performance of the NordicTrack AudioStrider 990 itself, consumers report that they love the machine, the variety of workouts, and that they are losing weight. They do recommend the extended warranty, though, since they are guarded about the lack of quality in some of the components.
Our Thoughts on the AudioStrider 990
We admit we've been cautiously guarded about the quality of NordicTrack ellipticals in general but they've made such a comeback in the past two years that it's time to shake off old prejudices and look at them with fresh eyes.
At $999, the NordicTrack AudioStrider 990 elliptical needed to hold up to the highly regarded AudioStrider 800, which it manages to do quite well. This is a good choice for a starter cardio machine.
There is also a newer version called the AudioStrider 990 Pro that you might want to consider as well for your home gym.
The company has indicated that it might be changing up the lineup, and it's possible that these ellipticals will be redesigned or at the very least renamed for the new model year.
We'll keep a close eye on the AudioStriders to see what develops.  In the mean time, check out the specs and see if it's the right choice for you.  It has a lot of features that you don't typically find on a trainer at this price level, which makes it very appealing.  
That's one of the main hallmarks of NordicTrack and its sister company ProForm...a lot of capability without the hefty price tag.  If you added up the value of all of the additional aspects, you'd be up to at least $2000.  So it's a relative bargain for what you are getting here.