The NordicTrack Commercial XM Elliptical Trainer Lacks in Value
The NordicTrack Commercial XM elliptical is a rebranded version of the Commercial 1300 model which was popular a few years ago, but unfortunately, the 1300/XM has been surpassed in quality by competitors.
What You Get
The NordicTrack Commercial XM elliptical features 18 programs including two Create and Save workouts. The LCD console displays readouts as well as 1-Touch Resistance selection.
The list of features: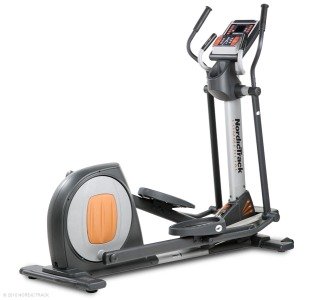 SMR™ Silent Magnetic Resistance
16 Resistance Levels
18" Stride Length
Power Incline™ Ramp
18 Programs including 2 Create & Save
Upper body workout handlebars
CardioGrip™ Heart Rate Monitor
Oversized Gelstride™ Pedals
350 lb. user weight capacity
Coolaire™ Fan
Dimensions: 76"L X 23"W X 63"H
Warranty – lifetime frame, 90 days parts & labor
UPDATE:  The Commercial XM elliptical has been discontinued, replaced with the all new SpaceSaver SE7i.  
The Word on the Street
Reviewers warn would-be buyers that this is not a "commercial" model, and why NordicTrack continues to use the word in naming these budget machines leaves many equipment pros scratching their heads.
As a residential machine, the NordicTrack Commercial XM elliptical has a smaller footprint than other NT rear-drive machines. It features a nice 18" stride length, a power incline ramp, 16 levels of Silent Magnetic Resistance, oversized pedals, a fan, and a 350-lb user capacity.
Despite all of the attractive features, the NordicTrack Commercial XM is built with cheap components. Since it is only covered by a 90 day parts/labor warranty (red flag!), you will have to spend additional money to buy an extended warranty, either from NordicTrack or a third party warranty company.
Users report that NordicTrack budget models with incline ramps have alignment problems that are noisy, and cause the wheels inside the track shield to wear out quickly. A wheel (and there are four to replace) costs $52 plus shipping. Other replacement components, such as a console or the power ramp, will cost the user hundreds of dollars if the part isn't covered by the warranty.
Finally, these NordicTrack ellipticals are also some of the most labor intensive machines to assemble that we've ever seen, taking about two hours and a lot of frustration. There are a lot of nuts, bolts, and washers, confusing directions, and many of the bolt holes on the Commercial XM do not line up well. A
s you might guess, problems in assembly usually mean problems with operation and performance too. Another very odd quark: there is an instruction in the User Manual to unplug the machine between uses.
Our Thoughts
For $849, you can get a much more reliable trainer than the NordicTrack Commercial XM elliptical. Despite the fancy features, it is not a good value.
This is not a purchase once-and-you're-done transaction for NordicTrack; you will pay much more than $849 on the machine, such as an extended warranty and/or replacement parts.
You would be better off to make an investment in a better brand of elliptical, such as Horizon, Livestrong, Schwinn, Spirit, Sole, or Yowza.
Show me other NordicTrack Elliptical Trainers