The NordicTrack CX 938 Elliptical Trainer – Decent Features in a Lower-End Model
The NordicTrack CX 938 elliptical trainer is one of the ellipticals that ICON Fitness produces under the licensed brand name famous for ski machines.
At about $599, it's a lower-end model with some decent features for anyone wanting a reliable machine to use several times a week.
NordicTrack elliptical machines are marketed toward people who want a reliable machine with some extras but aren't ready to take the step up to a machine in the next price range.
NordicTrack CX 938 - What You Get
The NordicTrack CX 938 elliptical trainer is a well-built machine in this price range. It boasts a good selection of pre-programmed workouts and is the most popular of the NordicTrack ellipticals because of the many features, although it still lacks an upper body workout.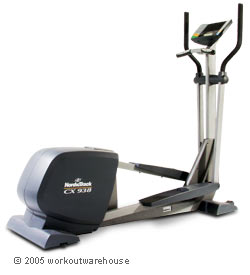 10 workout programs
LCD display
Pulse monitor on handle bars
18" maximum stride with Stride Select adjustable stride
1 year parts & labor warranty
iFit compatible
Silent magnetic resistance
Carb counter
Training zones
Training zone options
The Word on the Street
UPDATE:  The NordicTrack CX 938 has been discontinued and replaced with all new, upgraded models.  You can check out the latest NordicTrack elliptical reviews here.
The closest current model to the CX938 would probably be the SpaceSaver SE7i, one of only two rear drive ellipticals in the company lineup.
The new model is a few hundred dollars more, but it gives you incline capability up to 8%, 22 resistance levels, 24 built in workout programs, iFit Coach and a much stronger warranty.
So although you are paying a bit more, you're getting much more functionality so it's worth the expenditure.
Take a look at the comparable SE7i if you're looking for a rear drive elliptical.  Otherwise consider one of the many other elliptical trainers that NordicTrack offers.
Fitness pros feel this is a decent investment if you plan on using the NordicTrack CX 938 elliptical trainer for standard workouts 3-5 times a week. Stride Select allows users to modify the stride length to work different muscle groups, and trainers feel this makes up for some other shortcomings.
For serious users or anyone who is already fit and ready to really push themselves they have some reservations. Their main concerns are the lack of any incline adjustment and potential problems with the flywheel.
Consumers have a more favorable reaction to this elliptical trainer, primarily because those who buy this model aren't looking for a commercial or gym-quality machine in the first place.
Although NordicTrack's CX 938 model does not provide an upper body workout, the Training Zones offered are considered one of the best features. These allow you to choose warm up/cool down, aerobic, endurance or performance levels.
NordicTrack CX 938 - Bottom Line
There do seem to be more problems with the flywheel (creaking, grinding) than with some other machines, and with only a limited, one year warranty you could run into problems.
If you choose the NordicTrack CX 938 elliptical trainer you should invest in an extended warranty.
Service seems problematic with NordicTrack, with delays on parts orders and service calls. While the Training Zone feature and Slide Select are nice, the problems with break-down and repairs mean you're taking a chance. You may want to spend a bit more to get increased reliability.