Schwinn Elliptical Machines – Some of the Best on the Market
Schwinn Elliptical Reviews
Schwinn elliptical machines are made by the company that first established its reputation producing bicycles, then made its mark with the first in-home exercise machines in the mid-1960s. The company had branched out into several different types of fitness equipment when Nautilus purchased the fitness line in 2001.
Nautilus, a name well-known for their line of weight conditioning machines, has diversified by buying a number of different fitness lines in recent years and investing quite a bit of money and time into developing and refining the equipment in each line.
Chosen by Consumer Advocates
Schwinn elliptical machines are one of the success stories of this process. Intensive market research, testing and refinements have made Schwinn elliptical trainers some of the best in the industry. In fact, one of them was recently named a Consumer Reports Best Buy, which says an awful lot for their balance of quality and affordability. These machines are in the mid to upper price range and offer a lot for the money.
Unique Features for Comfort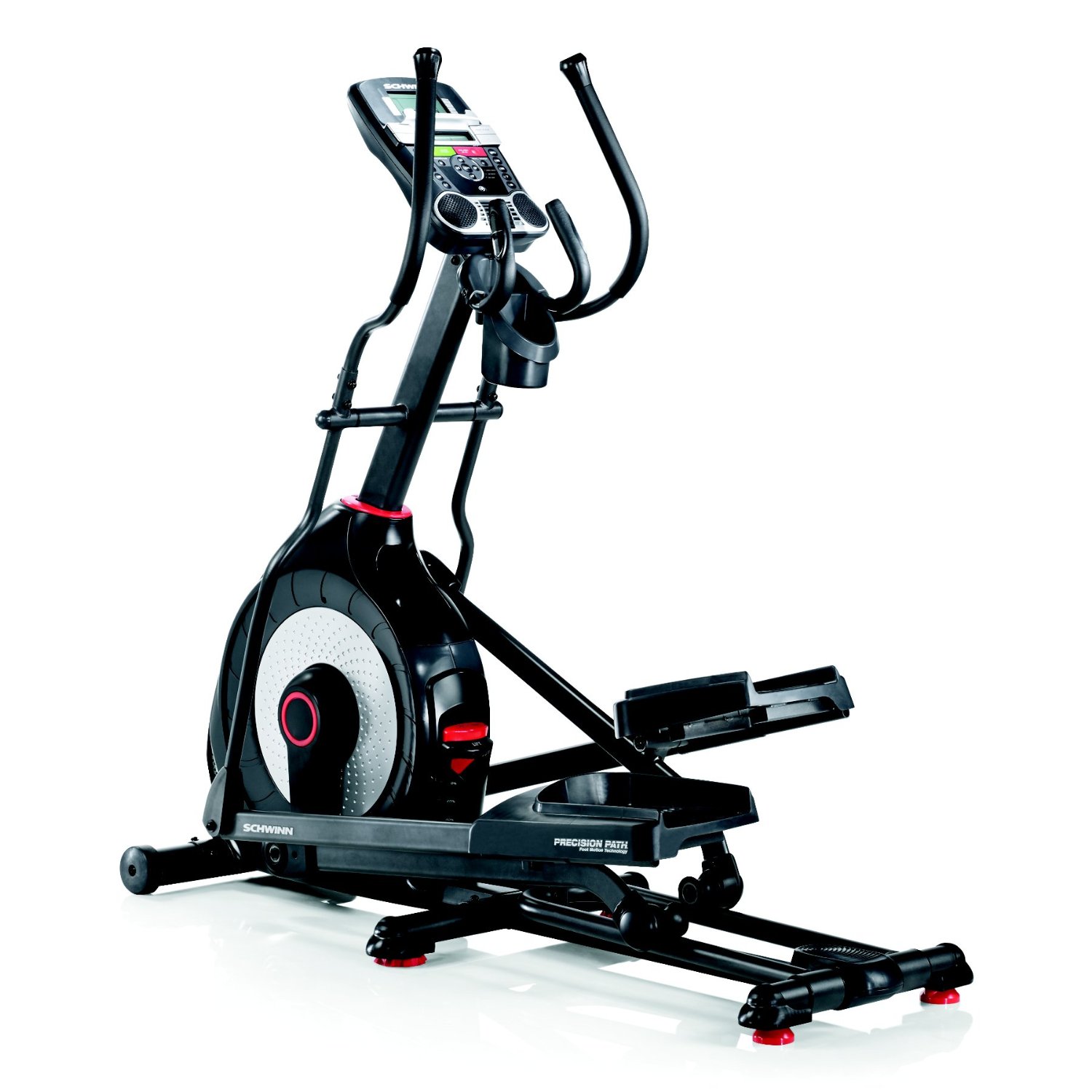 The current lineup consists of the 430 and 470. The 520 reclined elliptical, A40 and A45 were recently retired.  All are quite popular and offer great value.
Professional trainers who have tested Schwinn elliptical machines are impressed with the stability, quietness and smooth movement, which they find unusual in a front flywheel design. They give Schwinn and Nautilus kudos for finding a way to make the front flywheel work so effortlessly.
Another feature that both trainers and consumers remark on is the articulating footplate design. This enhances the feel of each stride by adjusting to the position of your feet as they move through the natural motion of walking.
This type of attention to detail and comfort is rare except in commercial quality machines, and makes what is already a low-impact workout even easier on the joints. 
Compare Prices on Schwinn Ellipticals at Amazon
Limited Warranty is the Only Downside
The only down side that is sometimes noted about Schwinn elliptical machines is the limited warranty, which is unusual in machines at this price point.
While the frame is covered for 5 years and the parts and electronics for one year, labor and wear are covered for only three months. (If you buy your Schwinn elliptical from Amazon, we recommend you purchase an Extended Service Plan to enhance and extend the manufacturer's warranty.)
It's a shame that Nautilus doesn't realize the value of a really good warranty. If they did, they would sell even more of the Schwinn elliptical trainers, which are some of the best in the market.
Consumer Reviews
Schwinn Consumer Reviews - Reviews submitted so far are 100% positive.
Schwinn Elliptical Model Reviews
Popular Models
Schwinn 430 - A popular entry level choice with good features, incline and workout tracking as well as a new enhanced display.
Schwinn 470 - An upgraded 430 with power incline, more workouts and resistance levels plus wireless heart rate capability.
Click here for special discounts on all of the current models!
---