The Schwinn 430 Elliptical Trainer - a Solid, Well-Priced Machine
The Schwinn 430 elliptical trainer is a solid budget model made by Nautilus, Inc. which has quickly become one of the best-selling, lower-end machines you'll find online. It doesn't stand out in any one area, but the solid frame, articulating footpads, and combination of programs/resistance are some of the features that make it well-priced under $600.
Schwinn 430 - What You Get
The Schwinn 430 elliptical offers 22 workout programs, including profile, heart rate, fitness test, manual and calorie goal. Its size or "footprint" is compact enough to fit even a small workout room or apartment, and you can use the transport wheels to easily roll the 170-lb machine away and store it.
The best features of the Schwinn 430 include: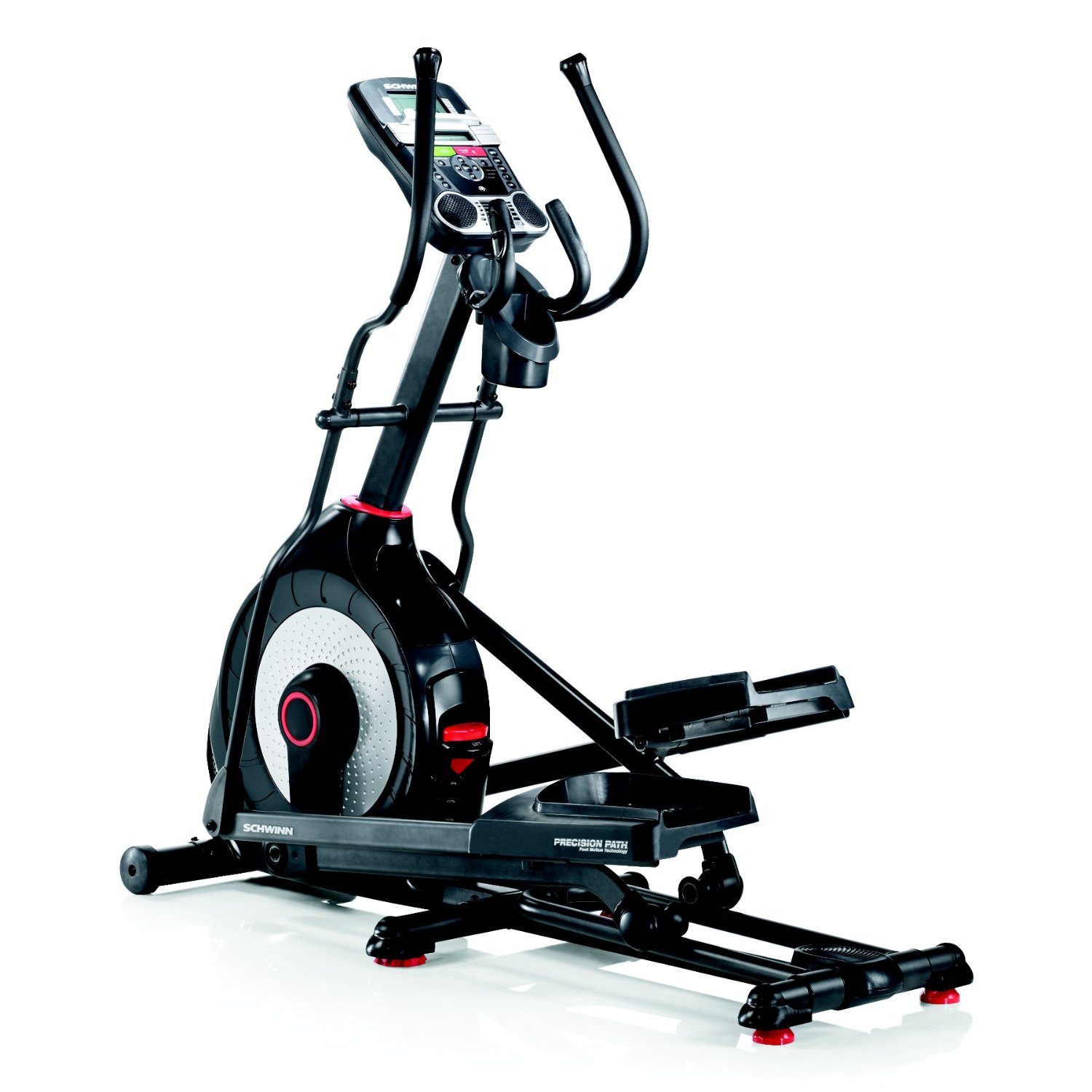 22 workout programs
20 resistance levels
Pulse grip monitoring
20" stride
DualTrack LCD display
Eddy Current braking system
USB workout tracking
Front drive dual direction (forward, backward)
Articulating footpads
300 lbs user weight capacity
Warranty - 10 yrs frame; 2 yrs. parts; 1 yr. electronics; 90 days labor
Check out this popular elliptical on sale now at Amazon!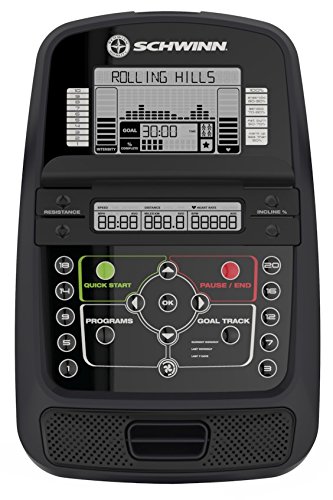 The Word on the Street
The Schwinn 430 elliptical trainer rides smooth and quiet, which you don't find very often with machines in this price range.  Users have always been impressed with the number of built in workouts and resistance levels in the Schwinn ellipticals, which gives you plenty of variety and keeps your workouts interesting.
The upgrades in the newest model include more workout programs, for a total of 22, increased resistance levels to 20 and a new enhanced Dual Track display that makes it easier to see your stats and the different programs.
You have the patented Precision Path Foot Motion technology, which puts you in the ideal position, minimizing impact on the knees and joints.  
The stride is a generous 20" in length, which is ideal for most users, and a step up from the 18" on the base Schwinn 411 elliptical.
You can manually adjust the incline to 6 different levels, which ups the cardio ante and also helps you target additional muscles in the lower body that you would otherwise not be targeting.
One thing to note is that the warranties on the 430 and even the up-level 470 are not great, so if you do choose to buy one make sure you opt for the extended warranty just to cover yourself in case something happens down the road.  
But you should be fine as few people have experienced any serious issues beyond the typical problems that arise.
The Schwinn 430 vs the 470 and the 411 - Which is the Best Option?
Now that there are only three Schwinn ellipticals to choose from, it's much easier than it used to be the select a model.  
All are solid choices, and huge improvements over the previous 420 and 460 models.
When it comes to the Schwinn 430 vs 470 vs 411, it really just comes down to what you are looking for.  
The Schwinn 411 is definitely more of a beginner's machine, with its shorter 18" stride and lack of incline capability that the other's have.  However, it has a very space friendly footprint, not to mention a sub $500 price, that may make it the right choice for you.
The real battle is between the 430 and 470, however.
They are very similar, but the 470 offers some upgrades that may appeal to you.
For starters, the 470 gives you more resistance levels (25 vs 20), more workout programs (29 vs 22) and wireless heart rate monitoring as opposed to grip only on the 430.
Also, the Schwinn 470 has power incline, as opposed to manual, a more advanced console, and workout tracking via the Schwinn Trainer 2 and RunSocial apps.
So as you can see you're getting a lot more capability with the up-level 470 than you do with the 430.
Which one should you choose?  Although the 470 has more to offer, you may decide that you don't need that added functionality.  
If you're OK with grip heart rate monitoring, and you don't care about tracking your workouts and syncing results with your fitness apps, then the Schwinn 430 is really all you need.
If however you do want more accurate heart rate readings and you'd like to keep tabs on your workouts then look at the Schwinn 470 instead.  The power incline and increased workouts are a bonus as well.
The price difference between the two upper level Schwinn ellipticals is not great, so that should make the decision a little easier for you.  According to our latest reviews the 430 will be anywhere from $100-$300 cheaper depending on where you get it from.
As we mentioned, the warranty is not great on any of them so regardless of which model you end up choosing, opt for extended coverage if it is available to cover yourself in case something happens with the machine over time.
Our Thoughts on the Schwinn 430 Trainer
The Schwinn 430 elliptical is a surprisingly smooth and quiet machine for a low-budget model, and the first thing you'll notice is that it doesn't have a wobble factor for being a small, lightweight elliptical. It certainly puts many similarly priced ellipticals to shame.
We need to mention that the articulating footpads are rarely seen as a standard item on sub-$1000 elliptical trainers, but the Schwinn 430 has them.
It's also got a slew of resistance levels, heart rate monitoring, and comes close to giving you that commercial health club machine quality. The Schwinn 430 elliptical trainer is a solid machine, and an excellent buy under $600.
As far as the Schwinn 430 vs 470, the 470 is definitely more advanced, with Bluetooth workout tracking, additional programming and resistance levels and motorized vs manual incline.  It was also recently updated, so it's definitely worth a look so you can compare the two models.
Again, warranties are not great on the Schwinn ellipticals, so take a look at your extended coverage options.  Amazon usually has 2, 3 and 4 year protection plans, and it doesn't cost much to add it to your order.  You can often get free delivery as well.
See more info and special sale pricing on this popular model here!