The Schwinn 470 is a Step Up From the Base Model
The Schwinn 470 is a popular elliptical trainer in the company's lineup, offering a step up from the popular base 430 model with workout tracking capability, a large number of built-in programs and power incline capability.
What You Get
The Schwinn 470 elliptical machine has a dual track LCD display showing 13 different workout metrics including distance, calories, speed, resistance, heart rate and pulse.
Let's take a look at the specs...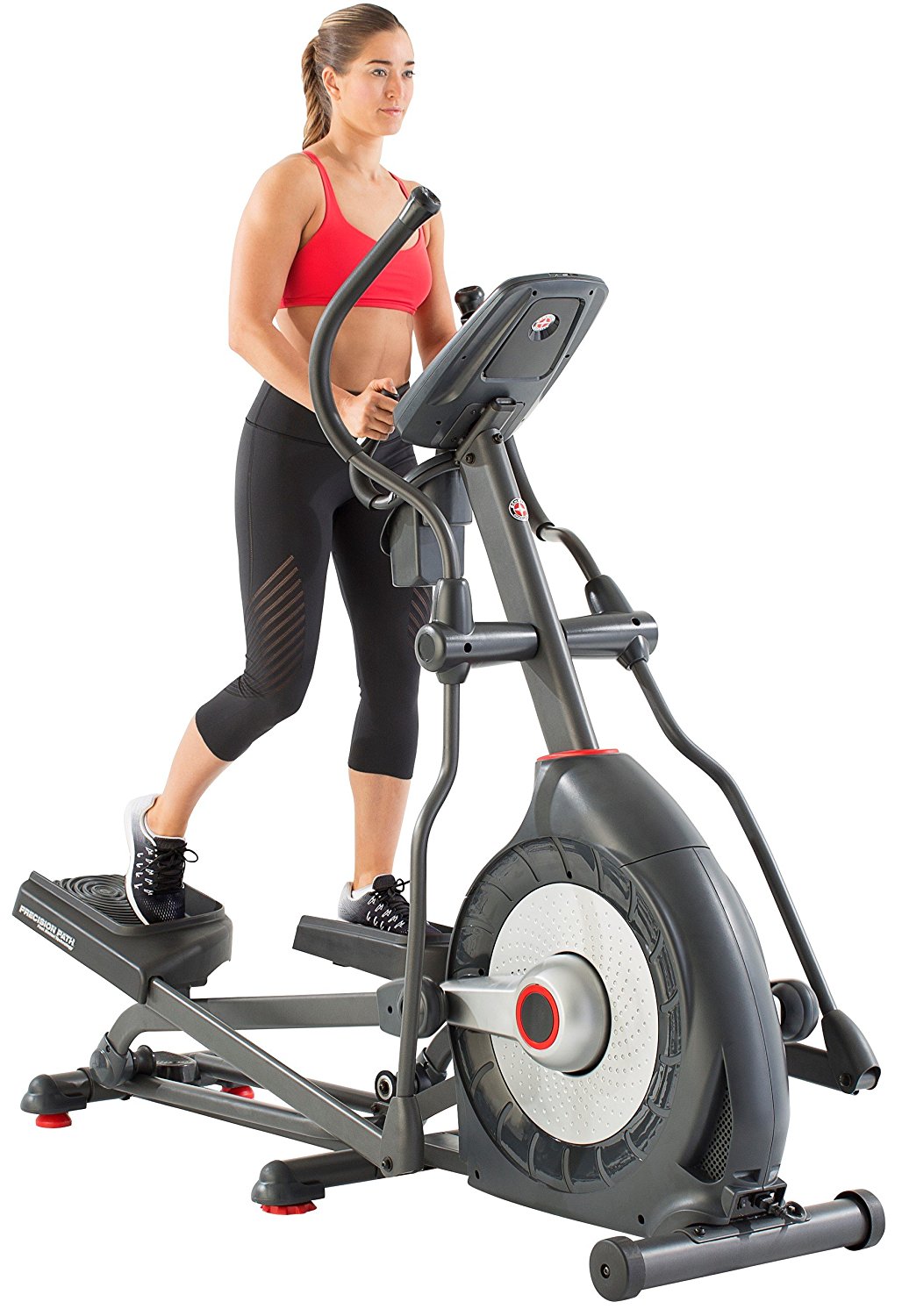 29 workout programs
25 resistance levels
Pulse grip/telemetry heart monitoring
20" stride
DualTrack LCD display
Eddy Current braking system
Bluetooth workout tracking
Front drive dual direction (forward, backward)
Articulating footpads
300 lbs user weight capacity
Warranty - 10 yrs frame; 2 yrs. parts; 1 yr. electronics; 90 days labor
Check out this popular elliptical on sale now at Amazon!
The Word on the Street
The 470 has been well received since its introduction, and it gets good reviews from most users who appreciate the recent upgrades which include a better display and the ability to track workout results with Schwinn Connect and My Fitness Pal.
The elliptical is a nice step up from the base 430 model, with more workout programs and resistance levels, plus motorized incline capability which the 430 does not have.
The Schwinn 470 has a 20" stride, which is ample for most users, as well as a 10 degree incline capability with 6 different settings.  You get 25 resistance levels, as opposed to 20 on the 430, as well as static and moving handlebars to vary your workouts.
Both ellipticals give you the opportunity to track your workouts either via the company's own SchwinnConnect app or myfitnesspal.com, so you can monitor your results and set goals for yourself.  It is a nice way to see your progress over time.  The 470 has Bluetooth capability, which the 430 does not.
The 470 comes with speakers and a fan, a high inertia flywheel for quieter workouts and large articulating footpads.
Although the machine offers a lot of nice features, the one drawback on the 470, the 430 and a lot of the other exercise equipment from Schwinn is the sub par warranty.
It used to be a lot stronger, but now you only get 10 years on the frame. That's pretty poor considering the fact that most other elliptical trainers in this price range will give you a lifetime frame warranty.
So if you do opt for the 470 make sure you get an extended warranty to cover yourself.  Note that most users have been quite pleased with this elliptical so hopefully you won't have any issues with your machine.
Which Schwinn Elliptical Should You Choose?
Although there used to be more Schwinn ellipticals to choose from, currently there are only two:  the base 430 and the up-level 470.  They are both reasonable priced, and about $100 separates the two.
So choosing between the Schwinn 470 vs the 430 should really come down to choosing the features that most appeal to you.
Let's take a look at both of them to see what you are getting...
Schwinn 430
The base 430 model gives you a 20" Precision Path stride, 10 degrees of manual incline capability, grip heart rate,  DualTrack 2 LCD display, 20 resistance levels and 22 built in workout programs.
You get 2 user profiles, as well as a fan, music, USB port and a tablet holder.
Schwinn 470
The Schwinn 470 gives you everything the 430 offers, plus power incline instead of manual, wireless heart rate instead of grip only, a more advanced blue backlit display, 25 resistance levels and 29 built in workout programs.
It gives you 4 user profiles, plus Bluetooth performance tracking via the Schwinn Trainer and Run Social apps.
As you can see the Schwinn 470 improves upon the 430 in many different categories, with more resistance levels and workouts, an upgraded console and power incline, not to mention the ability to track and keep tabs on your workout progress that the 430 does not have.
So which one is the better bet?
We would definitely go for the Schwinn 470 over the 430 as it gives you so much more without a significant price increase.  If it were an additional $500 or more we would say you should consider the 430, but it will be $100-$200 more tops for a much more advanced elliptical trainer.
You can typically find it for sale at Sears or Sports Authority, but Amazon typically has the best prices for you.  Plus you can and should get the extended warranty to cover yourself down the road.
Our Thoughts on the Schwinn 470 Elliptical
For the list price of about $1299, we would say to take a pass on this one and look at better options from ProForm and NordicTrack.  However, if you can get it on sale under $800 it's a very good deal.
The Schwinn 470 has a nice array of workout programs, incline capability, 25 resistance levels, workout tracking and comfort features.  So it gives you a lot for your money.
If you want to save even more check out the 430 as well, which will be at a little cheaper, but you'll be sacrificing a number of features.  And opt for additional coverage if it's available, as Schwinn's manufacturer's warranties are notoriously insufficient.