The Smooth Agile DMT X2 Elliptical Trainer Burns More Calories in Less Time
The Smooth Agile DMT X2 elliptical trainer is an upgrade over the DMT X1 model. It offers consumers the choice of a mid-price machine between the hulking $2,600 DMT and the X1 priced at just under $2,300. The "Agile" fitness machines provide fun and motivation that will have you burning more calories in less time and giving you a full body workout.
What You Get
The Smooth Agile DMT X2 elliptical trainer comes with a multi-color LCD display to show your motion profile, resistance level, speed, RPMs, time, distances, pulse, watts, and calories burned. It comes with an iPod plug-in so you can listen to tunes and never get bored while exercising. The list of features of the Smooth Agile DMT X2 Adjustable Motion Trainer includes: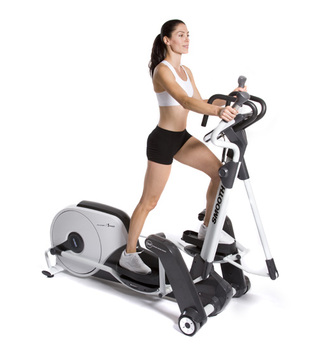 Resistance Adjustment
Self-pivoting pedals with Shock Absorbing Cushion
16 Levels of Intensity
12 Distinct Patterns of Motion
iPod Docking Station with Speakers
9 Preset Programs; 5 Custom Courses
Minimum stride length in elliptical mode: 19"
Maximum stride length in agile mode: 39"
Hand Grip Pulse Sensors on moving handles
Polar® Wireless Heart Rate Sensor
Patented Lite Touch™ Thumb Controls
3-speed Adjustable Fan
Transport Wheels
Floor Level Adjustment
350 lbs Max User Weight
Lifetime frame and brake warranty, 5 years parts, 2 years labor
See Smooth Elliptical Trainers at Amazon
The Word on the Street
Experts and trainers love the quality and construction in this Dynamic Motion Trainer. The Smooth Agile DMT X2 offers superior comfort, heart rate control, quiet operation, and a solid, stable footprint in a space saving design. Adjustable Motion Trainers are unlike standard elliptical trainers in that they have twelve dynamic motions plus twelve levels of intensity for an amazing workout. The thumb controls are conveniently mounted right on the handlebars to adjust intensity and motion so you don't have to dismount the machine to switch to a different pattern.
Consumers who think that Adjustable Motion Trainers are gimmicks are won over by the incredibly smooth ride. Since the Smooth Agile DMT X2 is a versatile elliptical trainer that does the work of many machines, you can reconsider plans to buy a treadmill and other cardio machines and go with one of these alone and still get a complete workout. Assembly will take a couple of hours (even if you are a wiz at such things), so it is a good idea to take advantage of the free in home installation when available.
Our Thoughts
The massive original model, the Agile DMT at $2,600, may be out of the price range of a lot of folks which is why this Smooth Agile DMT X2 elliptical trainer at $2,200 is an ideal choice and well worth the money. If the color screen and the iPod port features aren't important to you, then go with the DMT X1. We strongly recommend the Agile Adjustable Motion Trainers; they are gorgeous machines that provide an intense cardio workout and all the programs you could want to get you to your fitness goals quickly. As cardio trainers, they are superior to most standard elliptical machines in this price range.
Show me other Smooth Elliptical Trainers
Return from Smooth Agile DMT X2 Elliptical Trainer to the Elliptical Reviews Home Page