The Smooth CE 2.0 Elliptical Trainer with Adjustable Stance
The compact little Smooth CE 2.0 elliptical trainer has a surprising number of advanced features for a budget model. The body fat calculator is a nice tool to help you reach your weight loss goals, but it's really the overall ergonomics of the machine that are most important. Smooth has you covered there. Combined with the quiet ride, the model has won kudos in a number of Smooth elliptical reviews which point out the comfy feel of the machine.
What You Get
(This model has been discontinued)
The Smooth CE 2.0 elliptical trainer has a no-nonsense console that displays time, speed, distance, calories, pulse, resistance level load, and RPM. There are other interesting features too, such as a built-in sensor that automatically calculates your body fat percentage and body mass index after you input your height and weight. The rest of the specs include: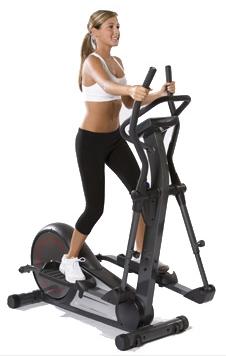 16 resistance levels
12 workout programs
Body fat & BMI calculator
Hand grip HR control
Recovery pulse measuring
3-way adjustable pedals
16" stride
Rear flywheel
Reverse motion
300 lb. user weight capacity
Warranty – Lifetime on frame, brakes; 2 yrs on parts, electronics; 1 year labor
The Word on the Street
Experts give a nod to the Smooth CE 2.0's low sticker price and the strong name of Smooth. Elliptical reviews by techs and fitness experts also point out the presence of its Magnetic Braking System with gives a continuous tweaking of load resistance during the workout for a smoother, quieter ride. You can adjust both the elliptical trainer's pedal stance and handlebar height for a better fit. Since a short striding model often puts the pedals too wide for some users (thereby putting stress on the hips), the Smooth CE 2.0 offers three pedal distance options.
Compare Smooth Elliptical Trainers Here
Consumers love the price and the overall quality of the Smooth CE 2.0 but feel somewhat cheated by the elliptical trainer's simple display console. It's a bit cheap looking and not as attractive or brightly lit as one would like. Once users got past that point, they had few complaints. For a compact machine with a small footprint, it feels great, rides smooth, and has enough programs to keep boredom at bay. The Smooth CE 2.0 elliptical trainer is especially an ideal model for petite women because of the 16" stride and the full adjustability.
Our Thoughts
Performance is not an issue so for a sale price of $999, you're getting a solid, hardworking little unit. We concur with the consumer reviews that the console is not the most attractive design, and it isn't as classy as the higher end models or even the next in line model, the CE 2.1, but as long as it gives you the fitness readout information you need, we can live with that. Overall, we rate the Smooth CE 2.0 elliptical trainer a good buy.
Show me other Smooth Elliptical Trainers
Discontinued Elliptical Models Index
Return from Smooth CE 2.0 Elliptical Trainer to the Elliptical Reviews Home Page